¡Buenos días!
¡La jornada de ayer fue muy divertida y pasó volando! Nos despertamos con música y desayunamos el típico English breakfast. Después fuimos a clase durante una hora y media, hicimos la pausa de rigor y volvimos a las aulas como siempre hasta la hora de la comida. La mañana pasó muy deprisa y sin darnos cuenta llegó el momento de volver a clase por la tarde. Una vez finalizadas las lecciones nos dividimos por equipos y los juniors fueron a la piscina mientras que los seniors hacían clubs (después cambiaron). Más tarde merendamos y empezaron las rotaciones de las olimpiadas que duraron hasta la hora de las duchas.
Cuando ya estuvimos todos vestidos de gala y bien guapos bajamos por turnos a la cena de graduación que tuvo lugar en el comedor. Tras la cena entramos en la carpa para celebrar la ceremonia… todos los monitores dieron bandas a su grupo de chicos y chicas y se hicieron diversas actuaciones a lo largo de la noche. Los alumnos disfrutaron mucho de la penúltima fiesta de este turno y a las  23:00h ya estaban todos en la cama a punto de ir a dormir. Tenían que reponer muchas fuerzas para aprovechar el último día entero que pasarían en la casa.
Recordad que subimos todas las fotos al área de clientes. También podéis seguirnos en las cuentas oficiales de English Summer de Facebook, Twitter y Instagram.
Good morning!
Yesterday the day couldn't have started better! We had English breakfast and afterwards we went to have class. Once we finished that day's class, juniors went to the swimming pool and seniors went to do clubs (then we changed). Later we went to have a snack and after that, we had free time and went to play the Olympics. At 20:30h we went to have dinner. After that, we went to the Prom Night! We did some performances and each monitor gave a band to all the kids. Then we went to sleep at 23:00h!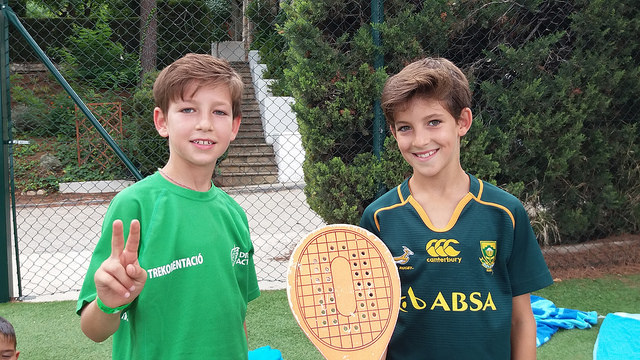 Don't forget we upload all the pictures in the customer area. You can also follow us on our Facebook, Twitter and Instagram accounts.