Buenos días mamás y papás!
Después de mucho tiempo esperando…el día ha llegado! Empieza el primer turno de campamentos de verano en inglés en Cerdanya, ¿estáis listos?
Ayer domingo día 25 recibimos a los alumnos que formarán parte de este 1K 2017. Desde las 16h los padres y sus acompañantes pudieron conocer al monitor/a de sus hijos en el check-in. ¡Pudimos reencontrarnos con muchas caras conocidas y conocer a algunos nuevos alumnos!
Seguidamente,  todos fueron a hacer la prueba de nivel de inglés para poder asignarles una clase acorde con su nivel  y que puedan aprender muchísimo estas dos semanas.
Después del examen, los alumnos se reunieron con su monitor/a para poder realizar el Personal afternoon, en el que los alumnos se conocen mejor en juegos de integración y el monitor junto con su MP les explica el funcionamiento del turno, las tareas o duties asignados y el programa del campamento de verano. ¡Ya tienen todos su camiseta de English Summer y la carpeta de clase!
Para finalizar el día, después de una deliciosa cena…llegó el momento de la primera fiesta del turno, Welcome to Froggyland! Tuvimos la suerte de recibir a Froggy, que llegó con muchas ganas de pasarlo bien y con mucha energía, que se contagió inmediatamente  y ¡estuvimos bailando todos juntos hasta la hora de ir a dormir!
¡Un primer día fantástico, y un inicio de turno que no podía ser mejor!
Recordad que vamos a ir colgando información del turno en el blog y las fotos en Flickr. Podéis seguirnos también en Facebook, Twitter e Instagram.
¡Mañana mucho más!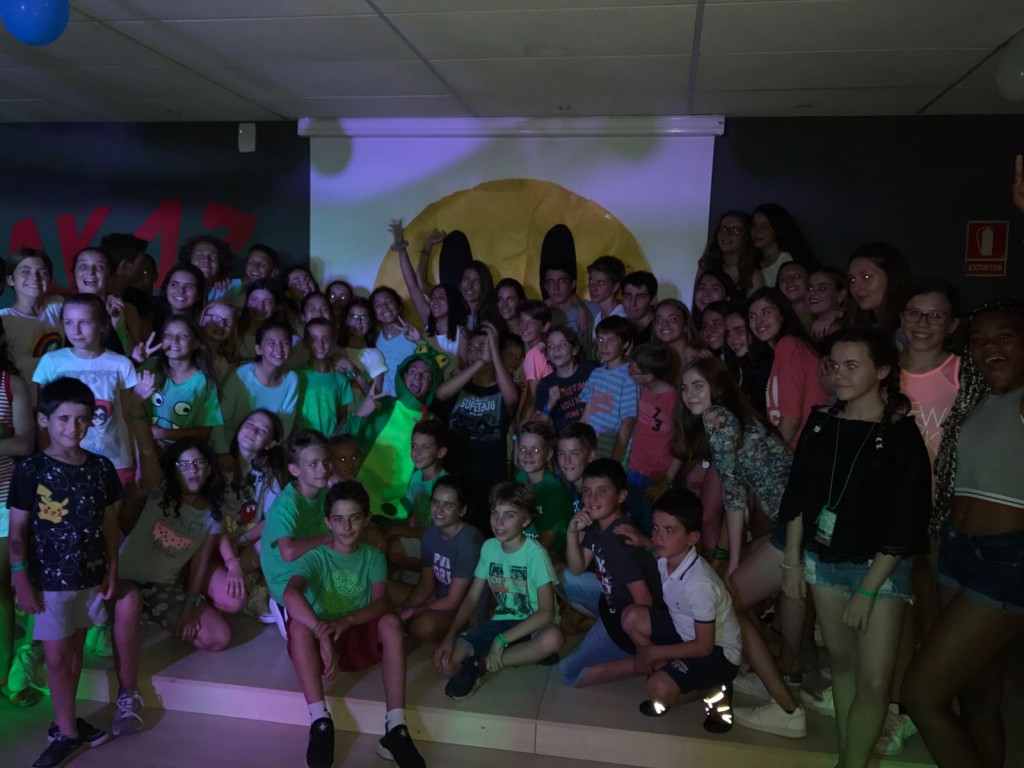 Good morning mums and dads!
After much waiting … the day has arrived! The first turn of English summer camps in Cerdanya begins! Are you ready?
On Sunday 25th we received the students who are part of this 1K. From 16h to 19h parents and friends met the monitor of their children at check-in. We were able to reunite with many familiar faces as well as meeting some new ones!
Then they all went to make an exam in order to assign a class according to their level of English and so they can learn a lot these two weeks.
After the exam, students met with their monitor to do the personal afternoon, in which students make integration games and get to know with the other students. Also the monitor and the MP explain them their tasks or duties assigned and the summer camp program. They already have their T-shirt and their English Summer folder!
 To end the day, after a delicious dinner … it was time for the first party, Welcome to Froggyland! We were fortunate to receive Froggy and his family, who arrived eager to have fun and full of energy, which immediately caught and we were dancing together with the Froggy family until time to go to sleep!
A fantastic first day, and a 1K beginning that could not be better!
Remember that we post information on the blog every day and photos on Flickr. You can also follow us on Facebook, Twitter and Instagram!
Tomorrow more!