¡Buenos días mamás y papás!
Ayer fue un día lleno de emociones en nuestros campamentos de verano. Por la mañana todos los alumnos empezaron las clases de inglés, los niveles de las cuales están explicados en el anterior post del blog.
Después de las clases pudimos disfrutar de una comida riquísima y juegos con nuestros monitores.
Por la tarde, en las clases de inglés nuestros alumnos pudieron conocer un poco más a nuestros teachers y después nos juntamos todos por equipos.
Dado que había estado lloviendo durante el día, no pudimos ir a la piscina, pero aun así nos reunimos todos los equipos de los Olympic Games con nuestros coaches para conocernos, hacer dinámicas grupales e inventarnos un himno para animar al equipo. Esta semana los equipos de las olimpiadas son Eagles, Bears, Dolphins y Turtles.
Después de un snack para coger fuerzas, empezamos las primeras rotaciones de las olimpiadas por equipos, unos partidos de basket y fútbol muy emocionantes, ¡llenos de himnos y gritos animando a los equipos!
Al acabar las duchas, fuimos a cenar por equipos donde hubo mucha emoción en un concurso improvisado de himnos de equipos. Después… ¡empezó la OLYMPIC GAMES PARTY!
Después de la presentación oficial de cada equipo,  empezó la parte de la fiesta más dinámica: los equipos se disputaron los primeros puntos de los Olympic Games. Hicimos juegos de dinámica y cooperación y también practicamos inglés cantando y con un scrabble en inglés. Después disfrutamos de la actuación estelar de la noche… ¡Recibimos la visita de la batucada de Río de Janeiro! Antes de irnos a la cama para recargar las pilas, cantamos todos juntos la que será la canción de turno: Say you won't let go de James Arthur. La magia se va notando ya entre todos nosotros…We are going to make friends that we'll never ever forget!
Recordad que vamos a ir colgando información del turno en el blog y las fotos en Flickr. Podéis seguirnos también en Facebook, Twitter e Instagram.
¡Mañana mucho más!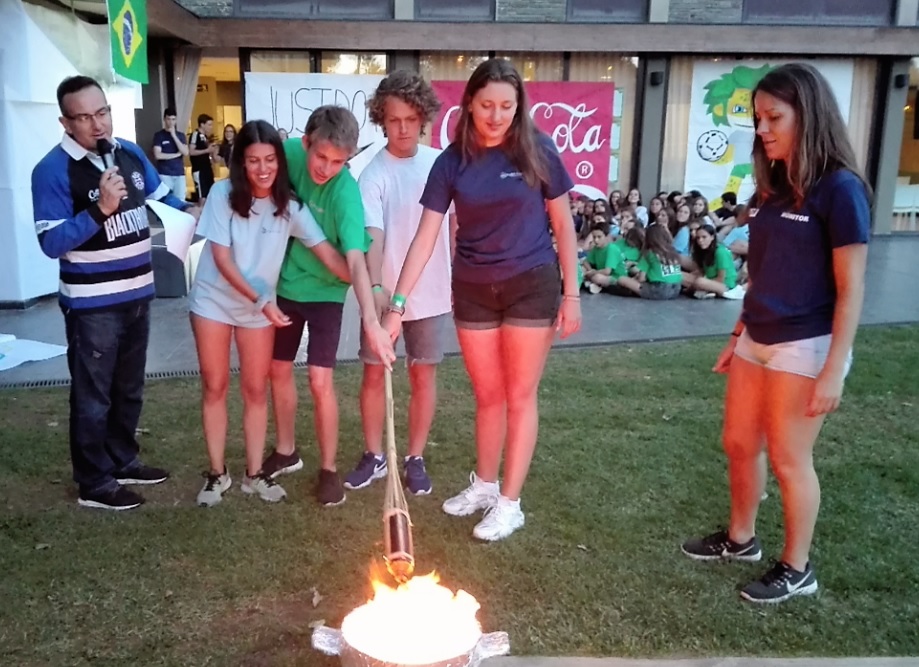 Good morning moms and dads!
Yesterday was a day full of emotions in our summer camps. In the morning all the students started the English classes, the levels are explained in the previous blog post. After class, we were able to enjoy a delicious meal and games with our monitors.
In the afternoon, in the English classes our students were able to get to know our teachers a bit more. It had been raining during the day, so we couldn't go to the pool, and we met all the teams of the Olympic Games with our coaches, we did group dynamics and invented an anthem to encourage the team. This week the teams of the Olympics are Eagles, Bears, Dolphins and Turtles.
After a snack to gather strength, we started the first rotations of the Olympics by teams, very exciting basketball and soccer games, full of anthems and shouts cheering the teams! At the end of the showers, we went to have dinner where there was a lot of excitement in an improvised competition of team anthems. Then … the OLYMPIC GAMES PARTY started!
After the official presentation of each team, the party started: the teams played the first points of the Olympic Games. We did cooperation games and also practiced English singing and playing a scrabble in English. Then we enjoyed the stellar performance of the night … We received the visit of the batucada of Rio de Janeiro!
Before we went to bed to recharge the batteries, we sang together the song of the turn: Say you won't let go by James Arthur. The magic is already noticeable among all of us … We are going to make friends that we'll never ever forget!
Remember that we will be posting information of the term in the blog and photos on Flickr. You can also follow us on Facebook, Twitter and Instagram.
Tomorrow more!