¡Buenos días mamás y papás!
Ayer fue un día muy completo, aunque no pudimos ir a la piscina después de la última clase, dado a que estaba a punto de llover y hacía un poco de frío para hacer un chapuzón. Cuando terminaron las clases, todos los alumnos nos fuimos al pabellón de handball, donde hicimos un torneo de…¡el juego del pañuelo! El primer puesto estuvo muy disputado… aunque finalmente se lo llevaron los BEARS!
Después del torneo pudimos recargar las pilas con un bocadillo de jamón ¡que estaba riquísimo! Además ayer fue el primer día en el que los alumnos pudieron coger sus móviles y llamar a casa de 17.30 a 18 h. También jugamos un partido de volleyball alumnos contra monitores y ¡nos ganaron a todos!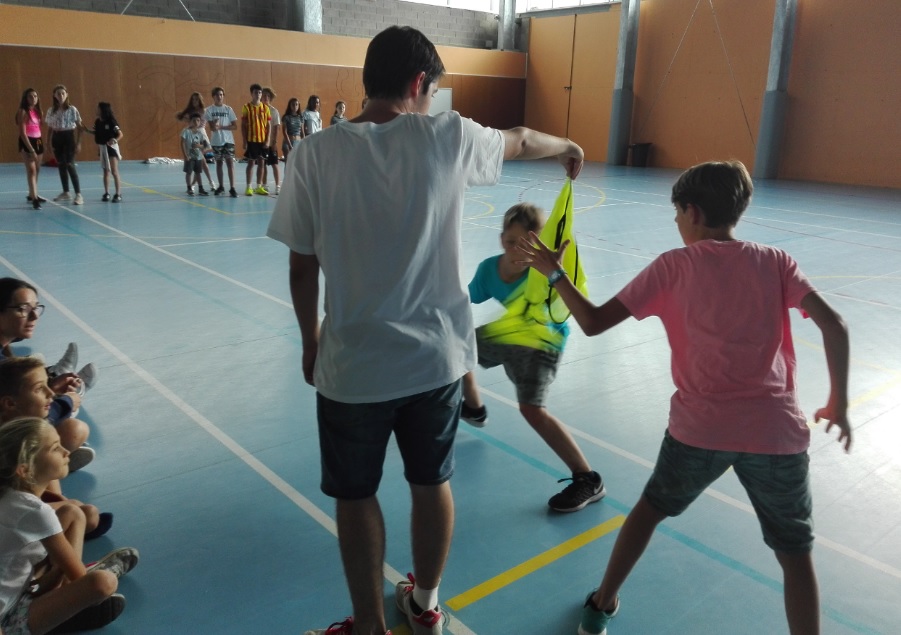 Y…¡llega la hora de los Olympic Games! Ayer volvimos a jugar a football y basketball, como siempre partidos muy emocionantes, en el que los alumnos de nuestros campamentos de inglés se esforzaron muchísimo para dar el máximo en todos los partidos.
Después de una buena ducha y una cena deliciosa con sopa, pescado y patatas… ¡ENGLISH PARTY time! Los teachers nos tenían preparadas muchas sorpresas, nuestros alumnos participaron en un concurso de cocina de la televisón inglesa y tuvieron que pasar unas pruebas muy gourmet para poder conseguir frroggy points para su equipo. Finalmente los que ganaron más puntos fueron…TURTLES!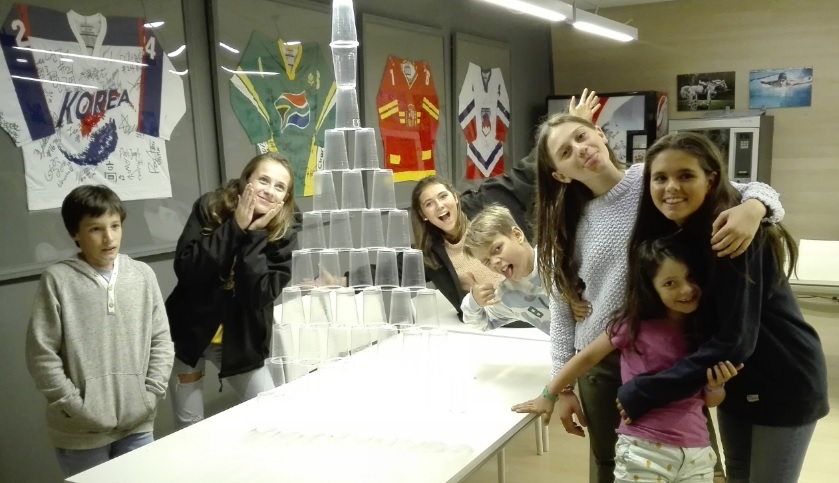 Recordad que vamos a ir colgando información del turno en el blog y las fotos en Flickr. Podéis seguirnos también en Facebook, Twitter e Instagram.
¡Mañana mucho más!
Good morning moms and dads!
Yesterday was a very complete day, although we could not go to the pool after the last class, because it was about to rain and it was a little cold. When the classes finished, all the students went to the handball pavilion, where we played a tournament of… the handkerchief game! The first place was very disputed … although finally the BEARS won!
After the tournament we were able to recharge the batteries with a ham sandwich which was delicious! Also, yesterday was the first day in which the students were able to pick up their cell phones and call home from 5.30pm to 6pm.
And… it was time for the Olympic Games! Yesterday we played football and basketball again, as always very exciting matches, in which the students of our English camps made a lot of effort to give the maximum in all the matches.
After a good shower and a delicious dinner with soup, fish and chips… ENGLISH PARTY time! The teachers had many surprises ready for us, our students participated in a cooking contest on the English TV and had to pass very gourmet games to get froggy points for their team. Finally those who won more points were… the TURTLES!
Remember that we will be uploading information of the camp in the blog and photos on Flickr. You can also follow us on Facebook, Twitter  and Instagram.
Tomorrow much more!