¡Buenos días mamás y papás!
Ayer fue un día muy especial en nuestros campamentos de inglés de English Summer Cerdaña. Nos dimos los buenos días con un sol radiante y pudimos ir a la piscina después de la primera hora de clase. Aunque hacía un poco de frío hubo unos cuantos valientes que ¡se tiraron a la piscina! También pudimos cantar canciones todos juntos, y practicar la canción del turno, Say you won't let go.
A la hora de la comida recibimos la visita de unos estudiantes de East High, que nos invitaron a una cena muy especial en el pabellón de basket…También pudimos bailar el ¡Grease Lightning! Después de las clases de inglés, que se recuperaron por la tarde, llegó la hora de la merienda en la que hicimos un casting para…¡Actuar en el teatro de Grease en la fiesta de Rock n' Roll! Se presentaron muchos alumnos, y aunque nos costó mucho decidirnos, ya que todos los hicieron muy bien, tuvimos que escoger a cuatro chicas y cuatro chicos para que prepararan el teatrillo.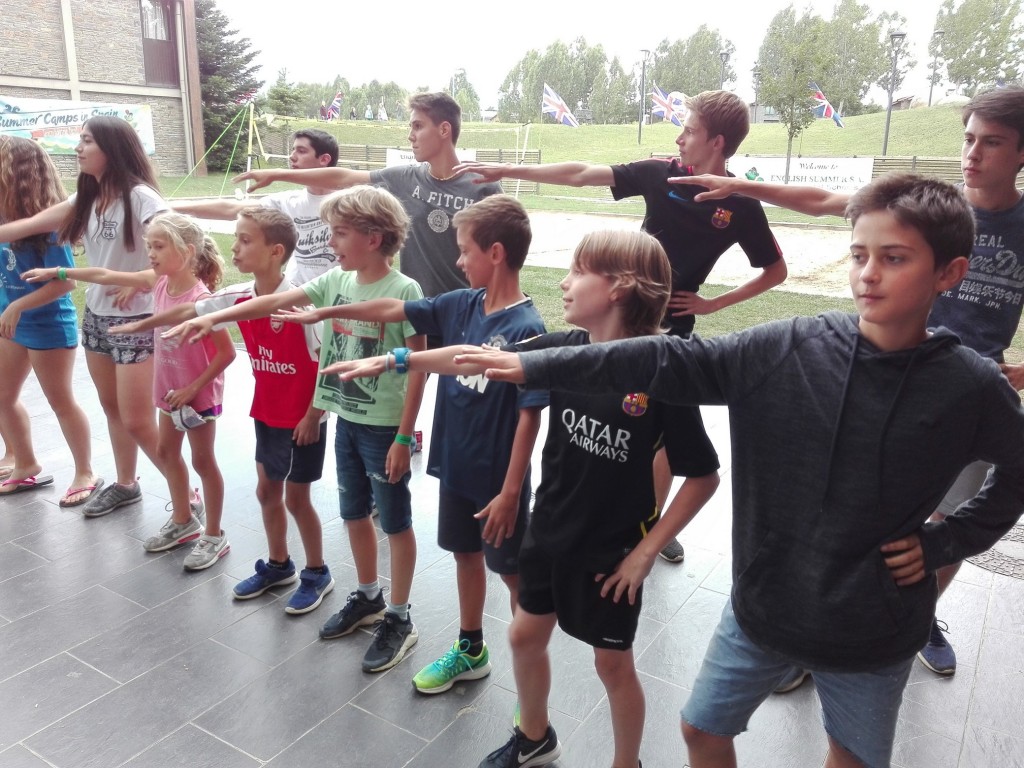 Después de este snack repleto de Rock n' Roll, llegó la hora de jugar a volley y a handball con nuestros equipos… empieza a estar muy emocionante… ya que ¡el sábado se terminan estos Olympic Games!
Después de las duchas y disfrazarnos de Grease, ¡llegó la hora de ir al pabellón para recibir a los estudiantes del East High con un Grease lightning que llegaron con un flamante coche tuneado. Una vez en la fiesta pudimos disfrutar del teatro que prepararon nuestros alumnos, ¡que lo hicieron fantásticamente! Justo después pudimos disfrutar de unas hamburguesas y unos perritos calientes ¡estaba delicioso! Una vez terminada la cena disfrutamos de unos juegos, bailando, practicando el tiro al MP, haciéndonos fotos en el photocall y muchos juegos más. Seguidamente llega la hora del concurso de baile por parejas de ROCK N' ROLL! Los primeros puestos estuvieron muy disputados… ¡nuestros alumnos son unos expertos del Rock n' Roll! Finalmente bailamos un último Grease lightning para despedirnos de esta fiesta tan especial para todos nosotros y cantamos la canción del turno para irnos a dormir.
Recordad que vamos a ir colgando información del turno en el blog y las fotos en Flickr. Podéis seguirnos también en Facebook, Twitter e Instagram.
¡Mañana mucho más!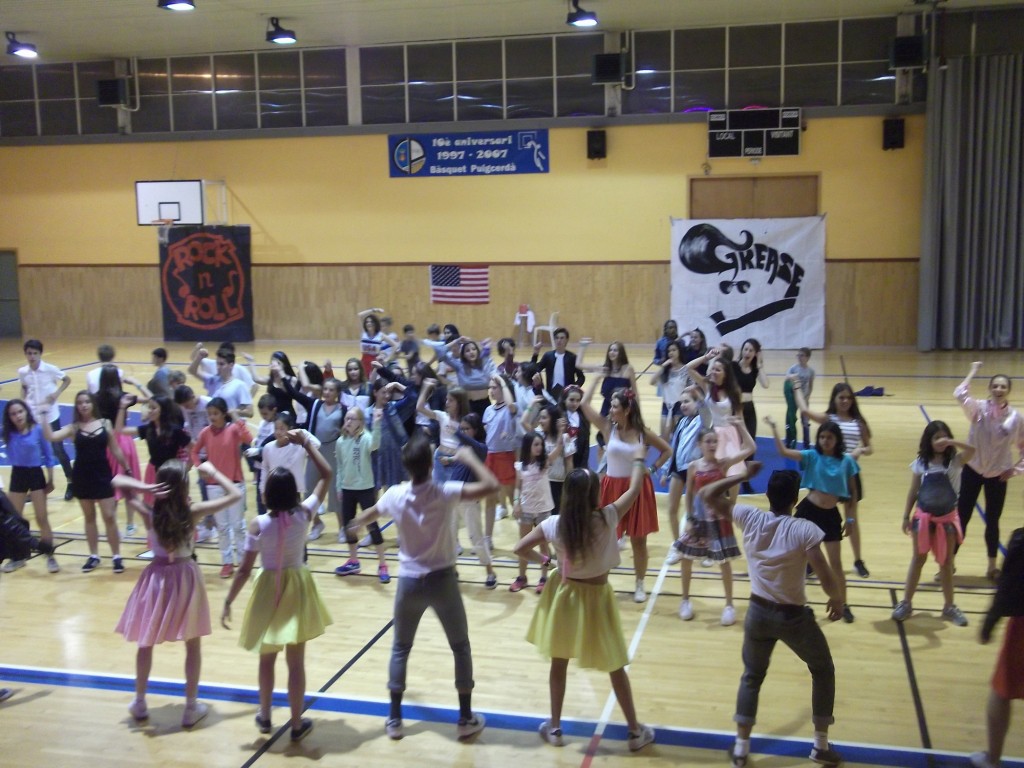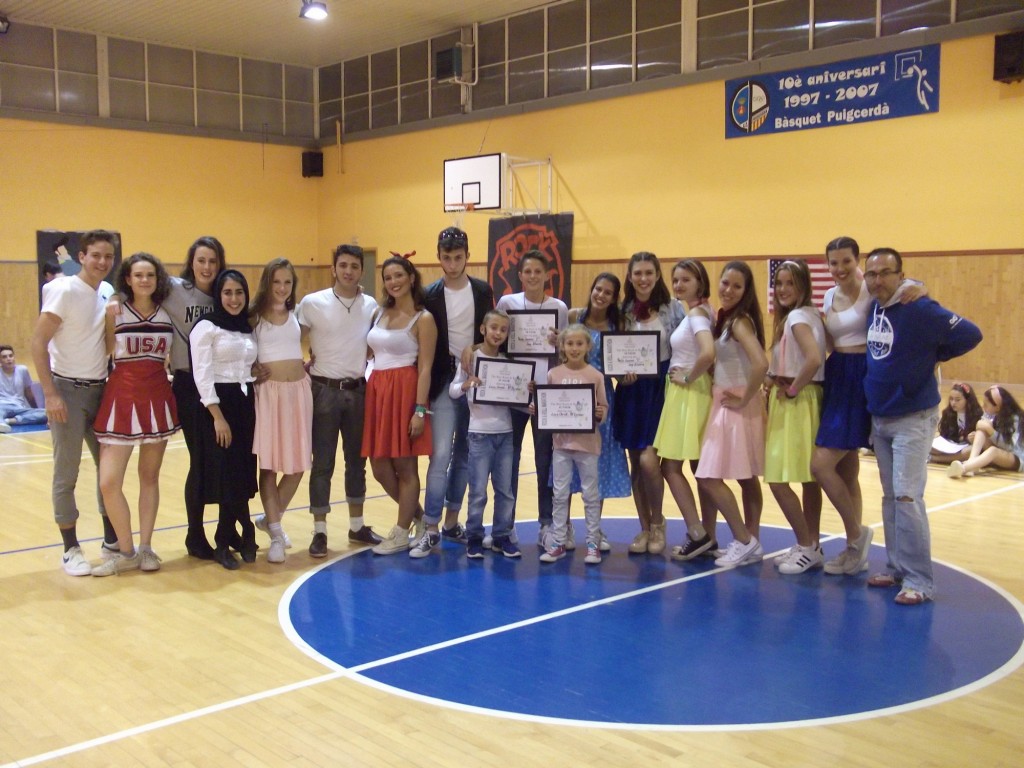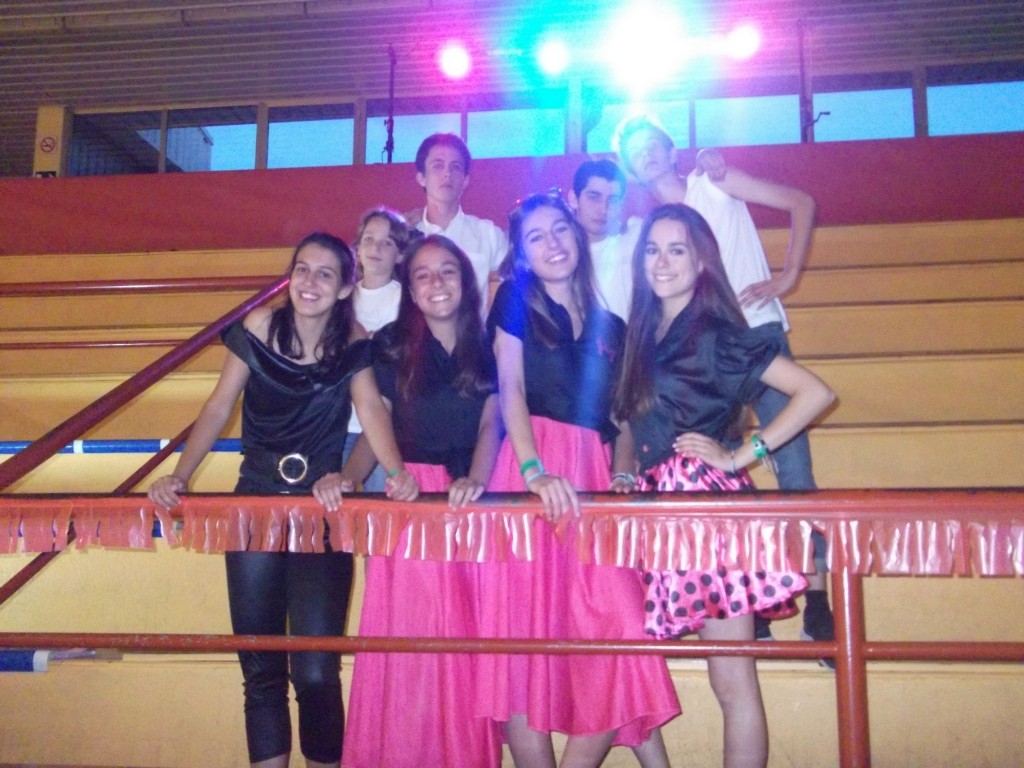 Good morning moms and dads!
Yesterday was a very special day in our English Summer ccamps in Cerdanya. We said good morning with a radiant sun and we were able to go to the pool after the first hour of class. Although it was a little cold there were a few brave ones who dived into the pool! We could also sing songs together, and practice the song of the term, Say you won't let go.
At lunch time we had a visit from East High students, who invited us to a very special dinner in the basketball hall… We could also dance the Grease lightning! After the English classes,  it was time for a snack where we did a casting to … Act at the Grease theater at the Rock n 'Roll party! There were many students, and although we had a hard time deciding, since they all did very well, we had to choose four girls and four boys to prepare the theater.
After this Rock n 'Roll snack, it was time to play volleyball and handball with our teams … it's starting to be very exciting … as on Saturday, these Olympic Games will end!
After the showers it was time to go to the basketball hall to greet the East High students with a Grease lightning who arrived with a brand new car. Once at the party we were able to enjoy the theater that our students prepared, which they did fantastically! Right after we were able to enjoy some burgers and hot dogs ¡it was delicious! Once the dinner was over we enjoyed a few games, dancing, practicing the MP shooting, taking pictures in the photocall and many more games. Then arrived the time of the dance contest for couples of ROCK N 'ROLL! The first positions were very disputed … our students are experts in Rock n 'Roll! Finally we danced a last Grease lightning to say goodbye to this party that's so special for all of us and we went to sleep.
Remember that we will be uploading information of the camp in the blog and photos on Flickr. You can also follow us on Facebook, Twitter  and Instagram.
Tomorrow much more!