Buenos días papás y mamás!
Ayer la casa de La Capella volvió atrás en el tiempo hasta la prehistoria! Como cada día, nos despertamos al ritmo de la música y nos fuimos a desayunar. Tras lavarnos los dientes y hacernos la cama, todo los alumnos fueron a clase con sus respectivos teachers.
Después de una primera clase, un merecido descanso y otra clase más, alumnos, monitores, MPs y teachers nos fuimos todos a comer. Que rico estaba todo!
Por la tarde, de tres a cuatro, los alumnos del Chef Camp realizaron realizaron una charla sobre nutrición y hábitos saludables y un seguido de actividades relacionadas con plantas aromáticas y especias. Mientras tanto, los alumnos del campamento de inglés fueron a clase con los teachers a realizar distintas actividades y juegos en inglés.
Más tarde, todos fuimos a la piscina. Pasamos un muy buen rato jugando y descansando con nuestros compañeros.
Al volver, los alumnos del Chef Camp cocinaron distintos platos con Thermomix: pannacotta, un granizado de sandía y la masa de una pizza que más adelante completarían de condimentar.  Al mismo tiempo, los alumnos del campamento de inglés estuvieron compitiendo en los Olympics jugando a handball, básquet y fútbol.
Una vez terminadas ambas actividades, nos fuimos todos a las duchas y nos preparamos para la gran fiesta de la prehistoria.
Después de cenar, nos reunimos todos en la pista de básquet, donde dimos la bienvenida a diversos hombres de las cuevas y a su amigo el gorila. Con todos ellos, realizamos distintos juegos y actividades relacionadas con la época: hicimos murales de pinturas rupestres, montamos collares, hicimos figuritas de barro donde dejamos nuestras huellas, aprendimos información sobre las plantas de nuestro entorno y bailamos al ritmo de las canciones de nuestros personajes.
En resumen, un día muy intenso! Acabada la fiesta, nos fuimos juntos a dormir y recuperar fuerzas para los días que nos quedan.
Recordamos que, para ver más fotos y obtener más información sobre el turno, no dejen de visitar nuestro Facebook, Twitter, página web y Flickr.
Good morning everyone!
Yesterday the house of La Capella went back to prehistoric times! As usual, we woke up to the rhythm of the music and then we had breakfast. After brushing our teeth and making our beds, all students went to class with their corresponding teachers.
After the first lesson, a well-earned rest and the second lesson, students, monitors, Mps and teachers all went to have lunch together. The food was delicious!
From three to four in the afternoon, the students in the Chef Camp attended a talk about nutrition and healthy habits and then completed some activities about aromatic plants and spices. Meanwhile, students in the English Summer Camp went to class with the teachers to do some games in English.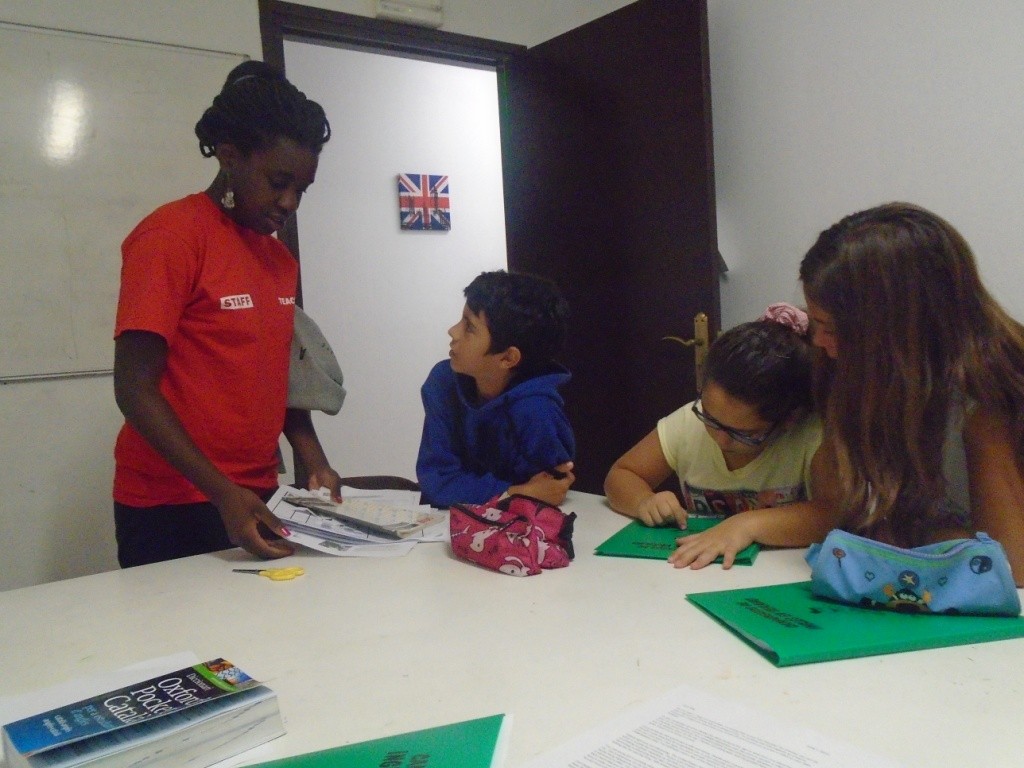 Later on, we all went to the swimming pool. We had a really good time playing together. What fun!
Back in the house, the Chef Camp students went back to the kitchens to cook some dishes with Thermomix: pannacotta, watermelon slushy and pizza dough, which they then seasoned and baked. At the same time, students in the English Summer Camp competed in the Olympics playing handball, basketball and hockey.
Once all the activities were finished, we went to the showers and prepared for the party of the day.
After having dinner, we all gathered in the basketball court, were we welcomed various cavemen and their friend the gorilla. With them all, we completed different games related to prehistoric times: we did cave paintings, necklaces and clay figures and we learnt some information about the plants in our surroundings. Then we all danced to some cavemen songs.
All in all, the day was a great success! Once the party had finished, we all headed to our rooms and went to sleep to recover some strength for the days to come.
Remember that, to see more pictures or learn more information about the term, do not hesitate to visit our Facebook, Twitter,website and Flickr.