Buenos días papás y mamás!
Ayer fue día de fotos y vídeo aquí en La Capella. Por la mañana, las cámaras nos despertaron habitación por habitación, nos pusimos nuestras camisetas de English Summer y nos fuimos a desayunar. Cuando ya nos hubimos lavado los dientes, a las diez de la mañana, empezaron las clases. Tras tres horas de clase con un pequeño descanso a media mañana, nos fuimos por turnos, como siempre, a comer.
Ayer, nuestras cocineras nos prepararon macarrones a la boloñesa y pescado. Además, pudimos probar la pannacotta y el granizado de sandía que habían preparado los alumnos del Chef Camp el día anterior. Que rico estaba todo!
Tras un rato de recreo, a las tres de la tarde, nos dividimos en dos grupos: los alumnos del campamento de inglés por un lado y los del Chef Camp por el otro. Los primeros se fueron con sus respectivos teachers a realizar distintas actividades y juegos en inglés, y los del Chef Camp se dirigieron a las cocinas para una clase sobre comida americana.
Más tarde, a las cuatro, nos fuimos todos a la piscina, y aprovechamos para tomar el sol, bañarnos, jugar y contarnos unos a otros lo que habíamos hecho durante el día.
De vuelta en la casa, los alumnos del Chef Camp retomaron lo que estaban haciendo y prepararon unas deliciosas alitas de pollo con diferentes salsas y una hamburguesa al estilo americano. Qué nivel tienen nuestros pequeños chefs!
De mientras, los alumnos del campamento de inglés se reunieron por equipos y compitieron en fútbol, básquet y vóleibol. Se lo pasaron fenomenal!
A las ocho, cuando terminamos todas las actividades, subimos a las habitaciones a ducharnos y prepararnos para la fiesta de la noche: Far West.
Durante la fiesta, cenamos comida típica americana al aire libre, y luego los monitores nos sorprendieron con una increíble obra de teatro ambientada en el Oeste Americano. La historia tenía lugar en el pueblo de Capeltown, donde un vaquero malvado, acompañado de sus dos secuaces, había secuestrado a la hija del sheriff. Tras varios intentos de salvarla, el sheriff consiguió la ayuda de los indios salvajes y rescató a su hija de las manos del vaquero, que fue desterrado para siempre.
Durante la fiesta, además, todos los alumnos pudieron participar en distintas pruebas relacionadas con el Oeste: el juego del porrón, carreras de caballos, bailes country, etc. Nos lo pasamos muy muy bien!
Para ver más fotos del día o obtener más información sobre el turno, no dejen de visitar nuestro Facebook, Twitter, página web y Flickr.
Good morning everyone!
Yesterday was photo and video day here in La Capella. In the morning, the camaras woke us all up room by room. Then, we put on our English Summer T-shirts and went to have breakfast.
When we finished brushing our teeth and tidying up our rooms, at ten o'cock, we went to class. After three hours of English lessons divided by a little break, we all went, as always, to have lunch by turns.
Yesterday, our cooks prepared macarroni with bolognese sauce and fish for us. In addition to this, we also tried the pannacotta and watermelon slushy that the students in the Chef Camp had prepared the day before. It all tasted amazing!
After a little break, at three in the afternon, we split into two groups: one group for the students in the English Summer Camp, and the other group for the students in the Chef Camp. The first group went with their teachers to do some activities and games in English, and the second group headed to the kitchens to learn about american food.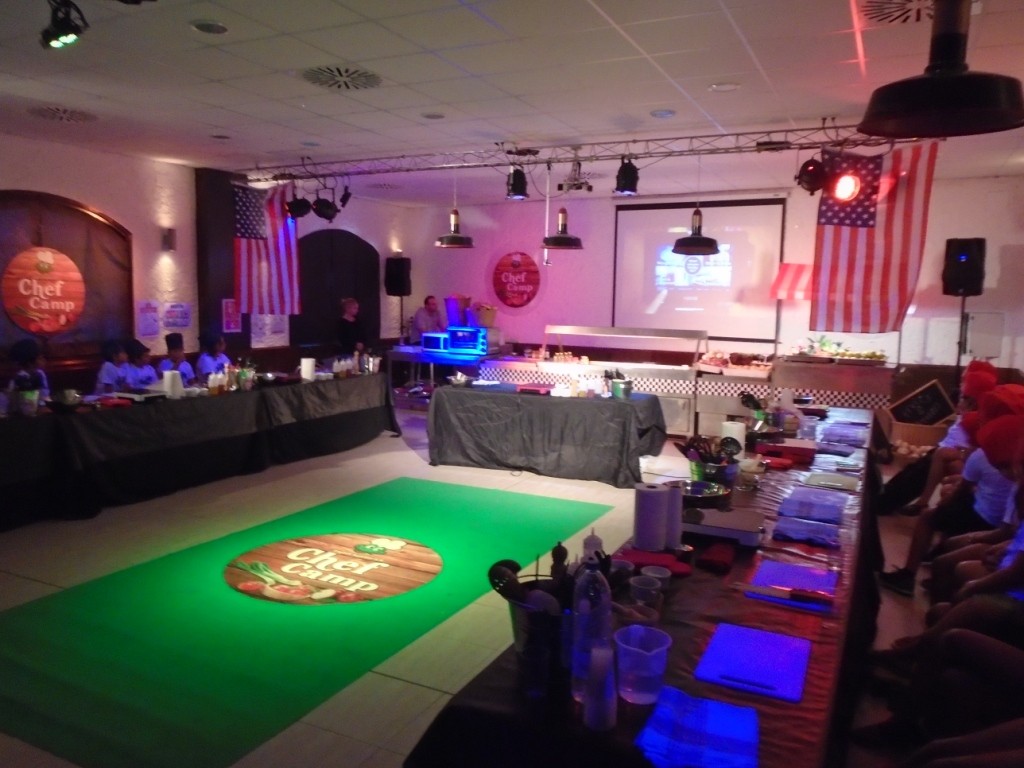 Later on, at four, we all went to the pool, and had a lovely time sun-bathing, swimming, playing and telling one another about our day.
Back in the house, the students in the Chef Camp, continued with what they were doing and prepared some delicious chicken wings with different sauces and a hamburger in the american style. Our little chefs cooked like professionals!
Meanwhile, the students in the English Summer camp split into their Olympic teams and competed in football, volleyball and basketball. They all had a really good time!
At eight in the evening, once we had finished all the activities, we went upstairs to have a shower and get ready for the party of the day: Far west.
During the party, we ate typical american food in the garden, and then, the monitors surprised us with an incredible show set in the Far West. The story took place in the village of Capeltown, where a villain cowboy, accompanied by his two henchmen, had kidnapped the sheriff's daughter. After a couple attempts to rescue her, the sheriff got some help from the savage indians, and then he saved his daughter from the evil villain cowboy, who was exiled forever.
Remember that, to see more pictures or learn more information about the term, do not hesitate to visit our Facebook, Twitter,website and Flickr.