Buenos días papás y mamás!
Ayer, como de costumbre en La Capella, los monitores nos levantaron al ritmo de la música de megafonía y, una vez vestidos, nos fuimos a desayunar. A las diez, ya estábamos todos preparados para empezar las clases con los teachers. Tras dos clases de una hora y media cada una separadas por un pequeño descanso, durante el cual pudimos disfrutar del bar, nos llamaron a comer.
Después de lavarnos los dientes y descansar un rato con nuestros compañeros en el recreo, nos dividimos en grupos del Chef Camp y de los campamento de inglés.
En el Chef Camp, nuestros alumnos disfrutaron de una masterclass sobre preparación y decoración de galletas de mantequilla de la mano de Matina Cakes. Nuestros pequeños chefs hicieron unas galletas que parecían de profesional. Y qué bien se lo pasaron preparándolas!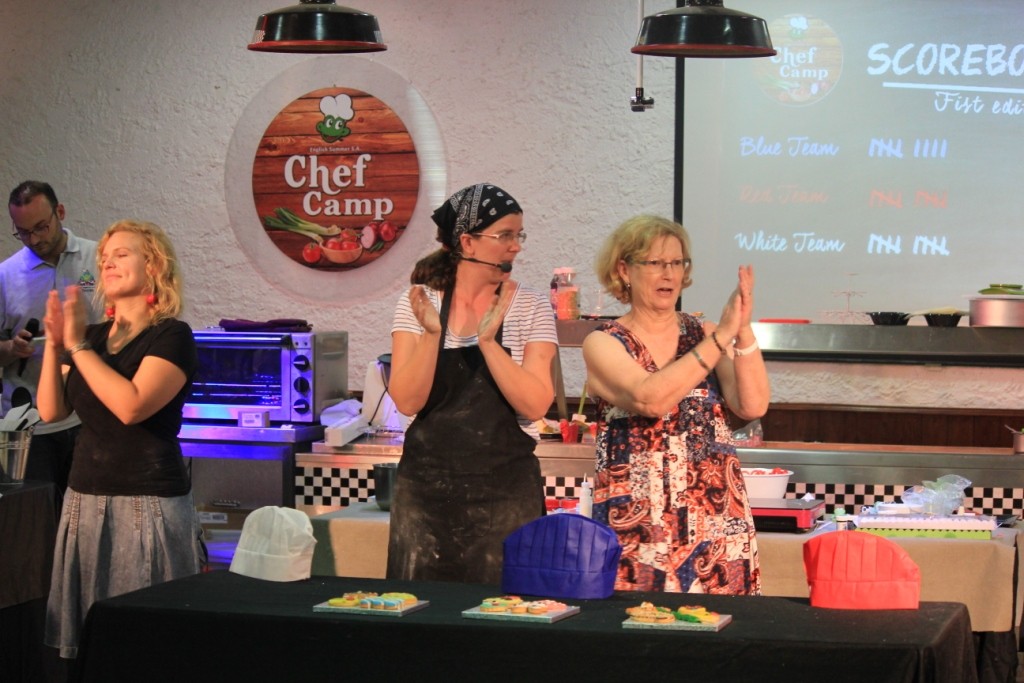 Mientras tanto, los alumnos del campamento de inglés realizaron distintas actividades con sus respectivos teachers, y a las cuatro cogieron toallas y bañadores y se fueron a la piscina.
De vuelta en la casa, y una vez hubimos merendado, nos volvimos a dividir en dos grupos: los alumnos del Chef Camp siguieron con sus galletas, y los del campamento de inglés + multiactividad compitieron en los Olympics y realizaron algunas de las pruebas que ya habíamos hecho la noche de Prehistoria y que habían gustado mucho a nuestros alumnos.
A las ocho, cuando terminamos todas las actividades, subimos a las duchas y nos preparamos para la English Party.
Esta fiesta, que prepararon los teachers, consistió en una serie de pruebas y talleres por equipos en las que los alumnos tuvieron que utilizar, en todo momento, el inglés. Además, durante la fiesta, recibimos la visita de las Spice Girls, la mismísima Reina de Inglaterra y los Beatles, que tocaron una canción para nosotros.
Para terminar, bailamos varias canciones y nos fuimos a la cama a reponer fuerzas para los días que aún nos quedan por delante.
Para ver más fotos del día o obtener más información sobre el turno, no dejen de visitar nuestro Facebook, Twitter, página web y Flickr.
Good morning everyone!
Yesterday, as usual here in La Capella, our monitors woke us up with music and, once we were all dressed up, we went to have breakfast.
At ten in the morning, we were already prepared to go to class with the teachers. After two lessons of one hour and a half each and a little break to enjoy the bar, we went to have lunch.
After brushing our teeth and spending some time with our friends in the playground, we split into two groups: Chef Camp students and English summer Camp students.
In the Chef Camp, our students enjoyed a masterclass about the preparation and decoration of butter cookies with the help of Matina Cakes. Our little chefs' cookies looked like they were made by professionals. And they had so much fun making them!
Meanwhile, the students in the English Summer Camp did various activities with their corresponding teachers, and at four they took their towels and swimming suits and went to the pool.
Back in the house, once we'd had a snack, we divided into two groups again: the Chef Camp students continued with their cookies, and the students in the English Summer Camp competed in the Olympics. They also did some activities from the Prehistroy party which the children really enjoyed.
At eight in the evening, when we had finished all the activities, we went upstairs to the showers and got ready for the English Party.
This party, which was prepared by the teachers, consisted of a series of games that students had to complete by teams and in which they had to use English all the time.
In addition to this, during the party we received visits from the Spice Girls, the Queen of England herself and The Beatles, who played a song for us.
To end the party we danced to some songs and then we went to sleep to recover some strength for the days to come.
Remember that, to see more pictures or learn more information about the term, do not hesitate to visit our Facebook, Twitter,website and Flickr.