Buenos días papás y mamás,
Ayer en La Capella el día fue un tanto diferente. Al ser domingo, los alumnos no tenían clases de inglés o alemán, ni tampoco "Froggy Games" o "Special Breakfast". Esta vez, nos despertamos un poco más tarde y después de desayunar, lo alumnos subieron a sus habitaciones para ordenar. Cada día se hace una inspección de las habitaciones, sin embargo, ayer era la "Gran Room Inspection". Así, fueron los directivos los que valoraron el orden de cada habitación, puntuando del 1 al 5 según consideraran.
Una vez acabó la "Room Inspection" y se anunció el ganador, era hora de los "Atletics". Estos consistían en una serie de pruebas que los alumnos realizaban por equipos. Ejemplo de estas son; jabalina, lanzamiento de peso, velocidad, relevos, entre otros. ¡Qué alumnos más deportistas tenemos en los campamentos de verano!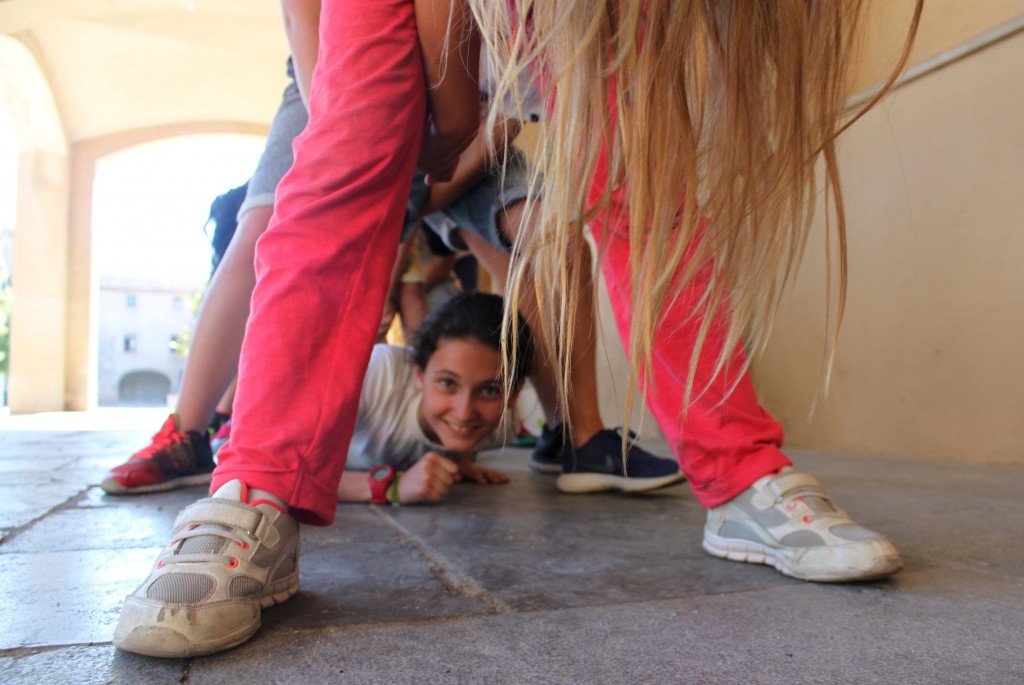 Después de la comida, ¡era hora de mirar una película! El film seleccionado fue "Inside Out" y, en general, fue de agrado de los alumnos. Acto seguido, nos preparamos para ir al monasterio, donde hicimos una serie de actividades por equipos y, aquello que así lo habían decidido, fueron a misa con algunos de los miembros del staff.
De vuelta a la casa, ¡había caras nuevas! Durante la excursión, en La Capella había tenido lugar el check-in de los nuevos alumnos. Este nuevo grupo de niños jugarán a hockey, sin embargo, la mayor parte del día estarán con nosotros.  De hecho, ayer mismo por la noche, se unieron a nosotros en la fiesta "Capture the Flag".
Dos caballeros abrieron la fiesta con un pequeño show. Los pueblos de los respectivos caballeros, "Starks" y "Lannisters", estaban enfrentados desde hacía tiempo y uno reivindicaba la propiedad de unas tierras al otro, quien afirmaba que le pertenecía. El objetivo de los alumnos era, por equipos, defender su bandera para evitar perder la propiedad de su tierra, así como intentar quitar la bandera al otro equipo, a fin de quedarse con la propiedad del terreno. ¡Qué noche más divertida!
Por último, les adjuntamos los cambios en los niveles de inglés:
| | | |
| --- | --- | --- |
| CEFR | CAMBRIDGE | CLASSES |
| A1 | Starters | 1 |
| A1 | Movers | 2 |
| A2 | Flyers | 3 |
| A2 | KET | 4 |
| B1 | PET | |
| B2 | PET | 5 |
| B2 | FCE | 6 |
| C1 | CAE | |
Good morning parents,
Yesterday in La Capella we had kind of a different day. As it was Sunday, the students didn't have English nor German classes, neither "Froggy Games" nor "Special Breakfast". Instead, we all got up a bit later and, after having breakfast, all the students went up to their rooms to put them in order. Everyday a room inspection is done through all the rooms. Yet, this time there was the "Big Room Inspection". This was carried out by the directors, who assessed the rooms' order and put a grade from 1 to 5.
Once the "Big Room Inspection" was over and the winner had been announced, it was time for Atletics. This consisted of several activities that the students did in different groups. Examples of them are; the javaline, shot put, speed, relays, among others. Such good athletes our students are!
After having lunch, it was film time! The film chosen was "Inside Out" and it generally was to all students' taste. Then, we all got ready to go to the monastery, where we did some activities and the ones who had chosen going to mass, went to it.
Back to the house, there were new faces! Meanwhile some of us were in the monastery with all the students, a check-in was being carried out in La Capella. This new group will play hockey but they will spend almost all the day with us. That's why they joined us since the beginning coming to the party "Capture the Flag".
Two knights opened the party with a show. The villages they stood for were in a fight for a long time and one claimed some lands property to the other one who alleged that it was theirs. The students had the goal to, in groups, defend their flag from the other team so they didn't steal it. Furthermore, they had to try to steal the other's flag to get the lands property. What a funny night!
Finally, we attach here all the changes in English levels.
| | | |
| --- | --- | --- |
| CEFR | CAMBRIDGE | CLASSES |
| A1 | Starters | 1 |
| A1 | Movers | 2 |
| A2 | Flyers | 3 |
| A2 | KET | 4 |
| B1 | PET | |
| B2 | PET | 5 |
| B2 | FCE | 6 |
| C1 | CAE | |