Buenos días mamás y papás,
Ayer tuvimos un día muy completo en la Capella, nos visitaron los fotógrafos que nos acompañaron durante todo el día para tener un magnífico recuerdo del campamento de verano. Los monitores despertaron a sus niños junto con el cámara y nos vestimos todos del revés para ir al Reverse breakfast, dónde pudimos ver looks muy originales!
Después hicimos las fotos de monitores y de grupo con la camiseta del colegio, y a las 10:30h, todos a clase!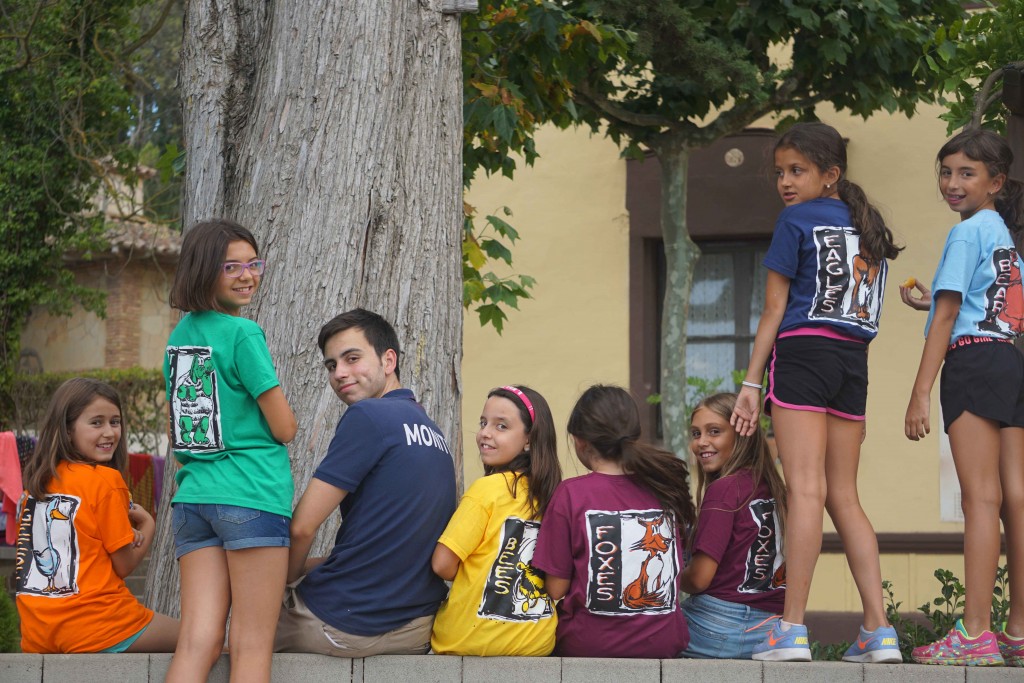 A la hora de comer, nos visitaron unos estudiantes de East High, para invitarnos a una fiesta muy especial por la noche, con cena incluida!
A las 15h, llegó el momento muy esperado por unos cuantos alumnos con habilidades culinarias…empieza el Chef Camp! Empezaron con un test de nivel culinario para definir el equipo al que perteneceran estas dos semanas, y después de merendar recibieron la primer Master Class a cargo de Andreu Guasch. Finalizaron la tarde con el primer Cooking Challenge!
Después todos juntos pudimos disfrutar de la piscina, el agua estaba buenísima!
Para finalizar el día…Rock n' Roll party! Fuimos todos juntos y vestidos de Grease y Rock n' Roll a cenar a la cancha de baloncesto. Qué buenas estaban las hamburguesas y el helado! Mientras cenábamos, disfrutamos de la obra de teatro de Grease con las Pink Ladies y los T-Birds.
Después de cenar todos a bailar en el Dance Contest por parejas! Felicidades a los bailarines ganadores! También dimos un premio al mejor outfit y clausuramos la fiesta con el Greased Lightning. Good night!
Tenéis disponibles las fotos del día en el área de clientes. Animaros a seguirnos en Twitter, Facebook e Instagram!
See you tomorrow!
Good morning mums and dads!
Yesterday we had a very busy day at La Capella, we were visited by the photographers who accompanied us throughout the day to capture the great memory of the summer camp. Monitors woke up their children along with the camera and we dressed backwards to go to Reverse breakfast, where we could see very original looks!
Then we did the photos with the monitors and the group with the shirt of school, and at 10: 30h, all students went to class!
At lunchtime, we were visited by some students from East High, and they invited us to a very special party at night, with a delicious dinner included!
At 15h… Chef Camp begins! They started with a test to define their culinary level and the team in which they will be these two weeks, and after tea time they received the first Master Class by Andreu Guasch. They finished the afternoon with the first Cooking Challenge!
Then all together we could enjoy the pool, the water was very good!
To end the day … Rock n 'Roll party! We all went together dressed up like Grease and Rock n 'Roll to have dinner at the basketball court. The hamburgers and ice cream were delicious! While we dined, we enjoyed the play of Grease with the PinkLadies and T-Birds. After dinner everyone danced in the Dance Contest in pairs! Congratulations to the winners! We also gave a prize for the best outfit and we closed the party with the Grease Lightning. Good night!
You have available the pictures of the day in the customer area. Remember to follow us on Twitter, Facebook and Instagram!
See you tomorrow!