Buenos días papás y mamás!
Por fin ha llegado el momento, después de un año esperando… empieza el tercer turno de campamentos en inglés en La Capella, estáis listos?
Ayer domingo dimos la bienvenida a los 104 alumnos que formaran parte de este 3c en nuestros campamentos de verano. Es un turno de una semana, que pasará volando, y por eso queremos que sea una semana única e inolvidable. Vimos muchas caras conocidas y también pudimos conocer a algunas de nuevas, y sobretodo muchos reencuentros y muchas ganas de empezar.
En este turno también se llevaran a cabo los campamentos de Dance Camp y Horseriding Camp, que harán cada día, y os iremos contando todas las actividades que realizan.
El check-in fue de 10h a 13h, y una vez recibidas todas las familias, Ester Bartra, la directora de la casa nos explicó las normas y el funcionamiento de la casa. Después fuimos a comer por turnos de comedor y grupos de monitor, junto con el MP (monitor en prácticas) y el work-pair (teacher). Pudimos disfrutar de un delicioso arroz con tomate, pollo con patatas fritas y helado!
 Después de comer presentamos todo el staff de monitores, teachers, MP's y equipo directivo a los alumnos. Seguidamente,  todos fueron a hacer la prueba de nivel de inglés para poder asignarles una clase acorde con su nivel  y que puedan aprender muchísimo estas dos semanas. Al finalizar el examen disfrutamos de la merienda y del primer día de bar!
Después de merendar, los alumnos se reunieron con su monitor/a para poder realizar el Personal afternoon, en el que los alumnos se conocen mejor en juegos de integración y el monitor junto con su MP les explica el funcionamiento del turno, las tareas o duties asignados y el programa del campamento de verano. Ya tienen todos su camiseta de English Summer y la carpeta de clase!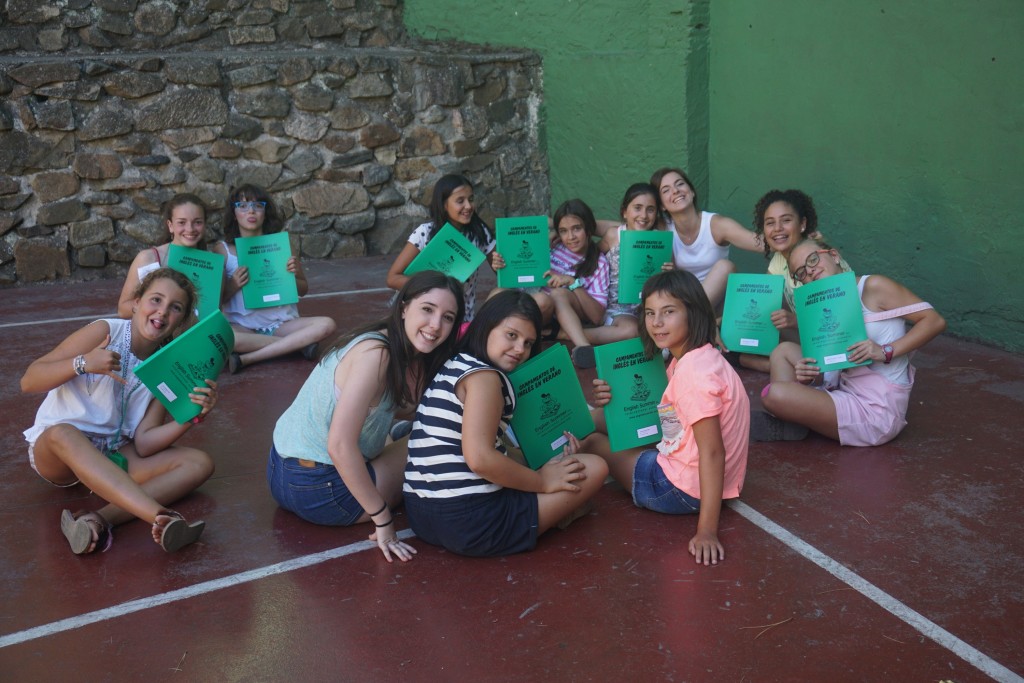 Para finalizar el día, después de las duchas y la cena…llegó el momento de la primera fiesta del turno, Welcome to Froggyland! Tuvimos la suerte de recibir a Froggy y su familia, que llegaron con muchas ganas de pasarlo bien y con mucha energía, que se contagió inmediatamente  y estuvimos bailando todos juntos con la familia Froggy hasta la hora de ir a dormir!
Un primer día que ha sido fantástico, y un inicio de turno que no podía ser mejor!
Tenéis disponibles las fotos y vídeos del día en el área de clientes. Animaros a seguirnos en Twitter, Facebook e Instagram!
Mañana mucho más!
Good morning mums and dads!
After much waiting … the day has arrived!  So begins the third turn of English summer camps in Poblet! Are you ready?
On Sunday we welcomed 104 students who are going to be part of this 3c in our summer camps. It is only a one week term,  and we want it to be a unique and unforgettable week. We saw many familiar faces and could also meet some new!.
The check-in was from 10h to 13h, and once received all families, Ester Bartra, who is director of the house, explained the rules and the functioning of La Capella. Then we went to eat in dining shifts with our monitor groups, along with the MP (monitor in practice) and the work-pair (teacher). We were able to enjoy delicious rice with tomato, chicken with french fries and ice cream!
 After lunch we presented the entire staff of monitors, teachers and MPs to the students. Then they all went to make an exam in order to assign a class according to their level of English and so they can learn a lot these two weeks. After the exam, they enjoyed the snack and the bar for the first time!
After an afternoon snack, students met with their monitor to do the personal afternoon, in which students make integration games and get to know with the other students. Also the monitor and the MP explain them their tasks or duties assigned and the summer camp program. They already have their T-shirt and their English Summer folder!
 To end the day, after showers and dinner … it was time for the first party, Welcome to Froggyland! We were fortunate to receive Froggy and his family, who arrived eager to have fun and full of energy, which immediately caught and we were dancing together with the Froggy family until time to go to sleep!
A fantastic first day, and a 2C beginning that could not be better!
You have available the pictures of the day in the customer area. Remember to follow us on Twitter, Facebook and Instagram!
Tomorrow more!