Good morning parents!!!
Time flies and Friday arrived…  for all 16C40 students it was their last day in Capella. Once they woke up and went out of their rooms, they found along the corridors and stairways lots of hearts cards with their names and emocional dedications made by their monitors. Thousands of emotions at the begining of the day!
Once their stomach was full after breakfast, it was time to pack! Not only packing clothes but also all the experiences and great moments lived in the term. There was also time to rehearse the afternoon performance and the oldest students took the opportunity to give the «Froggy awards» to all monitors and MP's.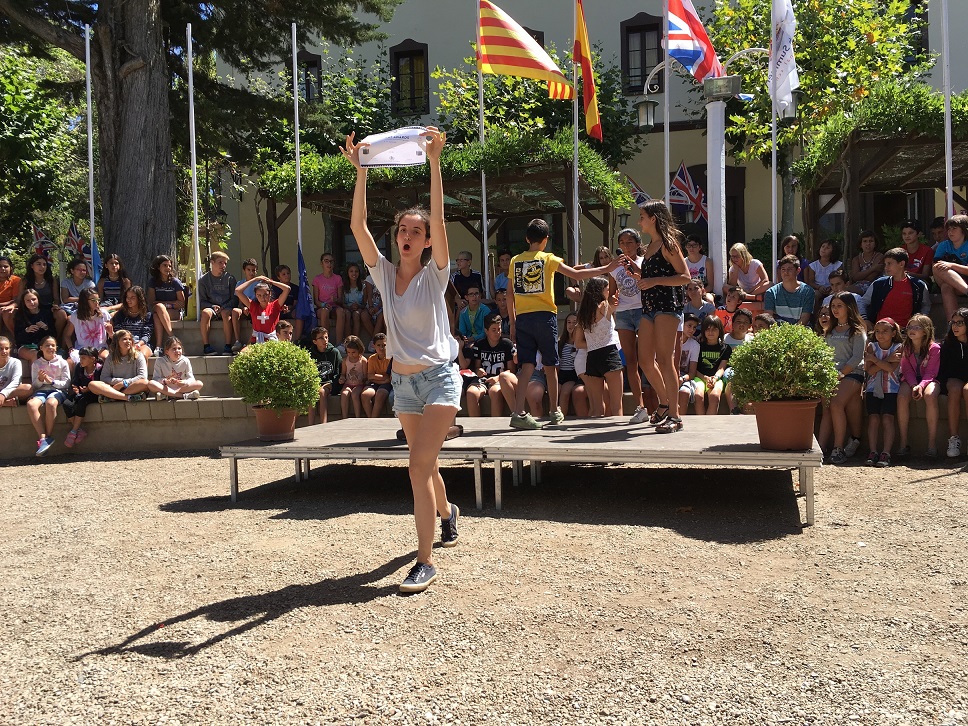 For the other students who are staying (16C44 and Dance Camp), the day began regularly with English classes in the morning.
After lunch, students started to say goodbye to their friends and also to the house because mommies and daddies were arriving at 5pm to start the check-out. At 6pm the ceremony took place in the garden, where all the students recieved an appreciation medal for their participation in the Olympic Games, the winners were… THE EAGLES!!
Meanwhile, Dance Camp girls were in the disco taking different dance workshops: Commercial and Jazz technique. They also had time to review the final choreography which will be presented next Sunday at the closing ceremony in front of their families.
At night, students who were staying enjoyed the movie «Inside Out» (in English of course), and they loved it! That's how we finished a long and emotive day. 
Today is PortAventura & Costa Caribe day! Our students are having a great time there, we will tell you more tomorrow.

Don't forget to follow us on Twitter, Facebook and Instagram! You have the pictures of the day available in the customer area.
—
Good morning parents!!!
Y casi sin darnos cuenta llegó el viernes… para los alumnos del 16C40 era su último día en Capella, se termina este gran campamento de verano. Nada más levantarse y salir de las habitaciones se encontraron a lo largo de los pasillos y escaleras, cantidad de corazones de cartulina con sus nombres que llevaban en el dorso una emotiva dedicatoria del monitor de cada uno. ¡Cuántas emociones nada más empezar el día!
Una vez tuvieron el estómago lleno, ¡hora de hacer maletas! Era momento de empezar a guardar no solamente la ropa, sino también todas las vivencias y grandes experiencias que los chicos y chicas se llevan de este turno. También hubo tiempo para ensayar el acto de la tarde y los más mayores aprovecharon para dedicar unos «Froggy awards» a los monitores y MP's.
Para el resto de alumnos, tanto los que se quedan una semana más como las alumnas Dance Camp que se van este domingo, la jornada comenzó regularmente con las clases de inglés por la mañana.
Después de comer, los alumnos que se iban por la tarde empezaron a despedirse de la casa y de sus compañeros, pues a las 17h ya llegaban papis y mamis y puntualmente a las 18h comenzó la ceremonia de despedida dónde todos recibieron una medalla de reconocimiento por su participación en los Juegos Olímpicos, los ganadores del torneo fueron… THE EAGLES!!
Mientras tanto, en la discoteca seguían las clases de Dance, concretamente, talleres de Jazz y Comercial Dance. También hubo tiempo para repasar la coreografía que nuestras chicas presentarán el domingo en su ceremonia de clausura delante de las familias.
Por la noche, los alumnos que seguían en la casa pudieron disfrutar de la película «Inside Out», en inglés, and we loved it! Así dimos por finalizada una larga e intensa jornada.
Hoy es PortAventura & Costa Caribe day!  Nuestros alumnos lo están pasando en grande, mañana os contamos más.

Recordad que podéis seguirnos en Twitter, Facebook e Instagram. Tenéis disponibles las fotos y vídeos del día en el área de clientes.