Good morning parents!
Yesterday was one of the most special days of the term, a day which we had been waiting for since the beggining of our stay in English Summer's summer camp: the Froggy Awards Night, also known as the Oscars.
We started off the day with the Froggy Games and, when we had finished, we went to the dinning room to have breakfast.
At 10h, as usual, all the students went to their English classes. At the same time, the kids from Kids Fashion Camp went to their classes. They learned how to pose and how to do different actings for their photo and video books. Later, they also did style moodboards to learn about their own style.
Then, lunch time arrived and we enjoyed our meal before going back to class for the last lesson of the day.
At 16 h it was time for the clubs. The kids did Big Games, in which they played traditional games but in a bigger version, and they also did an escape room. Meanwhile, some kids from the Kids Fashion Camp rehearsed their catwalk walk.
After the clubs, there was only one rotation of the Olympic Games before going to our rooms to get ready for the swimming pool.
And, when we arrived from the swimming pool, it was finally time to start getting ready for the Oscars! All the students looked amazing!
The ceremony started with some live music by our monitors and, during the night, we could also enjoy more live performances and the fashion show, in which the kids from Fashion Camp walked the catwalk by teams.
We ate mini pizzas, chips, chicken wings… it was all delicious! Then the monitors started announcing the winners to the different awards: to the happiest, to the sleepiest, to the best smile… Congratulations to all the nominees!
And it was then time to go to sleep! Good night Poblet!
You have available the pictures of the day in the customer area. Don't forget to follow us on Twitter, Facebook and Instagram!
…
Good morning parents!
Ayer fue uno de los días más especiales del turno, un día que llevábamos esperando desde el principio de nuestro paso por los campamentos de verano de English Summer: los Froggy Awards, también conocidos como Los Oscars.
Empezamos el día con los Froggy Games y, cuando hubimos acabado, fuimos al comedor a desayunar.
A las 10h, como siempre, todos los alumnos fueron a sus clases de inglés. Al mismo tiempo, los niños del Kids Fashion Camp fueron a sus clases. Aprendieron acerca de cómo posar y hacer diferentes actings para sus books de fotos y vídeos. Más tarde, también hicieron moodboards para aprender acerca de su propio estilo.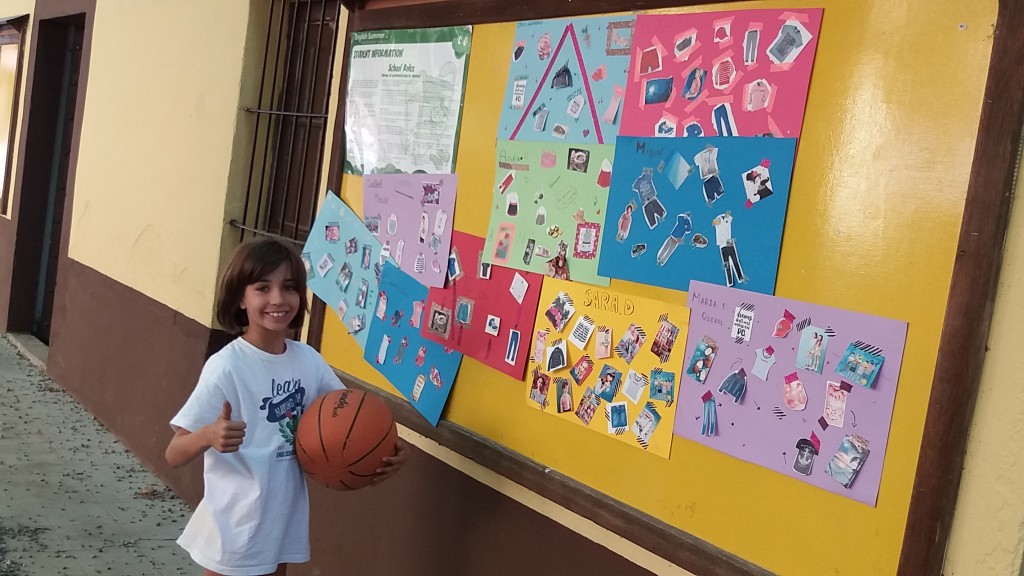 Entonces, llegó la hora de comer y disfrutamos de la comida antes de volver a las aulas para la última clase del día.
A las 16h era la hora de los clubs. Los niños hicieron el club de los Big Games, el cual consiste en jugar a juegos como el twister o el mikado pero en versión grande. También hicieron un escape room. Mientras tanto, algunos de los niños del Kids Fashion Camp ensayaron su pasarela.
Después de los clubs hubo solo una rotación de los Olympics antes de ir a nuestras habitaciones a prepararnos para la piscina.
Cuando llegamos de la piscina, ¡era por fin la hora de prepararnos para los Oscars! ¡Todos estaban guapísimos!
La gala empezó con música en directo tocada por nuestros monitores y, durante la noche, pudimos disfrutar de más actuaciones en directo y del desfile de los niños del Kids Fashion Camp.
Comimos mini pizzas, patatas fritas, alitas de pollo… ¡Estaba delicioso! Entonces, los monitores empezaron a entregar los premios: al más feliz, al más dormilón, a la mejor sonrisa… ¡Felicidades a todos los nominados!
¡Y fue el momento de ir a dormir! Good night Poblet!
Tenéis disponibles las fotos del día en el área de clientes. Animaros a seguirnos en Twitter, Facebook e Instagram.