Good morning families!
Yesterday the students arrived and took the english test in order to place them in a class with their appropriate level. This turn we have 12 classes with different Cambridge levels, for the kids to improve as much as posible their english in our summer camps:
– CLASS 1: Starters 1A                                  – CLASS 2: High Starters 1A/1B
– CLASS 3: Movers 1B                                  – CLASS 4: Flyers 1b/2A
– CLASS 5: Flyers 1B/2A                             – CLASS 6: KET 2A
– CLASS 7: KET 2A                                       – CLASS 8: KET 2A
– CLASS 9: PET 2A/2B                                – CLASS 10: High PET 2A/2B
– CLASS 11: FCE 3A                                      – CLASS 12: PET EXAM (This tuesday!)/FCE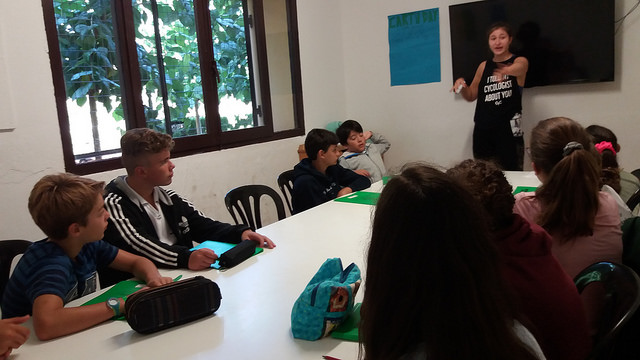 In the afternoon, as it was raining, we played a funny game at the classes called «Room Panic!», in which the kids had to do mimo, draw or either describe something in English. It was great!! For dinner we had a delicios soup and omelette!
Tomorrow first day of class as well as Horseriding and Dance Camp!! Remember you have all the photos available o
in the customer area. You can also follow us on Facebook, Twitter and Instagram.
Have a nice day!