¡Muy buenos días de nuevo y bienvenidos al blog diario de este turno en el campamento de verano de English Summer!
Ayer fue el segundo día y por ello todos los niños se levantaron llenos de ganas y de energía. Después de un súper desayuno cada uno se fue a la clase que le asignaron según el nivel de inglés y conocieron a sus teachers y a sus compañeros. Una vez acabadas las clases de la mañana, fuimos a comer por turnos unos deliciosos macarrones a la boloñesa con pescado y fruta de postre.
Por la tarde tuvieron una horita más de inglés después de comer, con actividades más dinámicas. Nos fuimos todos a la piscina, y hacía un día radiante, por lo que se bañaron prácticamente todos e incluso tuvimos algún que otro concurso de «salto de bomba».
Después de todo ello nos reunimos por equipos y realizamos la elección de capitanes, tanto junior como senior y además inventamos un himno para cada equipo, con baile incluido.
Llegó la hora de cenar, y todos estaban nerviosos por la fiesta de presentación de los equipos. Los presentadores dieron paso a cada equipo, los cuales presentaron sus himnos y sus bailes. Hicimos distintos juegos y bailamos un montón.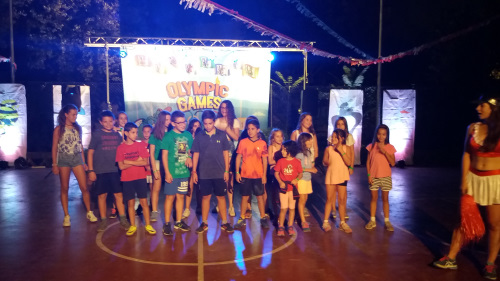 Podéis seguir todas las fotos del turno en el área de clientes y seguirnos en Facebook, Twitter y Instagram.
Good morning again and welcome to the daily blog !
Yesterday was the second day so children woke up full of energy. After having a super breakfast, they went to their English classes which are divided according to levels . They met their teacher and classmates. When they finished the morning classes, they went to eat some delicious spaguetti with fish, and fruit for desert.
During the afternoon, they had one more hour of English, with more interactive activities. We all went  to the swiming pool, and it was a sunny day so everyone took a swim. We even had a competition of «pump jumps».
After that we were arranged into our teams, and we chose our teams captains, junior and senior. Additionally, they made an anthem with a dance included.
It was time to have dinner, and all of theme were so nervous because of the teams' presentation party. The presenters introduced every team who performed their anthem, and danced. We played different games and we danced a lot!
Remember that we will be posting more information about the term in the blog and you can see updated pictures in the customer area. You can also follow us on Facebook, Twitter and Instagram.