¡Buenos días mamás y papás y bienvenidos de nuevo!
Cada vez queda menos para acabar esta primera semana y ayer disfrutamos de un día en los años 80. Nos levantamos por la mañana al ritmo del rock and roll. Los niños desayunaron y fueron a las clases mientras los monitores transformaban la pista de basket en el musical de Grease.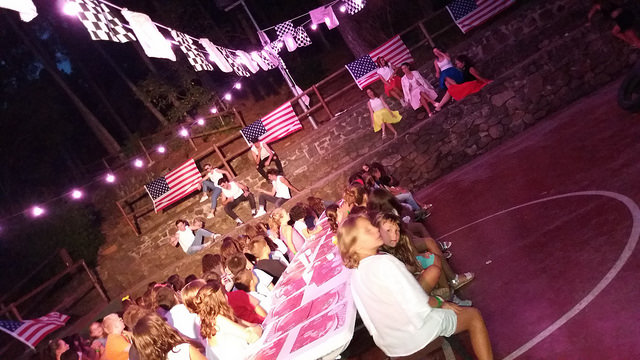 Tras la mañana de clases, algunos miembros de la banda de T-birds llegaron a la hora de la comida, para invitar a todos los niños a la fiesta de bienvenida de la universidad. Después de un rato de descanso y de la clase de inglés, los seniors se fueron a la piscina a disfrutar un poco del sol. Por el contrario, los juniors se quedaron en la casa y recibieron una amena charla de un Mosso d'Esquadra. Tras estas dos actividades, todos fueron a hacer manualidades o a conseguir escapar de alguna habitación en los Clubs.
Ya se nota que la clasificación de los Olympics está muy igualada y los niños lo dan todo en los deportes, tanto animando como jugando. Después de los partidos, todos se ducharon y se vistieron para la noche de «rock and roll».
La noche estuvo llena de actuaciones, de juegos, de concursos… se repartieron premios a la mejor pareja de baile junior y senior y además a los mejores vestidos tanto masculinos como femeninos. Sin duda, fue una noche llena de luces y espectáculo en la que todos viajamos en el tiempo con los T-birds y las Pink-ladies
Podéis seguir todas las fotos del turno en el área de clientes y seguirnos en Facebook, Twitter y Instagram.
Good morning mums and dads. Welcome back!
We have just a few days left of this first week. We got up in the morning to the rhythm of rock and roll. The children had breakfast and went to class while the monitors transformed the basketball court into the Grease musical setting. After mornig class, some members of the T-birds band arrived at lunchtime to invite all the kids to the college welcome party. After a short break and the English classes, seniors went to the pool to enjoy the sunny day. On the other hand, the juniors stayed in the house and listened to a fascinating talk by a Mosso d'Esquadra. After these activities, everyone went to crafts or escape room in the Clubs.
You can already see that the Olympics are very evenly matched and kids give it all in sports, both cheering and playing. After the matches, everyone showered and dressed for the «rock and roll» night.  It was full of performances, games, contests… Awards were given to the best junior and senior dance partners and also the best dressed both male and female. Without a doubt, it was a night full of lights and spectacle in which we all traveled in time with the T-birds and the Pink-ladies.
Remember that we will be posting more information about the term in the blog and you can see updated pictures in the customer area. You can also follow us on Facebook, Twitter and Instagram.