Good morning moms and dads! And welcome one more day to the English Summer blog.
Another day begins in the Capella and of course, after breakfast, the children went to their respective classes to continue learning English with the teachers.
It was also the first day of clubs and Olympics, by teams in which the Eagles, Bees, Geese and Dolphins will play in sports such as basketball, football or volleyball, among others, where we had the opportunity to meet people different from those in the monitor group.
At the same time, yesterday began one of the thematic camps of this term, Dance Camp, where students will learn new dances accompanied by the monitors responsible for rehearsing the choreography and new steps that will make these children look like real professionals.
After lunch, we all met to go to the pool and then do the Olympics rotations and clubs. As always, a party waits after dinner and yesterday was not going to be less. It was the night of the Olympic's Opening Ceremony, in which the children enjoyed a series of team sports games accompanied by monitors and mp's.
Finally, we all went to sleep to recharge our batteries so we can continue to enjoy the next day.
Do not forget to follow us on Twitter, Facebook and Instagram! You have the pictures of the day available in the customer area. 
¡Buenos días mamás y papás! y bienvenidos un día más al blog de English Summer.
Otro día empieza en la Capella, y como no, después de desayunar los niños acudieron a sus respectivas clases para seguir aprendiendo inglés con los teachers. 
También fue el primer día de clubs y de Olympics, por equipos en los cuales se enfrentarán los Eagles, Bees, Geese y Dolphins a deportes como baloncesto, fútbol o volley, entre otros, donde tuvimos la oportunidad de conocer a gente diferente a parte de los del grupo del monitor. Al mismo tiempo, ayer comenzó uno de los campamentos temáticos de este turno, el Dance Camp, donde los alumnos aprenderán nuevos bailes acompañados de las monitoras encargadas de ensayar las coreografías y nuevos pasos que harán que parezcan unos auténticos profesionales.
Después de comer todos nos reunimos para ir a la piscina y posteriormente hacer las rotaciones de Olympics y clubs.
Como siempre, una fiesta esperaba tras la cena y ayer por la noche no iba a ser menos. Era la noche de los Olympic's Opening Ceremony, en la cual los niños disfrutaron de una serie de juegos deportivos por equipos acompañados por los monitores y mp's.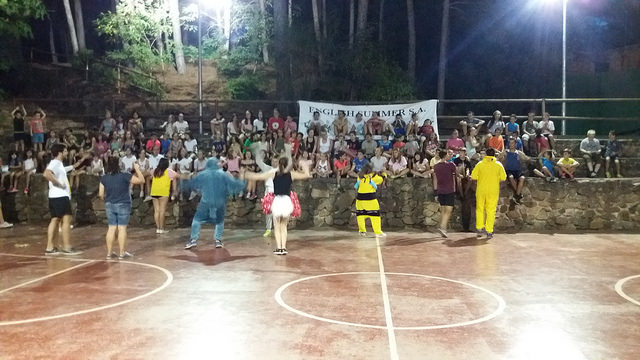 Finalmente todos nos fuimos a dormir para recargar las pilas y así seguir disfrutando con energía de todo lo que nos espera hoy.
No os olvidéis de seguirnos en Twitter, Facebook y Instagram! Tenéis todas las fotos del turno disponibles en el área clientes.