Good morning parents!
We have said goodbye to the students of the 4C, and, after that we have welcomed the new students here in Poblet! We are looking forward to start this adventure and the monitors have prepared the house of La Capella in order to have everything ready to receive the new turn in our summer camps.
All the students did an exam to evaluate their level of Englishand then a Welcome Party to start the week with energy!!!
In the mean time, the students who stayed in the house went to a trekking with the monitors and they returned to Capella at 19.00 pm with the rest of the students.
The next day we all got up early to have breakfast and take advantage of the day. As you know, the meal shifts are divided into three; First, second and third shift, in which the students together with the monitors come together to enter the dining room. After that, it was time to go to class which were distributed by levels and are organized and controlled by the Director of Teachers.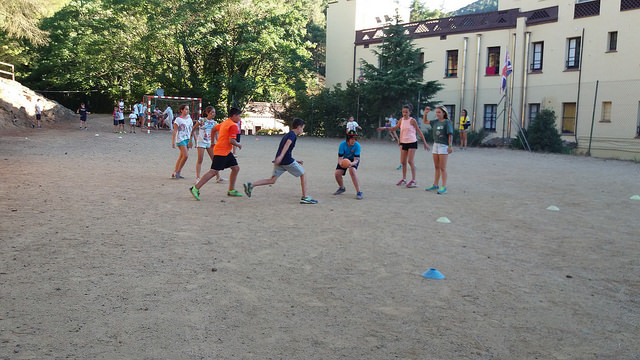 After lunch and after school, we all went to the pool until snack time, and then the children got together to monitor the operation of the house, general rules and tasks of each student. The night arrived, the first party of the turn in which we all played since it was an olympics ceremony, where all children divided by teams; Eagles, Dolphins, Bees and Gease, face each other every day.
We will be posting here all the activities that we will be doing during the week, for the families to be always well informed! Remember you can find all the photos in the customer area and you can also find us in Facebook, Twitter and Instagram.
See you soon, this is just starting!!
¡Buenos días mamás y papás!
Nos hemos despedido de los estudiantes del 4C y después ¡dimos  la bienvenida a los nuevos estudiantes aquí en Poblet! Estabamos ansiosos de iniciar esta aventura y por ello los monitores  prepararon la casa para tenerlo todo listo y recibir así el nuevo turno en nuestros campamentos de verano.
Además, recibimos a las familias por la mañana y por la tarde, todos los estudiantes hicieron un examen para evaluar su nivel de inglés, ¡todos salieron muy contentos! Por la noche tuvimos una fiesta de bienvenida para comenzar la semana con energía.
Mientras tanto, los estudiantes que se quedaron en la casa fueron a un trekking con los monitores y regresaron a Capella a las 19.00 horas con el resto de sus nuevos compañeros.
Al día siguiente todos nos levantamos temprano para desayunar y aprovechar el día. Como ya sabéis, los turnos para  las comidas se dividen en tres; primero, segundo y tercer turno, en los que los alumnos junto con los monitores se juntan para entrar al comedor. Después, llegó la hora de ir a clase las cuales se distribuían por niveles y son organizadas y controladas por el Director de Profesores.
Tras la comida y el rato de clases, todos fuimos a la piscina hasta la hora de merendar y, posteriormente, los niños se juntaron por monitor para hablar del funcionamiento de la casa, normas generales y tareas de cada alumno.
Llegada la noche, llegó la primera fiesta del turno en la que todos jugamos ya que era una ceremonia de Olympics, donde todos los niños divididos por equipos; Eagles, Dolphins, Bees, Foxes y Geese, se enfrentan en los diferentes deportes cada día.
Recordad que podéis encontrar todas las fotos en el área de clientes y también puedes encontrarnos en Facebook, Twitter e Instagram. Vamos a publicar aquí todas las actividades que haremos durante la semana, ¡para que las familias estéis siempre bien informadas!
Hasta pronto, ¡esto es sólo el comienzo!