Good morning parents!
Yesterday we went to PortAventura and Costa Caribe!!
We got up early to eat breakfast fast, hop on the buses to the parks and take advantage of the day.
As you already know, not all the children go on this excursion, so the monitors prepared a set of games and activities that made the students have a great time in the house. After lunch, we went to the pool and on the return they had time to prepare the bags since the next day the students who stayed a week had to leave us.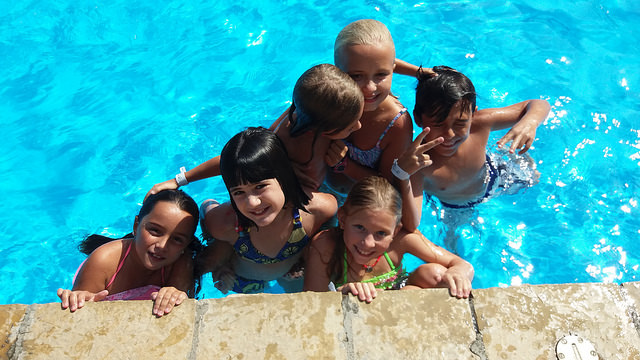 At 20:30 pm all those who had gone to the parks arrived, they were exhausted! We all met for an American style dinner: a BBQ that featured everything from ribs with BBQ sauce to hot dogs. The first week of the term came to an end and very sadly we had to leave. All very united as a great family remembered the best moments of the turn, those who will really remember… See you soon!
Remember that we will be hanging information from the turn in the blog and the photos in the customer area. You can follow us on Facebook, Twitter and Instagram.
¡Buenos días mamás y papás!
Llegó el día de las excursiones más esperadas del turno. ¡Nos ibamos a PortAventura y a Costa Caribe!
Madrugamos mucho para poder desayunar rápido, subir a los autobuses dirección a los parques y así aprovechar el día.
Como ya sabéis, no todos los niños van a esta excursión, de modo que los monitores prepararon un conjunto de juegos y actividades que hicieron que los alumnos se lo pasasen en grande. Después de comer fuimos a la piscina y a la vuelta tuvieron tiempo para ir preparando las maletas ya que al día siguiente los alumnos que se quedaban una semana tenían que dejarnos.
A las 20:30 pm llegaron todos aquellos que habían ido a los parques, ¡estaban agotados! Nos reunimos todos para cenar al estilo americano con una cena de barbacoa que contenía desde costillas con salsa barbacoa hasta hot dogs.
La primera semana del turno llegaba a su fin y muy tristemente nos teníamos que despedir. Todos muy unidos como una gran familia recordamos los mejores momentos del turno, aquellos que realmente recordaremos todos…¡Hasta pronto!.
Recordad que vamos a ir colgando información del turno en el blog y las fotos en el área clientes. Podéis seguirnos también en Facebook, Twitter e Instagram.