HELLO!
Yesterday was a great day! Students woke up at 8a.m and went to play some froggy games, these morning activities gave them energy for the rest of the day. They had breakfast, brushed their theeth and went to the English class.
The levels of the classes remained:
CLASS – LEVEL:
1 – High Starters
2 – Flyers
3 – KET
4 – FCE/PET
After a little break, they could buy some snacks in the bar, we played games and then we went to have lunch.
At 16h it was time to go to the pool, yey!  Afterwards, they started the clubs (different type of games) and also the famous Olympics (sports games).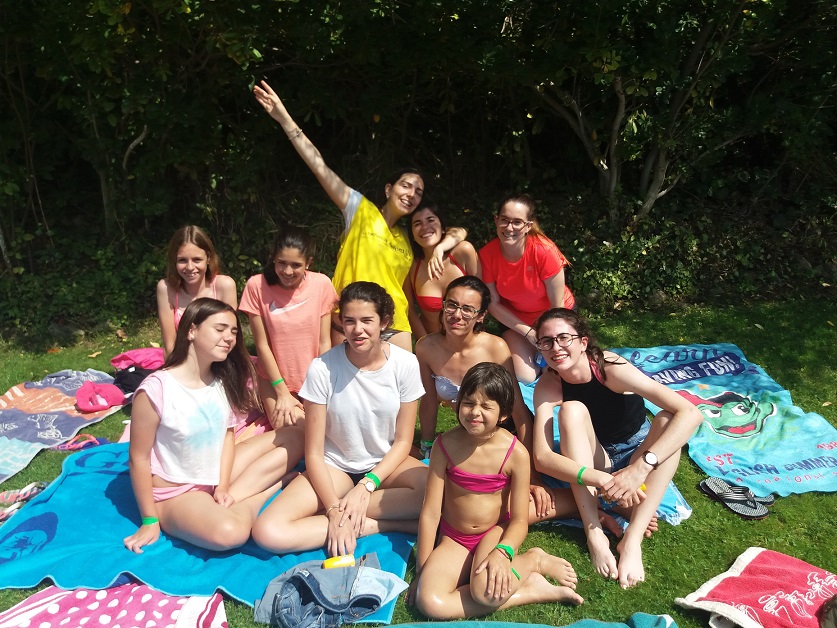 In clubs, the students are distributed randomly in the different teams together with monitors. That same afternoon we met to create the team's anthem, to distribute the T-shirts and to know each other a little more.
After taking a shower, they had dinner and in the night activity (Olympics) the children met by teams and participated in a large gyncana orientation divided into two groups.
Finally we went to bed to recharge our batteries and rest.
Remember you have all the photos of the term in the customer area and don't forget to follow us on Twitter, Facebook and Instagram.
¡Hola, Hola!
Ayer fue un gran dia, los niños se levantaron a las 8 y fueron a jugar algunos »froggy games», estas actividades de la mañana les da energia para el resto del dia.
Desayunaron, se lavaron los dientes y se fueron a las clases de inglés asignadas por el Director de Profesores. Así quedaron los niveles de las clases:
CLASS – LEVEL:
1- High Starters
2- Flyers
3- KET
4- FCE/PET
Después del pequeño break, podían comprar algo de almuerzo, jugaron y fuimos a comer. Por la tarde, era momento de ir a la piscina.
Más tarde empezaron a realizar clubs (juegos variados) y olympics (juegos deportivos). Para ello los alumnos son distribuidos aleatoriamente en los diferentes equipos junto con monitores. Esa misma tarde nos reunimos para crear el himno del equipo, repartir las camisetas y conocernos todos un poco más.
Después de una ducha, cenaron y en la actividad de la noche (Olympics), los niños se reunieron por equipos y  participaron en una gran gyncana de orientación dividida en dos niveles.
Finalmente nos fuimos a la cama para recargar las pilas y descansar.
Recordad que vamos a ir colgando información del turno en el blog y las fotos en el área clientes. Podéis seguirnos también en Facebook, Twitter e Instagram.