Good morning mums and dads!
After a long wait, yesterday one of the most special days of the term arrived , which we had been waiting for since the begining of our stay here: the Formal Dress night!
We started off the day by playing the Froggy Games, some fun activities which help us to start the day with a lot of energy and a smile. Then, we went to the dining room with our group of monitor to have breakfast.
After breakfast time, all students went to their respective classes. The Multiactivity and Chef camp kids went to their English classes and the Fashion Camp kids went to their fashion, walking and styling classes. When the bell rang, it was finally lunch time and we went to the dinning room with our monitor. 
Right after lunch, the Chef camp kids went to their marquee to start the cooking classes. They had the chance to learn how to cook a delicious chicken with a Canadian chef. The Multiactivity kids went to their classes for their last English class of the day, while the Kids Fashion camp kids went with their monitors to the club activities. It was so much fun! At 16h, the Multiactivity kids went to the club activities, while the Kids Fashion camp kids went to the classes for their English class of the day.
At the afternoon break time, they had a snack and they could have their phones to call home.
And then, it was Olympics time! There was an only rotation, in which all the teams competed in football, basketball, volleyball and handball. When the matches ended… we went to our rooms to get ready for the swimming-pool!
We arrived home very punctual from the swimming-pool, because it was finally time to start getting ready for the Formal dress night! Beautiful dresses, shoes, shirts… We all looked amazing! All groups of monitor where called one by one so that we could sit in our places. Before starting to have dinner we could enjoy a catwalk by the Kids Fashion Camp kids and, furthermore, we also had some live music by some of our students, who we had the pleasure to hear sing and rap.
Dinner was amazing: pizzas, chips, «patatas bravas»… it was all delicious! After we had finished our dessert, the monitors started announcing the winner to the different awards: to the sleepy-head of the term, to the best smile, to the happiest, to the two «Bill and Ben» of the term… Congratulations to all the winners and nominees!
After closing the night with the term's dance… it was time to go to sleep! Good night Poblet!
You have available the pictures of the day in the clients area.
Don't forget to follow us on Twitter, Facebook and Instagram!
.
Good morning mums and dads!
Después de una larga espera, por fin llegó uno de los días más especiales del turno, el cual habíamos estado esperando desde el principio de nuestra estada en los campamentos de English Summer SA: ¡la fiesta de Formal Dress!
Empezamos el día con los Froggy Games, las divertidas actividades que nos ayudan a empezar el día con mucha energía y con una sonrisa. Entonces, ¡fuimos al comedor con nuestro monitor a desayunar!
Después de la hora de desayunar, todos los alumnos fueron a sus respectivas clases. Los niños de Multiactivity y Chef camp fueron a sus clases de inglés y los niños de Kids Fashion camp fueron a sus clases de moda, pasarela y estilismo. Cuando sonó el timbre, fue por fin la hora de ir a comer con nuestro grupo de monitor.
Justo después de comer, los niños de Chef camp fueron a su carpa para empezar con sus clases de cocina. Tuvieron la oportunidad de aprender a cocinar un pollo delicioso con un chef Canadiense.
La niños de Multiactivity fueron a sus clases para su cuarta y última hora de inglés del día, mientras que los niños de Kids Fashion camp fueron con sus monitores a los clubs. ¡Fue muy divertido! A las 16h, los niños de Multiactivity fueron a las actividades de clubs, mientras que los niños de Kids Fashion camp fueron a las clases para su clase de inglés del día.
A la hora del break, pudieron comprar en el bar y tener sus teléfonos para llamar a casa.
Y, entonces, ¡llegó la hora de los Olympics! Hicimos una sola rotación, en la que todos los equipos compitieron en football, basketball, volleyball y handball. Cuando todos los partidos hubieron acabado… ¡nos fuimos a las habitaciones para prepararnos para la piscina!
Volvimos a las habitaciones muy puntuales para tener tiempo para arreglarnos para la Formal dress night. Vestidos preciosos, zapatos, camisas… ¡Ibamos todos guapísimos! Fuimos llamados uno a uno por grupo de monitor para sentarnos en nuestros sitios. Antes de empezar a cenar, vimos la pasarela de los alumnos de Kids Fashion Camp y, además, también pudimos disfrutas de la actuación en directo de algunos de nuestros alumnos, los cuales cantaron e hicieron rap.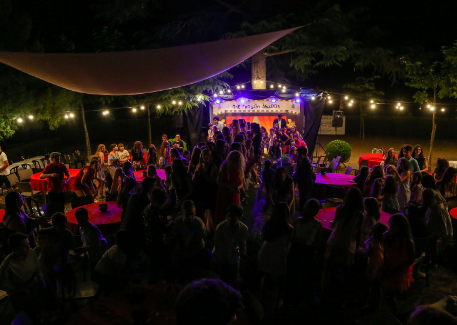 La cena era buenísima: pizzas, patatas… ¡Delicious! Después de acabar el postre, los monitores empezaron a anunciar los premios a las diferentes categorías: al más dormilón, a la mejor sonrisa, al más feliz, a los dos Zipi y Zape… ¡Felicidades a todos los ganadores y nominados!
Después de cerrar la noche con el baile del turno… ¡llegó la hora de ir a dormir! Good night Poblet!
¡Animaros a seguirnos en Twitter, Facebook e Instagram! Tenéis disponibles las fotos y vídeos del día en el área de clientes.