Good morning!
Yesterday, our students started their english lessons in the best summer camp ever after the weekend. Some of them changed their class depending on their improvement and exam results.
They woke up and went play froggy games, but it started to rain: they came back to their bedrooms and tidy them up until the breakfast time. After their english lessons, they had lunch and the »T-birds» with their leader Danny Zuko, visited the dining room and danced for our students.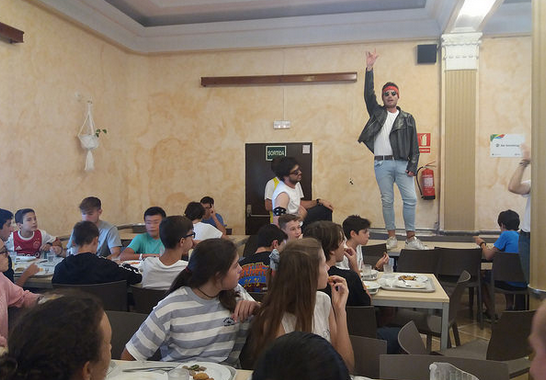 In the afternoon, kids played clubs and some of them went visit »el monestir de Poblet»: they learned lots of things about it!
After the Olympics, it was pool time and when they had a shower, they went to the basketball court: it was the Rock and Roll party!

Our students had an american dinner while our monitors showed them some dances and after a few grease shows, the dancing competition started.
While our participants were dancing, the other kids played some games that were all around the house. This amazing party finished with some awards: The best grease clothing for male and female, and the best dancers (junior and senior). We had all an incredible time, it seemed as we were in USA a few years ago!
Follow us in Facebook, Twitter and Instagram and feel the magic of the Summer Camp with the photos of Clients Area