Good morning parents!
¡Buenos días padres!
Yesterday in English Summer SA Poblet's camp we had a special breakfast in which the eating condition was to wear our clothes upside down! Afterwards we changed to our casual clothes to go to our English Lessons!!!
Ayer en English Summer SA Poblet tuvimos un desayuno especial ¡donde la condición era desayunar con la ropa del revés!
When we finish our lunch time and the last English class we went to the swimming pool to have fun, during this days the temperature is increasing and we need to be protect from that.
Cuando acabámos la comida y la última clase de inglés del día, nos fuimos a la piscina a divertirnos, durante esto días ha hecho mucha calor a causa del aumento de las temperaturas, así que debíamos intervenir.
Furthermore, because of the Olympics's home straight everyone played some sports such as basketball, volleyball, handball and futbol. We have hope in every single team!
Además, era la recta final para los Olympics. Se había jugado de todo como el básquet, el vóley y el balonmano.
After the Olympics and Clubs we went to the bedrooms in order to prepare everything for the special night, THE OSCARS. All the kids were stunning, dressing their best clothes they were passing throw Poblet's red carpet.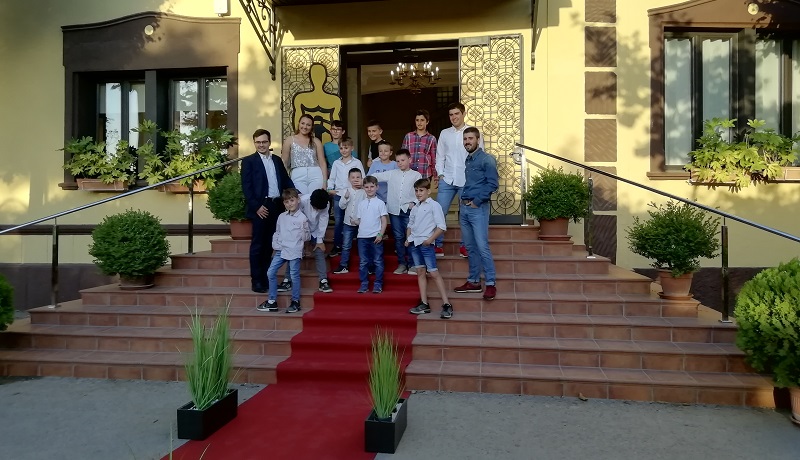 Una vez acabados los Olympics y los clubs, todo el mundo se fue a las habitaciones a arreglarse para la noche, THE OSCARS. Todos los niños estaban deslumbrantes, vistiendo con sus mejores trajes, andando por la alfombra roja de Poblet.
During the gala, we deliver different awards: the nicest, the cleanest room, Mr & Miss Poblet and more!
Durante la gala, repartimos los diferentes premios como el más bueno, el más limpio y hasta Miss and Mister Poblet.
See you tomorrow family!
¡Hasta mañana família!
No dejéis de visitar el Área de Clientes para ver las fotos y si queréis conocer las novedades de los campamentos y los cursos de idiomas al extranjero, follow us in Facebook, Twitter and Instagram.