Good morning parents!
Yesterday was a very fun day! We woke up at 8:30 and had a delicious breakfast with cereals, fruit, bread, croissants, milk and more!
¡Ayer fue un día muy divertido! Nos levantamos a las 8:30 y tomamos un desayuno riquísimo con cereales, fruta, pan, cruasanes, leche ¡y muchas más cosas!
After breakfast, Kids Fashion Camp students started their introduction to the World of Fashion activities like hairdressing and photography. They had a lot of fun the entire morning!
Después de desayunar, los alumnos de Kids Fashion Camp empezaron con una mañana llena de actividades de introducción al mundo de la moda como por ejemplo peluquería y fotografía. ¡Se lo pasaron muy bien durante toda la mañana!
English Summer Camp students had a very refreshing morning as we could go to the Espluga de Francolí's swimming pool and play a lot in the water.
Los alumnos de English Summer tuvieron una mañana muy refrescante ya que pudimos ir a la piscina de la Espluga de Francolí a darnos un buen chapuzón y a jugar con el agua.
For lunch we had rice with tomato sauce and meat with some mushrooms, and for dessert…Ice-cream!
Para comer tuvimos un delicioso arroz con tomate y carne con champiñones…y de postre ¡helado!
After lunch we had a big surprise with a very fun water party! We could dance a lot while everybody was soaked in water. Then, we went directly to the swimming pool to continue playing in the water with our English Summer and Kids Fashion Camp monitors. We had an amazing day full of water and fun!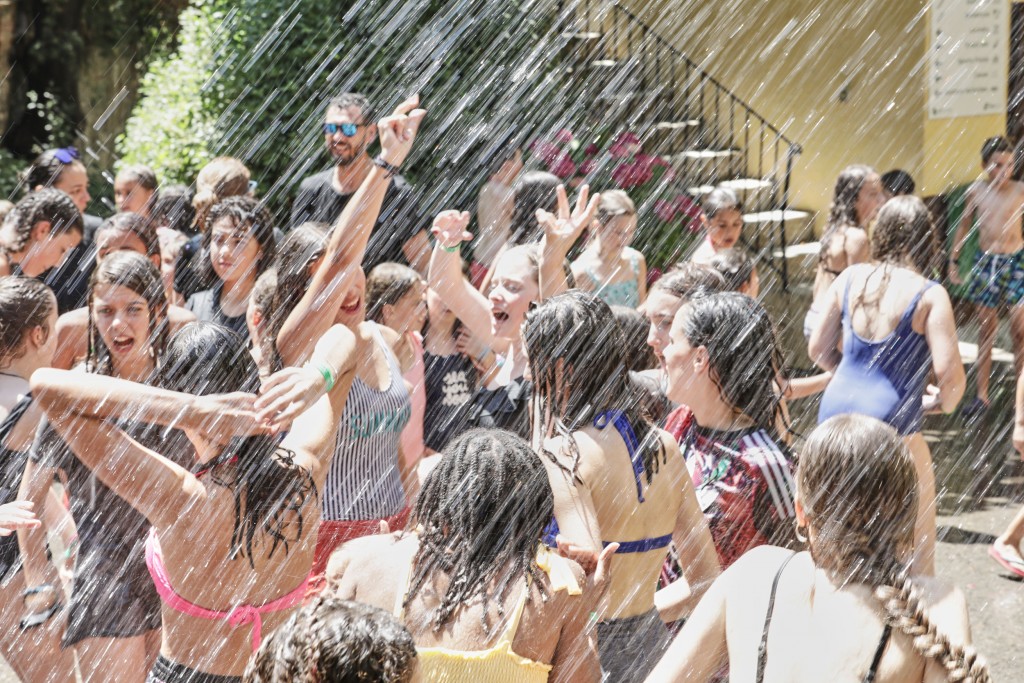 Después de la hora de comer tuvimos una gran sorpresa con una guerra de agua superdivertida. Pudimos bailar mientras todos estábamos empapados en agua. Seguidamente fuimos a la piscina para seguir jugando con el agua con nuestros monitores de English Summer y Kids Fashion Camp. ¡Tuvimos un día lleno de agua y diversión!
After an afternoon snack we played a Kahoot with our monitor to prove our knowledge about the camp, It was very interesting and funny!
Después de la merienda jugamos a un Kahoot con nuestro monitor para comprobar nuestros conocimientos del campamento. ¡Fue muy interesante y divertido!
Dinner time was very special because our campers had dinner with their Olympics' team: Bears, Bees, Dolphins, Eagles, Foxes, Geese, Snakes and Turtles! We got to know our team coaches and chose the capitains of each team. After dinner was time to present the Olympic games in a wonderful party full of games, teamwork, dancing and music! This term it's going to be AMAZING!
La hora de cenar fue muy especial porque nuestros alumnos cenaron con sus equipos de los Olympic games: Bears, Bees, Dolphins, Eagles, Foxes, Geese, Snakes and Turtles. Pudimos conocer a nuestros entrenadores y escoger los capitanes de cada equipo. Después de cenar llegó la hora de presentar los Olympics en una fiesta muy guay llena de juegos, trabajo en equipo, bailes y música. ¡Este 1º turno va a ser increíble!
Good night and see you tomorrow!
Animaros a seguirnos en Twitter, Facebook e Instagram. Tenéis disponibles las fotos y vídeos del día en el área de clientes.