Good morning parents!
It is a new week here in Poblet and the last one of summer. Today it has been a busy one. We have had check out and ceremony for those students who are leaving, and in the afternoon, new students were arriving to do the check in here in the teenage camp.
The ceremony has started at 12. The students, separated according to their Olympic teams, were excited to know who the winning team was. After counting all the points earned by these during the week, we must congratulate the GEESE!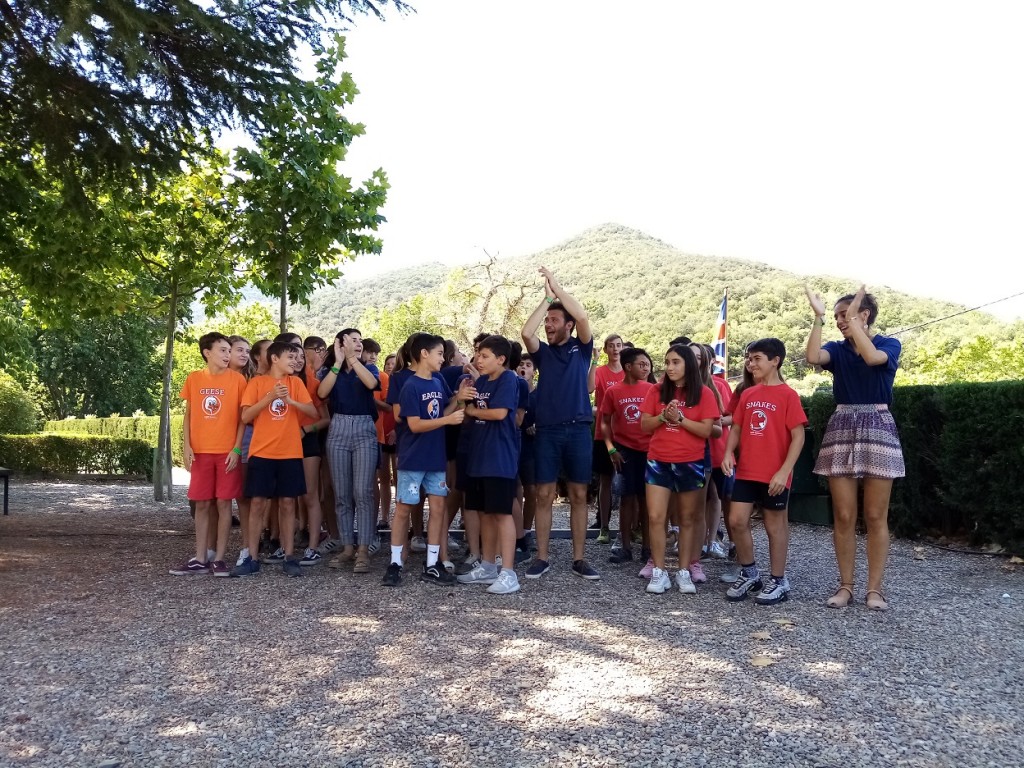 Directives and teachers have given some special prices to those students who have been the most improved in class as well as prices to the best one. Moreover, diplomas to the students who were the best in sports and had sports spirit were also given. Finally, the most special diploma was handed out to that girl and boy who is characterized for being nice, polite, friendly…
Once the ceremony was over, the remaining kids who are now staying another week went to have lunch. They had some free time to play sports and games. As there was check in in the afternoon, the students went to the swimming pool until snack time!
While eating some cookies all together, the new students sere able to meet everyone and have fun together.
It was now time for the Olympics. Eagles, foxes, dolphins and turtles were competing between each other in sports like handball, volleyball, basketball, and football.
Time to take a shower! Everyone had to dress in white for the welcome party. The theme was white party and the dining room was rearranged to have a dinner all together and having a disco night afterwards.
It is time for bed, the kids had great fun!
See you tomorrow!
Buenos días!
 Es una nueva semana aquí en Poblet y la última del verano. Hoy ha sido un día movido. Hemos tenido ceremonia de despedida y check out para aquellos estudiantes que se van y por la tarde, han llegado nuevos estudiantes para hacer el check in aquí en el campamento de adolescentes.
 La ceremonia a empezado a las 12 del mediodía. Los estudiantes, separados según sus equipos olímpicos, estaban emocionados de saber quién era el equipo ganador. Después de contar todos los puntos ganados por estos durante la semana, debemos felicitar al ¡GEESE! Los directivos del colegio y los profesores de inglés han dado algunos premios especiales a aquellos estudiantes que han mejorado más en clase al igual que aquellos que son los mejores.  Se han otorgado también diplomas a los estudiantes que son mejores en deportes y tienen espíritu deportivo. Finalmente, el diploma más especial de todo el campamento ha sido entregado a esa niña y niño que se caracteriza por ser amable, educado, amable. Este reúne todas las características de English Summer para ser el mejor compañero/a
 Una vez la ceremonia ha acabado, los niños que se quedan esta semana han ido a comer. Han tenido algo de tiempo libre para descansar y jugar y en el momento del check in para os alumnos nuevos, han ido a la piscina hasta la hora de merendar.
Mientras comen algunas galletas todos juntos, los nuevos estudiantes han podido conocer a los demás y jugar todos juntos.
Llega la hora de los Juegos Olímpicos. Eagles, foxes, dolphins and turtles han competido entre ellos en deportes como el balonmano, el voleibol, el baloncesto y el fútbol.
¡Hora de duchas! Todos los alumnos se han vestido de blanco para la fiesta de bienvenida. La temática de la fiesta ha sido "White party". El comedor se reorganizado para cenar todos juntos y poder disfrutar de música y disco por la noche.
 ¡A la cama todos! Los niños se han divertido muchísimo mucho.
Hasta mañana.