Muy buenos días papás y mamás!
El turno está yendo fenomenal! Ayer empezamos con el horario que haremos durante el día a día.
Empezaron el día con una actuación de Froggy y Froggita que vinieron desde Froggyland para darnos la bienvenida a English Summer. Seguidamente, repusieron energías con un merecido desayuno, dónde disfrutan de unos deliciosos croissants, chocolate, zumos, embutidos… ¡Qué rico!
Después del desayuno, los monitores indicaron a los niños la clase que les correspondía, según su nivel de inglés. A continuación os dejamos el link para que podáis ver como funciona el sistema de clasificación de los niveles de inglés.
Las primeras clases de inglés son introductorias dónde los niños se conocen entre ellos y con los teachers, a base de juegos cooperativos, dinámicas y diferentes actividades.
Una vez acabada la primera clase de la mañana: Nos tomamos un descanso en el bar.
Volvimos a clase hasta la hora de comer para coger fuerzas para las actividades de la tarde: nos dividimos por equipos y edades. Los pequeños (juniors) fueron a la piscina mientras los más mayores (seniors) realizaron los»Clubs». Los clubs son actividades de cooperación en las que se trabajan diferentes habilidades como el equilibrio, orientación, supervivencia y manualidades entre otras.
Una vez acabada la primera rotación, merendamos y continuamos con los clubs y la piscina pero cambiando el orden: seniors a la piscina, juniors a los clubs.
En la fiesta de ayer se presentaban todos los equipos que participan en los «Olympic Games», por eso mismo durante las últimas horas de la tarde, todos los niños se reunieron por equipos con sus respectivos entrenadores para componer el himno del equipo, escoger capitanes juniors y seniors y conocerse entre ellos.
Con el himno ensayado, nos fuimos a las duchas para bajar a cenar y prepararnos para la gran noche: presentación de los equipos en la Olympic Night!
Desde las pistas de básquet, niños y niñas, separados por equipos, esperaban mientras muchas sorpresas estaban por venir. Mascotas de cada uno de los equipos fueron apareciendo mientras nuestro monitor show man les iba presentando junto a la antorcha olímpica.
Después de las presentaciones los equipos iniciaron la primera rotación: jugaron a fútbol, handball, básquet y volley.
Día completo lleno de grandes nuevas emociones!!
Hasta mañana!
Ya habéis mirado nuestra website, Facebook, Twitter and Instagram ?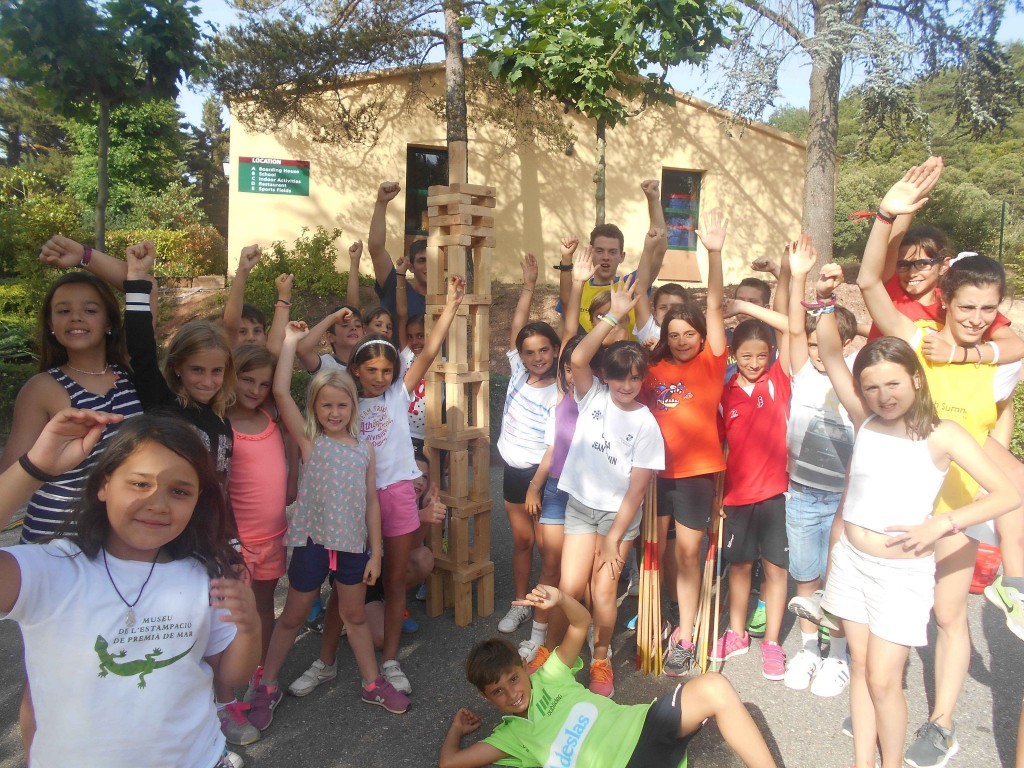 ---
Good morning everyone!
The term is going perfect! Yesterday we started with the normal timetable which we will follow during all the term.
The day started with the visit of Froggy & Froggita who came from Froggyland to welcome us in English Summer.
After the warm welcome, they charged their batteries by having a delicious breakfast: croissants, chocolates, juices, ham…So delicious!
Then, the kids were shown their corresponding classes, according to their English level achieved in the exam. Please find attached the following link where the different English levels are explained.
The aim of the first classes is to introduce the kids between each other and the teachers using cooperative games, group dynamics and several activities.
As soon as the first classes finished we took a break in the bar.
We got back to class until lunch time to fill ourselves back with energy to face the afternoon activities: we split the kids by teams and ages. The little ones (juniors) went to the swimming pool while the teenagers had fun with the "clubs". Clubs are cooperative activities in which students train different skills like equilibrium, orientation, survival and handcraft.
Once the first round finished, we had a snack and the switch position between clubs and swimming pool.
During the night party we presented all the teams that participate in the Olympic Games, for that reason during the afternoon, all the children met together with their trainers to compose the team hymn and choose the junior and senior captains.
In the basket court, girls and boys, divided by teams, were waiting while lot of surprises were coming.  Pets of each team appeared while our showman monitor was presenting the games.
After all the presentations the teams started the first round: they played football, handball, volley and basketball.
A day full of plenty and new emotions!!
See you tomorrow!
Have you looked at our website, Facebook, Twitter and Instagram ?