Buenos días a todos!!
Ayer empezamos el día desayunando por equipos de los Olympics. Cada niño se sentó con su equipo para acabar de conocerse.
Después nos fuimos para clase como siempre, los niños ya están integrados con los teachers y las clases van cada vez mejor.
Durante el descanso se colgaron los carteles del «World Championship», un campeonato en que los niños pueden elegir entre jugar a tenis, ping-pong, badminton o ajedrez. Cada uno tiene que encontrar a su rival y durante las horas libres, ir jugando los partidos de manera que al final, el ganador recibirá puntos para su equipo de los Olympics. Es una forma de que practiquen deportes individuales que no hacen en las olimpiadas, además de conocer a otros niños.
Por la tarde hicimos la siguiente rotación de Clubs, algunos hicieron «gincamas», otros «slackline», manualidades o aprender a montar tiendas de campaña con material de la naturaleza.
Seguimos con unos fantásticos bailes en la piscina después de una gran merienda!
Para acabar la tarde, nos juntamos por equipos para la segunda rotación de Olympics: Foxes, Bees, Bears, Snakes, Turtles, Eagles, Geese y Dolphins compitieron con muchas ganas para sumar puntos para la clasificación.
Nos fuimos a la ducha y para dar comienzo a la fiesta temática de «Rock&Roll», monitores, niños y teachers nos disfrazamos para dar la bienvenida a Sandy y Danny Suco que vinieron con sus respectivos amigos. El espectáculo lo llevaron a cabo alumnos disfrazados. Todo listo para dar comienzo a la gran fiesta: cena al aire libre con hamburguesa completa, concurso de baile por parejas, premio a la mejor vestimenta y muchos bailes para despedir el día con muchas ganas!
Hasta mañana!
Have you looked at our website, Facebook, Twitter and Instagram? Además no te olvides de ver todas las fotos del turno en Flickr
Have a nice day!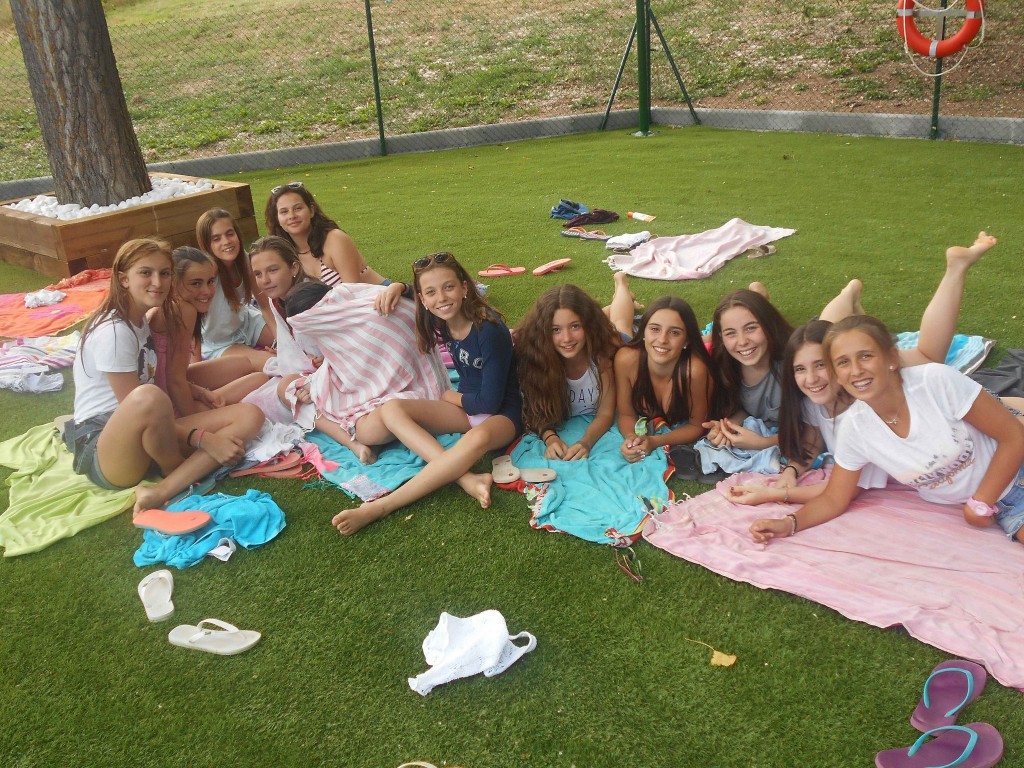 ---
Good Morning everyone!!
Yesterday we started the day having breakfast with our Olympic Teams.
Then we went to class as always,  children are already  getting on well with teachers and the lessons are getting better every day.
During the break we put up the World Championship posters, a championship in which the children can choose between tennis, table-tennis, badminton or chess. They find their rivals and during free-time, they play so that at the end the winner receives points for the Olympics. The aim is that children practice individual sports they don't do at Olympics, and moreover meet other children.
In the afternoon there was the second round of clubs, some children made "gymkhana", others "slackline", handcrafts or learning how to build tents with special lashings.
We continued with fantastic dances at the swimming pool.
Then we met in our teams for the second round of Olympics. Foxes, Bees, Bears, Snakes, Turtles, Eagles, Geese and Dolphins competed to win as many points as they can.
We took a shower to get ready for the Rock&Roll party. Monitors, children and teachers dressed up and welcomed Sandy and Danny Suco, who came with their friends to start the big party: outdoor dinner with hamburgers, dance contest in pairs, prizes for the best costume and lots of dances to say goodbye to this amazing day!
Have you looked at our website, Facebook, Twitter, Instagram and Flickr?
Have a nice day!