Buenos dias! Empieza la segunda semana de este 3P!
Ayer tuvimos la visita de nuestro cámara y estuvimos todo el día haciéndonos fotos y vídeos. ¡Qué guapos salieron todos! Tras el desayuno todos los niños fueron a clase, por lo que pudieron conocerse mejor entre todos (cabe destacar que debido a la llegada de los nuevos alumnos y a la salida de otros ha habido cambios en los niveles de las clases). Durante el descanso hicimos la foto del turno: teachers, monitores, MP's, directivos y los más importantes… nuestros alumnos, que disfrutaron como nunca y no pararon de pedir fotos con sus amigos.
A la hora de comer había una deliciosa ensalada de pollo y garbanzos, acompañados de unas albóndigas de lo más ricas. A las 16:00 fuimos a la piscina por equipos y nos lo pasamos de maravilla. Pudimos disfrutar de un muy buen tiempo, música y del primer baño de la semana. Llegó la hora de merendar y después clubs, con la aparición de algunos nuevos: drum beat, orienteering, magic tricks, games around the world y nightline.
Después toco el turno a los olympics, donde todos los niños se implicaron y se esforzaron al máximo para ayudar a su equipo. La competición sigue igual de reñida tras los nuevos fichajes.
La fiesta de ayer por la noche fue… ¡Mexican Party! ¡Viva Méxicooo! En ella, los monitores prepararon un teatro de lo más divertido, cuyo argumento se basaba en la historia de una chica mexicana que se había enamorado de un americano y el padre no estaba de acuerdo ya que éste no era mexicano, sin embargo, finalmente aceptó que pasara a formar parte de su familia a cambio de que el «gringo» se integrara en la cultura mexicana. El pueblo lo celebró y se dio paso a la fiesta. Los niños lo dieron todo en la pista de baile conociendo la esencia de English Summer.
Podéis mandar vuestros emails a esfprades@englishsummer.com e intentar seguir nuestro ritmo en Facebook, Twitter y Instagram y las fotos del día a día en Flickr.
Nos vemos en otro post!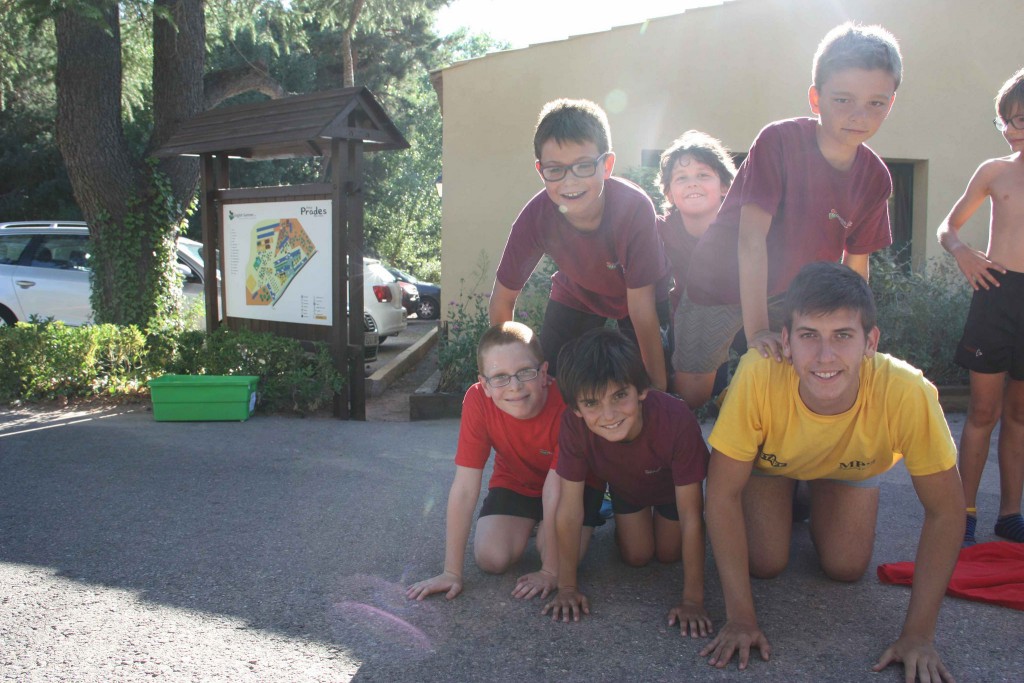 ---
Good moorning! Second week has just started!
Yesterday was Photos & Video Day where we took pictures of everyone. After breakfast kids went to class so they could get to know their new classmates. Because of the new students who arrived and those who left Sunday, there have been some changes in the class levels. During the break we took the term photo: teachers, monitors, MP's, directors and of course… our students!
At lunch time there was a delicious chicken and chickpea salad and meatball. At 16:00 we went to the swimming pool and we had a lot of fun. The weather was perfect and we danced a lot. After that we had clubs. This week we have introduced new activities during clubs: drumbeat, màgic, orienteering and nightline!
Then it was time for Olympics where all the kids got involved and they strived to help their team. Still, the competition is so close with all teams on similar points!
Yesteday it was Mexican Party! The monitors prepared a very funny theatre. In the play, they argued about the story of a Mexican girl who fell madly in Love with an American man. However, her father didn´t agree with the relationship as the boy wasnt from Mexico. Finally, he accepted the «gringo» into his family and the village celebrated with a party, which is where the students got involved!! They gave everything they had doing the famous dances of English Summer!
Remember that you can send your emails to esfprades@englishsummer.com and follow us on:Facebook, Twitter, Instagram and the pics of the day on Flickr.
See you next time!