Good morning everyone! ¡Buenos días a todos!
Ayer fue un día muy intenso, primer día completo del 3P… hay que empezar con muchísima energía y ganas para disfrutar al máximo de este turno. El día arrancó con los FROGGY GAMES. Estos consisten en una serie de actividades, juegos y ejercicios a primera hora de la mañana (8:15) para entrar en calor y despegarse bien de las sábanas (que como ya sabemos… ¡esto de despertarse a veces cuesta lo suyo!). Una vez activos, todos por turnos y orden a desayunar.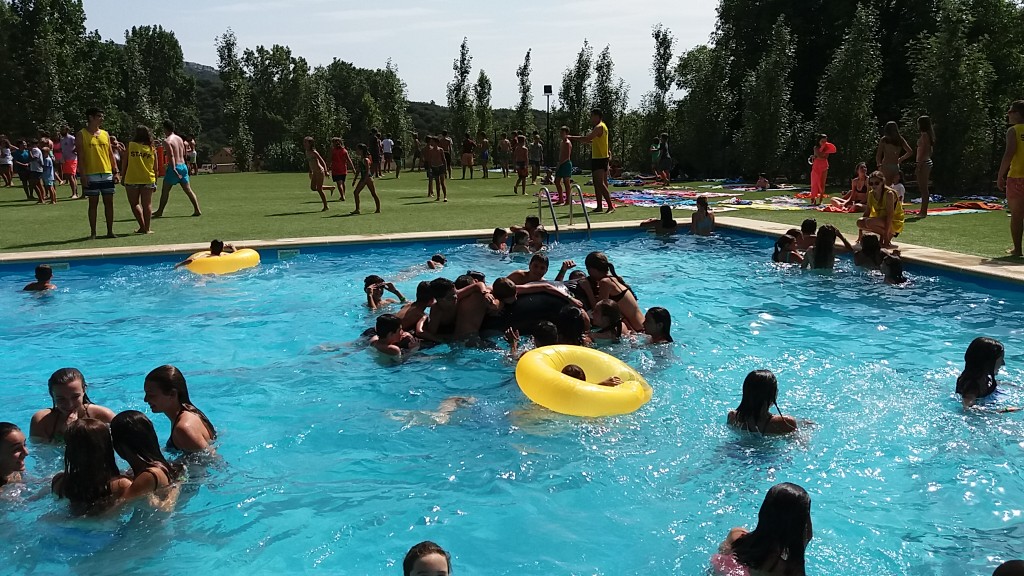 Lavamos los dientes, recogemos la habitación y… LET'S GO TO CLASS! Todos los niños a las 10:00 am ya sabían a qué clase debían ir. Después de 1:30 h de clase, hicimos un pequeño break de media hora para poder ir al bar y jugar con nuestros compañeros. Una vez pasado el descanso, volvimos otra vez a clase para hacer una hora y media más! Tras acabar las horas de inglés de la mañana… ¡Todos a comer! Cada niño comió con su monitor y su grupo, además, cada grupo tiene asignado un TEACHER que también les acompañará en todas las comidas… hhhmm… delicious! A las 15:00 de la tarde, todos los alumnos volvieron a sus clases para hacer una hora más de inglés. En el turno de tarde, los teachers se encargan de hacer clases más dinámicas y divertidas. (learn english having fun!).
Después de una jornada intensa de clases fuimos a la piscina a jugar, relajarnos y bailar (nos lo merecíamos…). Al terminar la hora de piscina, subimos a cambiarnos y ponernos ropa deportiva porque después de la merienda nos juntamos por equipos de «OLYMPICS».Preparamos el himno y grito de guerrra que nos llevará a lo mas alto del podio. Seguidamente realizamos el primer cruce de equipos de los «OLYMPICS» para luchar por el primer puesto! Una vez acabamos esta actividad, fuimos a las duchas, nos pusimos un jersey y… ¡a cenar!
Finalmente, nos reunimos todos en las pistas de basket para empezar la fiesta de la noche: OLYMPIC NIGHT! Consistió en una competición por equipos en diferentes actividades organizadas por los monitores… Obtenía más puntuación el equipo que conseguía acabar antes las pruebas.
PERO…. ¡la lluvia quería arruinarnos la fiesta y no íbamos a permitir eso! Así que corriendo trasladamos la fiesta al teatro para poder hacer un concurso de preguntas y habilidades para ganar puntos para los «OLYMPICS». Después de pasar una gran noche, teníamos que acabar el día con uno de nuestros famosos bailes, así que antes de irnos a dormir… ¡TODOS A BAILAR!
Recordad que vamos a ir colgando información del turno en el blog y las fotos en el área de clientes. Podéis seguirnos también en Facebook, Twitter e Instagram.
Good morning!
Monday was a very intense day, the first complete day of 3P… We have to start the term with energy to enjoy this 3P! We started the day with FROGGY GAMES. These activities consist of doing sport at 8:15 am in order to wake up with lots of energy. After carrying out this activity we went to have breakfast (in order, from the youngest to the oldest group).
We brushed our teeth, tidied up our rooms and… LET'S GO TO CLASS! Everyone knew which class they had to go and at 10:00 am the classes started. After an hour and a half of class we had a little break so we could eat some chips and ice-cream. Then, we went back to class until 13:30 pm. It was then that we went to the dining hall to have lunch! Hhhmmmmm… delicious! We had lunch with our group, monitor and workpair (the workpair is a teacher that accompanies each group of kids during lunch time).
After having lunch, we went back to class in order to improve our English skills even more! Classes that take place in the afternoon are more active and more playful (learn english having fun)! Once we finished our classes, we got changed, went to the pool and had a snack afterwards.
Later on that day, we gathered all together by OLYMPIC TEAMS and decided our anthem!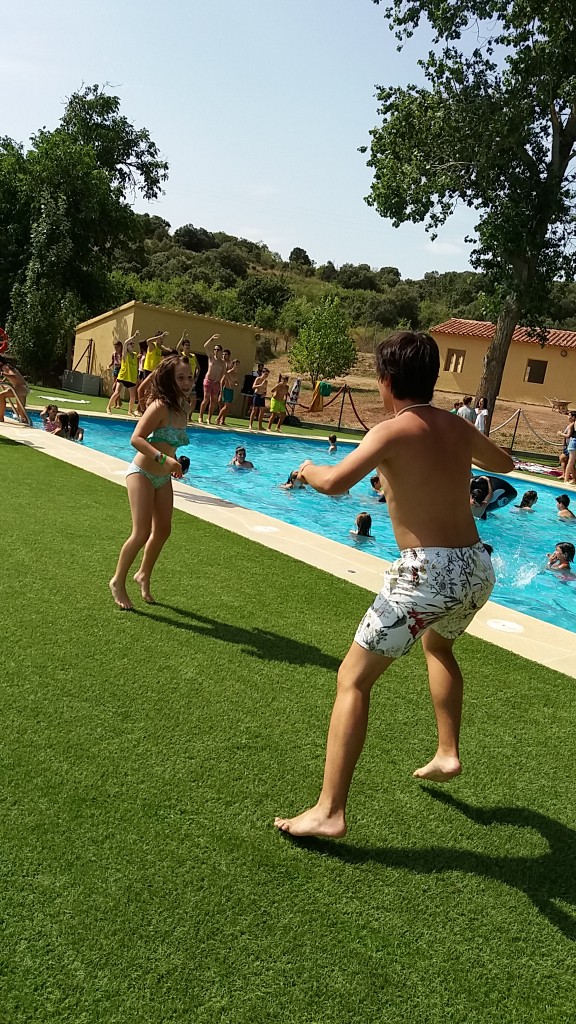 After all this, we went to take a shower and get ready for dinner! Finally… we went to yesterday's party: OLYMPIC NIGHT!
When we had just started the party in the basketball court it suddently started to rain, so we had to go to the theatre. Here we couldn't do the Olympics, so we played song games and dancing games instead.
Remember that we will be uploading information about the turn on the blog and the photos on the customer area. You can follow us on Facebook, Twitter and Instagram.