Good morning parents,
Ayer a las 8:15 nos despertábamos todos al ritmo de The House Of The Rising Sun, de The Animals, en los campamentos de inglés de English Summer S.A.
Lavado de cara, sonrisa puesta y ¡a desayunar! Era una ocasión especial, ya que por la tarde empezaban las rotaciones de los juegos olímpicos, así que decidimos desayunar en equipo. Cereals with milk and honey, cheese and ham sandwiches and muffins started to flow through the dinning room. 
Time to go to class! Kids are starting to know the time-schedule of the term, and we don't even have to tell them to go to class; they go on their own. 
During the snack time all kids were allowed to use the phone to call home. Hi mum! We're having so much fun here!
El menú del día de ayer no encandiló demasiado a los niños, aunque al final se lo acabaron comiendo todo. Lentils with vegetables, tenderloin with carrot and onion and a tasty ice-cream. Delicious! Al acabar, recogimos por turnos y entre todos el comedor, dejándolo igual que como nos lo encontramos.
It was class time again, and after that we headed to the pool and the clubs. Juniors had so much fun playing rugby with the teachers while Seniors were doing the clubs. And the club of today is:
Orienteering
Imagine that your kid gets lost in the woods. Disastrous! Lucky you, with this club children will learn how to orientate themselves with only a map.
We lend them a map with some instructions and a tablet, so they can photograph the check points. They have to find the eight check points distributed through the camp. Let's start the hunt!
Trust in me games
Do you trust me? This is the first question the monitor asks to the kids when he or she starts the club. After defining the word «Trust», some games are played. 
Trust In The Bridge, Nature Blind, Double Statue and Trust Cercle. By playing this games, kids discover that united we are stronger, and that none of us is as smart as all of us. 
Después del snack la merienda y el rato de bar y llamadas, era el momento que todos esperaban: ¡La primera rotación de los olympics games! Football, basketball, volleyball and handball. Todos los niños, tanto dentro como fuera del campo: todo el mundo animando, dejándose las uñas ante un penalti fallado, la voz de tanto chillar ¡goooool! y las palmas de tanto aplaudir. Al final de cada partido, todos nos damos la mano, saludamos al árbitro y nos vamos para las duchas.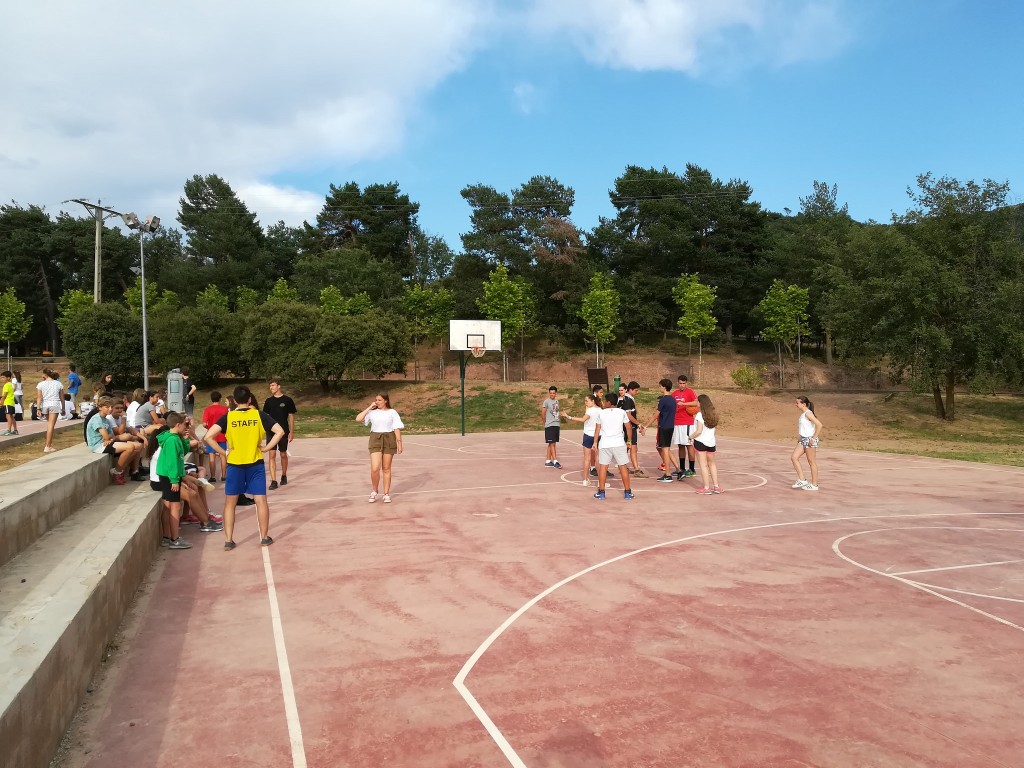 It was time to prepare the outfit for the night! It's Rock'n'Roll night, so boys were wearing white socks, white t-shirts and jeans, and girls pink skirts and white tops. Kids were in the grand steps, waiting for the party to start.
And so it started! En el escenario, un grupo de nerds intentan estudiar para un examen, cuando entran en escena los chicos malos, los t-birds, con sus patillas, sus tejanos ajustados y su cuero. Los echan fuera de allí y empiezan a pasárselo bien cuando aparecen las chicas, las Pink Ladies. Danny Zuko, el cabecilla de los T-Birds se enamora perdidamente de Sandy, así que al ritmo del Summer Nights intenta conquistarla, con beso final incluido.
Empieza la cena. Mientras los más pequeños hacen cola para coger su hamburguesa americana, los mayores empiezan a jugar a alguno de los diez juegos que hay repartidos por el garden: Kart Race, Splash The Monitor, Bowling… Y luego al revés, los pequeños juegan y los mayores comen.
Al acabar la cena, ¡empieza el concurso de baile!
Those kids who want to compete in the dancing challenge have to make pairs (girl-boy, girl-girl, boy-boy) to try to achive the victory.  It was a harsh dancing battle, but only one pair can be the winner! Before announcing the winners, we gave the award of the best characterized boy and best characterized girl.
Acabamos la noche al ritmo del Greased Lightning, bailando todos juntos al unísono. Chaquetas al viento y música de los sesenta sonando a tope por los altavoces. ¿Qué mejor forma de acabar una noche de Rock'n'Roll?
 La felicidad es una enfermedad contagiosa muy común entre los niños, y creemos que todo Prades está contagiada.
Os recordamos que podéis seguirnos por todas nuestras redes sociales: Facebook, Twitter, Instagram y en el área de clientes, desde donde podéis acceder al álbum de fotos de nuestro campamento de verano en inglés. Follow us 

See you soon!
#Froggy