Good morning parents,
Suena Solo Dance en la casa de Prades. Los niños se levantan, se lavan la cara y se preparan para los segundos froggy games de este turno. After running, jogging, dancing, jumping and playing, the kids were hungry, so we had breakfast. Tras el desayuno tocaba hacer la cama y ordenar la habitación para pasar la room inspection. Con todo ordenado, los niños fueron a clase al ritmo de la siguiente canción:
Clip clip clip, clap clap clap
It's time for the English Class!
Clip clip clip, clap clap clap
The English Class, the English Class!
El staff de monitores comenzó a preparar el día en los campamentos de inglés de English Summer SA. Los teachers están impresionados con el alto nivel de inglés que hay en general en este turno, tanto que han subido el nivel de la clase 10 de Flyers a KET. Aquí tenéis actualizados los niveles de inglés:
| | |
| --- | --- |
| Cambridge level | Class |
| Starters | 1 – 4 |
| Movers | 5 – 6 |
| Flyers | 7 – 9 |
| KET | 10 – 14 |
| PET | 15 – 16 |
| FIRST | 17 – 20 |
| | |

Hope you're feeling hungry because it´s lunch time! Spaghetti, meatballs and fruit.
Una vez acabadas las clases de inglés, juniors se fueron a la piscina y seniors a los clubs.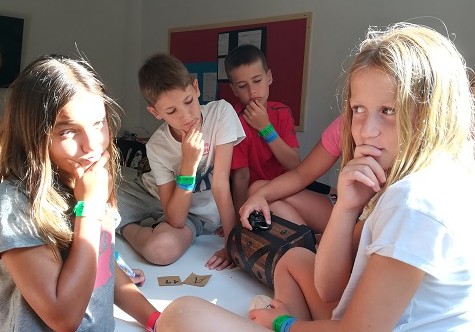 It's snack time! Toca reponer fuerzas con la merienda y el bar, los niños aprovechan también para llamar por teléfono y jugar los partidos pendientes del world championship.
Cargados de energía toca intercambiarnos: seniors went to the swimming pool and juniors to the clubs. When they finished they went to the courts to play Olympic games. We had really interesting football, handball, basketball and volleyball matches. All the kids cheered with enthusiasm. They enjoy very much this time of the day, when they have to obtain points to compete on the olympics.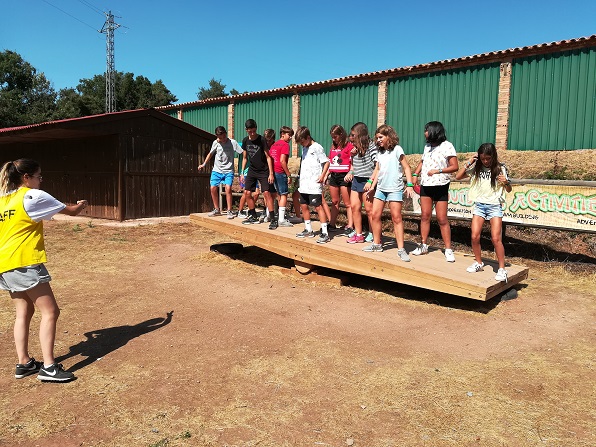 Al finalizar los emocionantes partidos, todos los niños fueron a la ducha. Durante todo el día los monitores realizaron múltiples enigmas a los niños para que entrenaran sus brillantes mentes para el gran cluedo de la noche.
After getting rid of the dirt, we had dinner. Kids were nervous because the party of the night looked amazing. And so it began! 
Los niños presenciaron the murder of the Farmer. So now we have to find out the murderer. Por equipos comenzamos la misteriosa aventura de encontrar al asesino, el arma y el lugar del crimen. The suspects: the chef, the housekeeper, the farmer, the postman, the boss, the vet, the nurse. They were spread all over the house and the kids had to go find them in order to get enough hints to guess who the murderer was.
Aquí os dejamos uno de los enigmas más difíciles de la noche:
- A man enters in a bar and orders a glass of water. The waiter gives him the glass and points at him with a gun. The client says thanks and leaves. Why?
– Un hombre entra a un bar y pide un vaso de agua, el camarero le da el vaso y le saca una pistola. El cliente dice gracias y se va. ¿Por qué?
¿Alguno se atreve a intentar resolverlo? En el post de mañana publicaremos la solución. Nosotros mismos nos sorprendemos de lo creativos y astutos que pueden ser los niños a la hora de solucionar este tipo de acertijos.
Al final, con las pistas obtenidas averiguaron que la asesina había sido la enfermera con la cuchara enfrente de recepción. Los monitores representaron el trágico suceso. Tras destapar el entramado final, nos fuimos todos a la cama con el buen sabor de boca que deja resolver un misterio de tal magnitud all together.
Enigmatic game day is over!
Las sonrisas de los niños inundan la casa de Prades desde el primer día, son la energía que llena a los monitores. ¡Mañana más y mejor!
Os recordamos que podéis seguir el ritmo de nuestras actividades en: Facebook, Twitter, Instagram y acceder al álbum de fotos de nuestro campamento de inglés en el área de clientes. Mandadnos un mail a esfprades@enlgishsummer.com si queréis explicarnos, por ejemplo, vuestra English Summer experience

See you soon!
#Froggy