Good morning parents,
Desde los campamentos de inglés de English Summer S.A. sabemos que estáis ansiosos por saber la solución del enigma de ayer… Tendréis que leer hasta el final del post para conocerla.
Ayer nos volvimos locos y quisimos empezar el día de forma diferente, desayunando en el jardín!! Como si de un hotel de lujo se tratara. Breakfast was composed by donuts, croissants, fruit, juices and «cacaolat».
Kids were excited about tonight's party: formal dress night. Es una de las últimas fiestas del turno y también de las más especiales. Se realiza desde 2004 en el primer año de Prades hasta a día de hoy.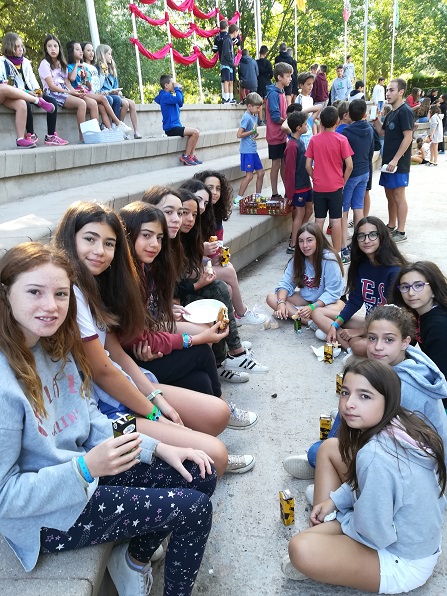 It's almost ten o'clock, kids have brushed their teeth and it's time to go to class at the rhythm of clip clip clip. We are approaching the end of 18p31, so students must prove what they have learnt today at the exam.
A media mañana, mientras tomábamos una pieza de fruta, aprovechamos para jugar los cuartos de final de los World Championships. Mañana es día de finales, y los nervios están a flor de piel. ¡Los partidos darán puntos para los olympics!
Kids went back to class while monitors started voting for the froggy awards. We have  froggy awards such as the nicest smile, bill and ben, sleepy head and miss and mister.
 So… it's lunch time! Once again we have a birthday.
Kids went back to class: this was the last afternoon class students would do before the exam, and they were really excited about it. 
Algunos niños pasaron la tarde en Prades Aventura, donde fueron a jugar a Paintball. Los demás nos preparamos para la tercera rotación de los olympics. Los niños van rotando por los diferentes deportes y compiten contra todos los equipos. Hoy terminamos un poco antes los olympics para ponernos guapos para la fiesta de la noche.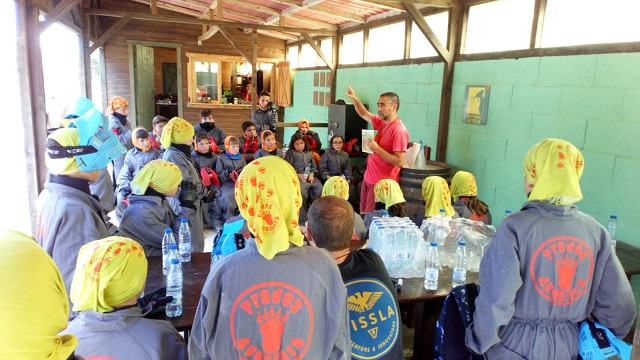 Con nuestras mejores galas y bien perfumados bajamos al comedor, donde vamos entrando por grupo de monitor, nos hacemos la foto grupal y nos sentamos en las respectivas mesas. Aquellas parejas que lo quisiesen y lo eligieran podían hacerse una foto juntos.
After the traditional toast, we start the dinner. This year the menu is based on tapas.
After on, we start the award ceremony outside the dinning room. Those kids that stood out among the others in some aspect were nominated. But only one can be the winner. Como en toda ceremonia, hubo un rato al final de discoteca outdoor, donde los niños bailaron y disfrutaron de esta noche al ritmo de las canciones del turno y muchas más.
And it was time to go bed! After changing the suit for the pyjamas, we went to sleep.
Por cierto, ya sabéis que podéis seguirnos en Facebook, Twitter e Instagram y ver las fotos en el área de clientes 

Good night!
#Froggy