Good morning parents, 
Hoy nos hemos despertado al ritmo de la música para comenzar el primer día para muchos de nuestros niños y niñas. Para empezarlo con energía nos hemos vestido con ropa de deporte y nos hemos reunido por equipos en el meeting point del bosque al sonar el baile del turno "solo dance». We then split up into groups to play froggygames. Para aquellos padres primerizos en los campamentos de verano de English Summer SA, recordamos que los froggygames son unos juegos que hacemos por las mañanas en inglés para empezar el día cargados de energía, fresh y con una sonrisa en la cara.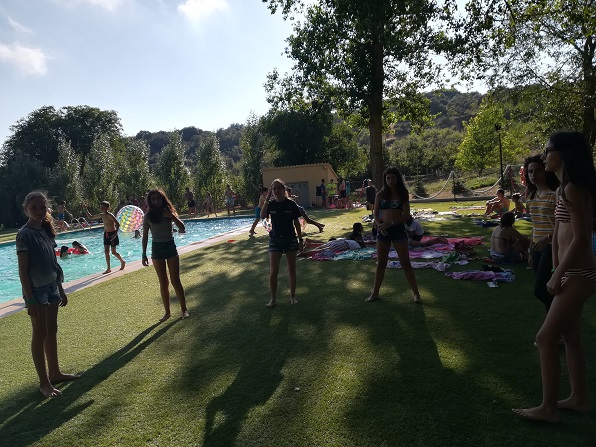 When the games were over, we headed to the dinning room, by sittings, to eat a tasty breakfast and get prepared to face the day. Monitors let the kids know their english classes. Teachers told us that there's a really good level in this term!
En el tiempo de descanso entre clases, los niños y niñas que ya llevaban una semana aquí aprovecharon para llamar a casa, decir que todo iba bien y contar todas las actividades que van haciendo. Mientras, aquellos alumnos y alumnas que entraron el domingo a la casa tuvieron tiempo para almorzar y hacer el English Challenge, unas pruebas en inglés que trabajan la creatividad, la capacidad to think outside the box y la cooperación en equipo, y además, dan puntos a los equipos en la competición del turno.
Lunch time! We are not allowed to speak in Spanish inside the dinning room, so everything must be in English. Pick up some napkins, one fork, spoon and get ready to eat some delicious food. 
A las tres, los niños volvieron a clase, donde realizaron actividades en inglés para conocerse mejor entre los nuevos compañeros y el nuevo o la nueva teacher.
Classes are over! Juniors went to the swimming pool while seniors were divided into teams and started the first rotation of clubs of the day. Let's explain two of them:
Lego Building
We brought the kids to the theater room, and they were given a box of Lego per group. They were told to build either their ideal city or the tallest skyscraper. While they were constructing, classical music was played on the theater in order to help them focus on the building and relax. 
Buggy Construction
All the kids are always looking forward to doing this game, because it looks really cool. Kids have to build a functional buggy with teams and at the end a race must be done. Kids must work together, cooperate if they want their buggy to survive. 
Fuimos todos a merendar, después de rotar juniors y seniors, y al acabar anunciamos los nuevos miembros de equipos de los olympics. With the coaches, students did an anthem, choose the captains and decided the strategy to follow this days. 
Shower time! Preparamos la lavandería del turno.
Al acabar, los niños y niñas fueron a cenar ya vestidos de deporte, ya que era Olympic Night. Los presentadores de la noche explicaron en inglés las normas de la competición al público: fair play, respect and equality. Contamos con invitados como Cristiano Ronaldo y Pau Gasol, y froggy tampoco quiso perderse esta ceremonia.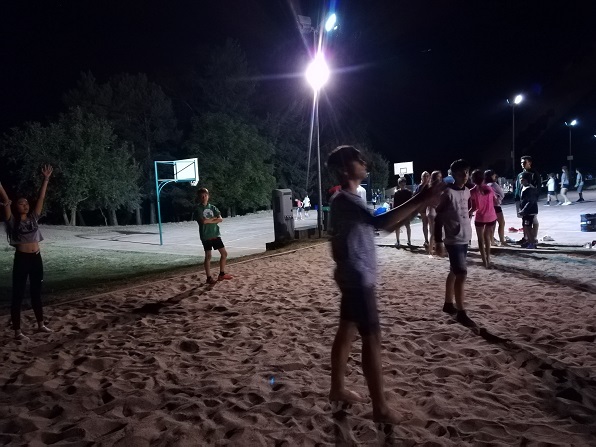 Then, the kids went to their zone of the sport fields to play a game with their team companions.
Al final de la noche, bailamos las canciones del verano todos juntos y nos despedimos al unísono de nuestro particular grito de guerra: ¡3P, 3P, 3P!
Mayores y pequeños empezamos a sentir que este turno promete. Eso se refleja en el comportamiento de niños y niñas, el respeto de todos hacia todo y el bien hacer generalizado que se respira en la casa de Prades.
Recordamos que podéis seguirnos por todas nuestras redes sociales: Facebook, Twitter, Instagram y en el área de clientes, desde donde podéis acceder al álbum de fotos de nuestros campamentos de inglés. Follow us
See you soon!
#Froggy