Good morning everybody! Yesterday we woke up with rock n' roll rhythm, for example one of the songs  was Johnny B. Goode by Chuck Berry and during all the day the students were listening to different songs from this period.
Inmersos en la década de los 50, aprovechamos el día para realizar las clásicas fotos por grupo de monitor y también con los equipos de Olympics, una fantástica manera de coleccionar los recuerdos del campamento de verano 2018 en Prades.
In the afternoon, before the break and swimming pool time, the teenagers started the afternoon activities that we introduced to you in yesterday's post. This activities, were really interactive, which allowed them to have fun while improving their English.  We are learning having fun!! As you can see in the photo, we had to sort out an intriguing enigma in the Escape Room.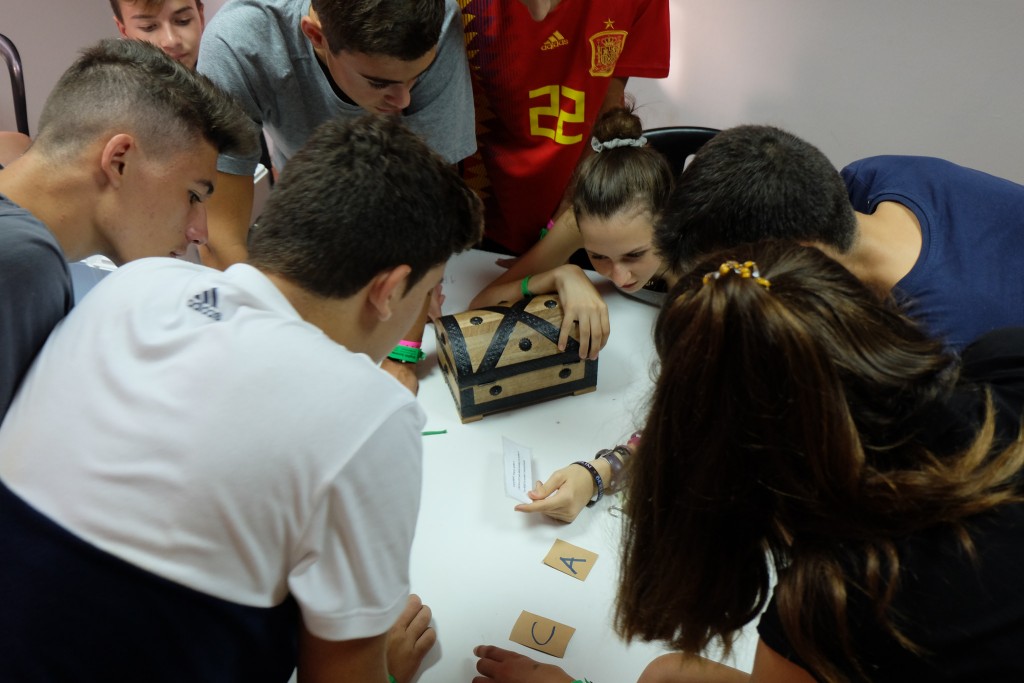 Durante el día y para escoger a los alumnos protagonistas del show central de la fiesta, realizamos un casting. Fueron muchos los que se presentaron y disfrutaron muchísimo durante este, realizaron juegos de interpretación, improvisación y baile. Aquellos seleccionados, pudieron ensayar lo necesario para tenerlo todo listo para el show y transformarse en unos auténticos T-Birds y Pink Ladies.
Finalmente llega el momento más esperado del día para muchos de los alumnos de los campamentos. Al atardecer, Prades se convirtió en una auténtica ciudad americana de los años 50. After the American dinner, the party started with the teenagers performance. Then, the rock and roll dance contest started! Awards were given for the best dressed.
Aquellos que no disfrutan tanto del baile, también estuvieron entretenidos a lo largo de la noche. Durante el concurso, jugando a los ocho diferentes juegos que preparamos para ellos. Como, por ejemplo, un circuito de Karts, una zona de mini fútbol etcétera. Finally, the party ended as usual, dancing ES dances, this time, they danced Live it Up.
That's all for today! See you tomorrow!!
Seguidnos en Facebook, Twitter e Instagram y mirad las fotos que colgamos a diario a través del área de clientes, we love it!
See you soon

#Froggy