Good morning parents!
Yesterday, as you know, it was photo day, con nuestro fotógrafo de confianza.
Tras la primera clase de inglés bajamos todos a las gradas para hacernos una foto grupal, tomamos un pequeño snack y de nuevo straight to class. Our photographer also took pictures of the kids in class with their teacher and their parners.
Lunch time, we had a delicious meal!! Then we returned to class where the children did a project to improve their english.
A continuación, nos pusimos el bañador, la camiseta del equipo y fuimos directos a la piscina donde también nos hicimos una foto con nuestro team. Repartimos donuts y fruta a los niños para soportar el calor y disfrutar del espectáculo que venía a continuación. Amenizamos la hora de piscina con unos mariachis y con la boda de nuestros special guests mexicanos. We did some dances in the pool and had lot of fun!!!!!:)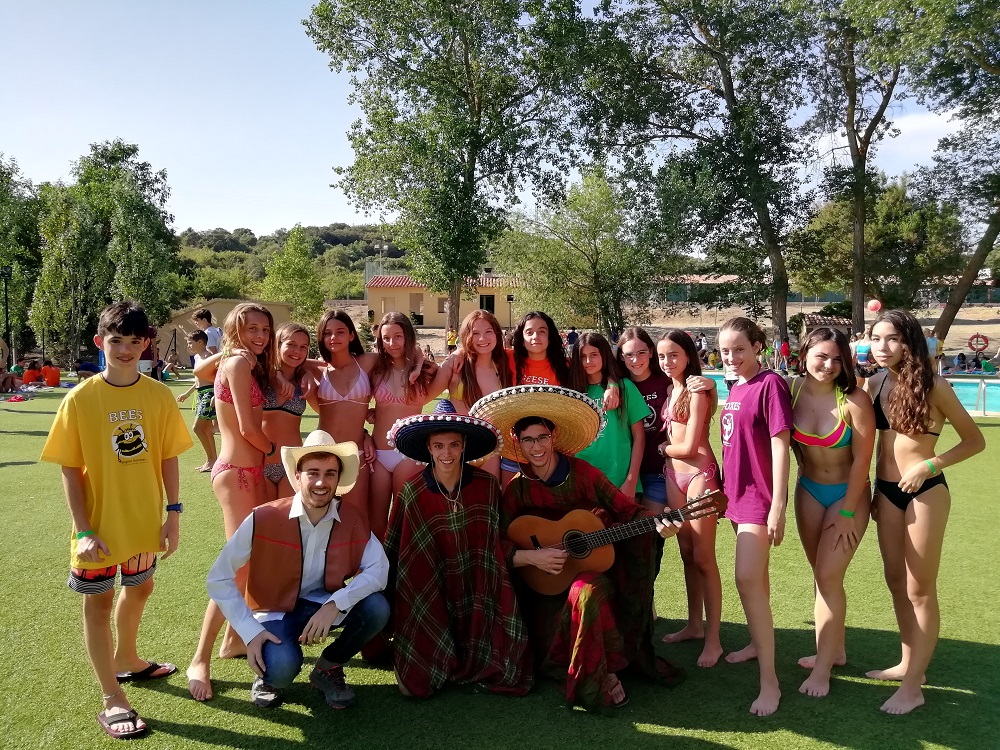 Nos enfrentamos al primer día de olympics con mucha motivación, ganas de jugar y conseguir puntos para nuestro equipo. Sin olvidar que lo más importante es: respect, team work and the last but not least, having fun.
Shower time!! Nos preparamos para la fiesta de esta noche…MEXICAN PARTY. Para comenzar tuvimos una cena Mexicana con burritos, nachos con guacamole y guarnición «ándaleeeeeeee»!!!!
Para seguir dimos comienzo a la fiesta. We started with a show that the children enjoyed so much! In the party there were some games as blow the ball, the moustache and turn glass. Además de los juegos, pudieron disfrutar bailando al ritmo de english summer songs. It was an amazing night.

As we were so tired we went straight to bed to have energy for the next day.
Today the morning started with froggy games! Los froggy games nos han abierto el apetito y como cada mañana nos hemos ido a desayunar por turnos. Tras esto, nos hemos ido directos a las clases.
No os olvidéis que podéis seguirnos en Facebook, Twitter e Intagram y ver todas las fotos del turno a través del Área de clientes
#froggy