Good morning parents,
Ayer a las 8:30 nos despertábamos todos al ritmo de Orange Sky, de Alexi Murdoch, en los campamentos de inglés de English Summer S.A.
Lavado de cara, sonrisa puesta y ¡a desayunar! Kids were super excited yesterday: we had British Breakfast! Scrambled eggs, bacon and beans. It was like we were back in England.
Time to go to class! Kids are starting to know the time-schedule of the term, and we don't even have to tell them to go to class; they go on their own. Click click click, clack clack clack, it's time for the English class!
During the snack time we took the term photo with all the students, teachers and monitors. Afterwards, each group of kids took the group photo with their monitors.
El menú del día de ayer no encandiló demasiado a los niños, aunque al final se lo acabaron comiendo todo. Chickpeas with peppers and chicken breast. Al acabar, recogimos por turnos y entre todos el comedor, dejándolo igual que como nos lo encontramos.
It was class time again, and after that we headed to the pool all together. We took team photos and afterwards we did a tsunami competition. Because the heat wave, we decided to go back to the swimming pool after the snack time.
Ayer no hicimos clubs, pero a continuación explicaremos dos de los doce clubs que haremos durante este turno.
Orienteering
Imagine that your kid gets lost in the woods. Disastrous! Lucky you, with this club children will learn how to orientate themselves with only a map.
We lend them a map with some instructions and a tablet, so they can photograph the check points. They have to find the eight check points distributed through the camp. In some of them, they have a game to play in order to pass the test. Next one they have to find a monitor and ask them a question. To sum up, let's start the hunt!
Trust in me games
Do you trust me? This is the first question the monitor asks to the kids when they start the club. After defining the word "Trust", some games are played. 
Trust In The Bridge, Nature Blind, Double Statue and Trust Cercle. By playing this games, kids discover that united we are stronger, and that none of us is as smart as all of us. 
Después del snack, era el momento que todos esperaban: ¡La primera rotación de los olympics games! Football, basketball, volleyball and handball. Todos los niños, tanto dentro como fuera del campo: todo el mundo animando, dejándose las uñas ante un penalti fallado, la voz de tanto chillar ¡goooool! y las palmas de tanto aplaudir. Al final de cada partido, todos nos damos la mano, saludamos al árbitro y nos vamos para las duchas.
Ayer inauguramos una nueva función: el VAR. El árbitro de cada partido contaba con una Tablet. Uno de los miembros de la tripleta arbitral se encargaba de grabar todo el partido. Durante las situaciones o jugadas polémicas, se paraba el partido y el árbitro observaba la jugada y decidía. Lo que empezó como una broma para animar a los niños a jugar con fair play acabó siendo útil.
It was time to prepare the outfit for the night! It's Rock'n'Roll night, so boys were wearing white socks, white t-shirts and jeans, and girls pink skirts and white tops. Kids were in the grand steps, waiting for the party to start.
And so it started! En el escenario, el vacío. Las Pink Ladies llegan flamantes en su coche blanco, chillan y se ponen a ver una película en el cine Prades. De repente, de la nada aparecen los T-Birds, los malotes del turno. Se meten todos con las chicas. Pero Danny Sucko, el líder de la banda, se queda encandilado por Sandy, la Pink Lady más bella. Así que al ritmo del Summer Nights intenta conquistarla, con beso final incluido.
Empieza la cena. Mientras los más pequeños hacen cola para coger su hamburguesa americana, los mayores empiezan a escoger pareja de baile para el Dance Contest de esa noche. Al acabar todos de cenar se inauguran los juegos: todo el mundo a jugar a alguno de los diez juegos que hay repartidos por el garden: Kart Race, Splash The Monitor, Bowling… 
Al acabar la cena, ¡empieza el concurso de baile!
Those kids who want to compete in the dancing challenge have to make pairs (girl-boy, girl-girl, boy-boy) to try to achive the victory.  It was a harsh dancing battle, but only one pair can be the winner! Before announcing the winners, we gave the award of the best characterized boy and best characterized girl.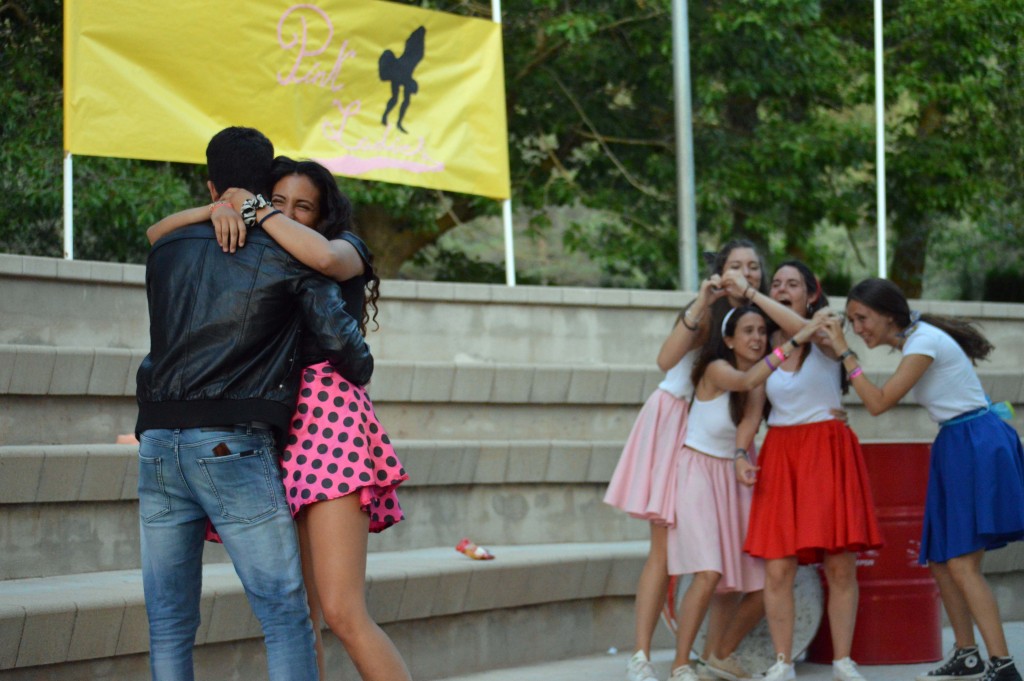 Acabamos la noche al ritmo del Greased Lightning, bailando todos juntos al unísono. Chaquetas al viento y música de los sesenta sonando a tope por los altavoces. ¿Qué mejor forma de acabar una noche de Rock'n'Roll?
 La felicidad es una emoción contagiosa muy común entre los niños, y creemos que todo Prades está contagiada.
Os recordamos que podéis seguirnos por todas nuestras redes sociales: Facebook, Twitter, Instagram y en el área de clientes, desde donde podéis acceder al álbum de fotos de nuestro campamento de verano en inglés. Follow us 
See you soon!
#Froggy