Good morning families!
Este post será especial, ya que explicaremos todo lo ocurrido en los campamentos de verano de Prades este fin de semana, tal y como hicimos el fin de semana anterior.
Saturday
Wakey wakey, rise and shine! Although your kids are not used to wake up at 7 on a Saturday, they had a good reason to this weekend. We were going to Port Aventura/Costa Caribe! Those kids that stayed in the house were able to sleep in and they woke up at 9pm.
Port Aventura
When we arrived to the park, the sky wasn't clear. It didn't rain, so luckily the kids had the chance to enjoy their day there! Firstly, the little ones went to Sésamo Aventura, and those who were feeling braver went straight to the big roller-coasters, like Furius Baco and Dragon Khan. When lunch time arrived, we went to the Cantina, in México, where we enjoyed a colorful Mexican cousine. After that we needed a break, so we headed to the Far West show.
At the end of the day, kids were exhausted but smirking all the way back to camp. Zero grins and tons of smiles!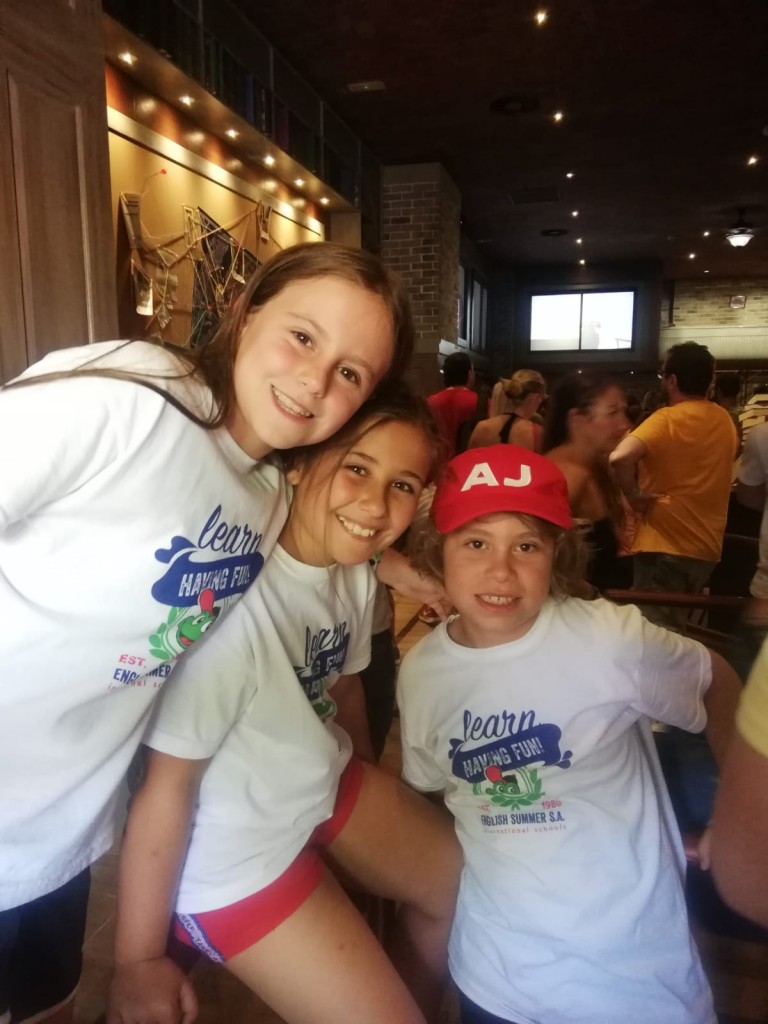 Costa Caribe
Costa Caribe y Port Aventura comparten espacio, así que el tiempo de esos que se aventuraron a ir a Costa Caribe fue el mismo que el de sus compañeros: un solazo de campeonato y unas temperaturas dignas de un día de piscina. Los niños, cual bolsa de té, estuvieron a remojo durante toda la mañana. De tobogán en tobogán, a las 12:30 nos dirigimos al restaurante del parque, donde junto a las demás casas de English Summer comimos. Al acabar, esperamos las dos horas reglamentarias y volvimos a darnos un chapuzón.
Al final del día llegamos a la casa, donde nos esperaban con los brazos abiertos aquellos alumnos que se quedaron en la casa. Cenamos dentro del comedor la barbacoa que el equipo de cocina estuvo preparando durante toda la jornada, ya que hacía un poco de frío y aprovechamos para despedirnos de aquellos alumnos que se quedaban solo una semana.
Thank you for your time. We had a blast, hope to see you next year!
Prades
Those that stayed in had such an amazing time that told us that next year they will stay at home as well. The whole camp for them! Kart races around the house, giant balls wrestling competition, film, nap and matches against the monitors. We even had the foam machine and the kids who stayed had the opportunity to enjoy it.

A day to remember.
Sunday
A farewell day for those kids that were going home, another day in paradise for those staying for two or three weeks. We woke up all together and then we broke the fast. At 10:00, with all the luggage in the theatre ready for the parents to pick up, we went to practice the final ceremony.
And then it was the moment to say goodbye to everybody!
Los niños del 19P30 se fueron a casa, pero en la casa de Prades, la cara de compañer@s y la de los monitores han quedado marcas de su paso por el campamento. We just have to tell you one more thing: thank you, thank you and thank you!
And then…
WELCOME HOME 19P34!
New kids, new monitors! At 16:00 the check-in started. Kids met their monitors and new friends, and afterwards we all went to take the placement test.
Al acabar, cada grupo fue con su monitor a conocerse mejor, hicimos juegos to break the ice y al final de la noche se presentó al staff de monitores y teachers, vino a vernos Froggy.
 Tocaba irse ya a dormir, ya que debíamos descansar para empezar el día de mañana con energía
Como ya sabréis, mantenemos nuestras redes sociales: Facebook, Twitter, Instagram actualizadas y en el área de clientes, podéis acceder al álbum de fotos. Ya lo tenéis todo para no perderos ni un detalle de nuestro campamento de verano en inglés. Follow us! ¡Recordad que además podéis mandar vuestros mails a esfprades@englishsummer.com y que podeis comentar todos los post que vayamos colgando!
See you soon!
#Froggy