Buenos días padres,
Estamos encantados de poder inaugurar oficialmente el segundo turno del verano en Tamarit en nuestros campamentos de verano! Ayer llegaron los 180 niños que serán los protagonistas de estas dos semanas tan especiales.
Al llegar reunimos los alumnos en las gradas para darles las bienvenida y les acompañamos a la clase en la que realizaron una prueba de nivel de inglés supervisada por nuestros queridos teachers. Una vez acabado el test, los niños se fueron con sus monitores para conocer el resto del grupo con el compartirán el turno.
A la hora de la cena, el patio ya estaba repleto de grupitos de nuevos amigos, los niños cenaron por turnos acompañados por sus compañeros y monitores.
Una vez acabada la cena los niños se reunieron el las gradas en las que fueron sorprendidos por la mascota del turno: FROGGY. Froggy tiene un nuevo proyecto, hacer la vuelta al mundo con su familia, y nos invita a todos en esta gran aventura. Para celebrar la gran noticia, ¡froggy nos acompañó a la Welcome Party para darlo todo hasta altas horas de la noche!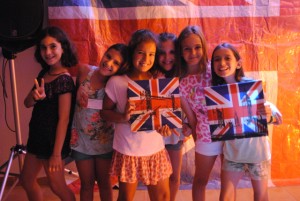 Tras un primer día muy activo, a las 23h los monitores acompañaron a los niños a sus habitaciones, es hora de ir a dormir.
Hasta mañana padres para nuevas aventura,
Froggy
Las fotos del turno están disponibles en nuestra página de  flickr.
———————————–
Good morning parents,
We are glad to be able to officially inaugurate the second term of the summer in Tamarit in our summer camps. Yesterday, the 180 kids, that are going to be the protagonists of these two amazing weeks, arrived.
When they arrived, we gathered the students in the grand stand in order to welcome them and we took them to the class where they were taking the level test. Once over, the kids went with their monitors in order to meet the rest of the group with whom they will share the term.
At dinner time, the yard was already fool of a lot of new friend, the kids had dinner by terms accompanied by their mates and monitors.
Once the dinner over the kids gathered in the grand stand where they were surprised by the emblem of the term: FROGGY. Froggy has a new project, do a world tour with his family, we are all invited to live this great adventure with him. To celebrate the big news, froggy accompanied us to the Welcome Party to give it all until the end of the night!
After a big active first day, at 11 pm the monitors took the kids to their room to their rooms, it's time to go to sleep.
See you tomorrow for new adventures!
Froggy
You can also see the pictures of the term in our flickr page.