¡Buenos días familias!
Esto no ha hecho más que empezar y ayer lunes comenzamos con las rutinas cotidianas que seguiremos durante estas dos semanas. Los niños ya se han integrado a la perfección y nos están transmitiendo el buen rollo necesario para que todo esto marche sobre ruedas y sin frenos. Podemos describir el día de ayer como el día de las primeras veces de todo lo que nos espera. Después de despertarnos, lavarnos las caras y vestirnos con ropa de deporte, realizamos los primeros "Froggy Games", que sirvieron para promover la  integración entre niños y niñas y chicos y chicas de la misma edad. El desayuno estaba listo para llenarnos los estómagos y recargar pilas, dónde los monitores comunicamos a nuestros niños la clase en la que estaban asignados. Tenemos que recordar que las clases funcionan respecto al nivel de inglés de cada alumno, sin importar la edad del estudiante.
La tarde empezó con un buen baño en la piscina, el primero de este turno, jugando a pala, tomando el sol, y tirándose la pelota entre unos y otros. Después de este descanso llegó la hora del deporte. Nos dividimos por equipos, hicimos las respectivas presentaciones para que se pudieran conocer entre los alumnos y elegimos un capitán junior y un capitán senior que serán los encargados de llevar a su equipo. También preparamos un himno y unos cánticos para poder animar a los nuestros.
Hora de duchas y de cenar por equipos. La fiesta del día fue "USA Sports". En la fiesta tuvimos la presencia del presidente de la NBA y la primera dama y los niños pudieron disfrutar de disputarse entre ellos en partidos de baloncesto y de presentar su himno delante de todos sus compañeros.
Dando por finalizada la fiesta y con un día de no parar, nos fuimos a la cama junto a nuestros monitores, mañana más y mejor and that's only the beginning!
¡Y hoy fotos y videos!
¡Seguiremos informando!
———————
Good morning families!
This has only just begun and yesterday we started with daily routines that we will continue during these two weeks. The children have already been integrated perfectly and they are transmitting us good vibes to make a perfect term together. We can describe yesterday as the day of the "first times" of all that awaits us. After waking up, washing our faces and dress in sportswear, we did the first "Froggy Games", which served to promote integration between children of the same age. Breakfast was ready to fill our stomachs recharge, where monitors used to communicate to our children the class in which they were assigned. We must remember that the classes are assigned  in relation on the level of English of each student, regardless of the student's age.
The evening began with a swim in the pool, the first of this term, playing paddle, sunbathing, and throwing the ball between each other. After the break it was time for sport. We split team, we made the respective anthem to identify our team and we chose a junior and senior captain who will be responsible to lead our team. We also repair a hymn and a few songs to encourage us.
Time to have shower and dinner with our teams. The party was "USA Sports". At the party we had the presence of the president of the NBA and the first lady and children enjoyed dispute between them at basketball games and submit their song in front their mates.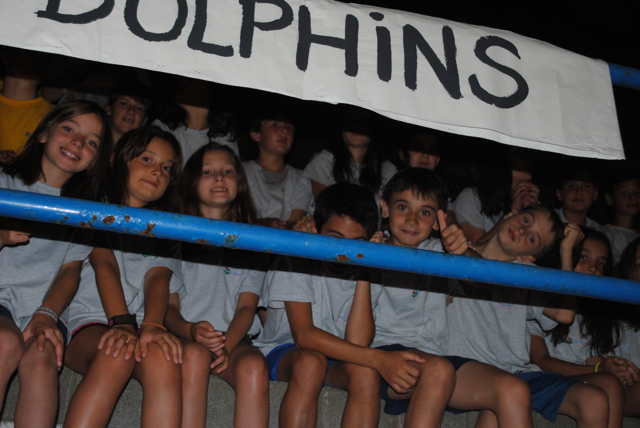 After a long day and amazing party, we went to bed with our monitors, tomorrow more and better and that's only the beginning!
And today photos and videos!
We keep you informed!