¡Buenos días padres!
Cada día tenemos más presente que el turno se está acabando, ya no tenemos ganas de estar en la cama por la mañana, queremos ir a disfrutar de los últimos días que nos en los campamentos. Ayer fue la vuelta a la rutina, los niños pudieron volver a disfrutar de sus queridos teachers.
Por la mañana, los alumnos tuvieron clase, durante las que prepararon el teatro de fin de curso. A la hora del patio se podían ver algunos que revisaban sus guiones. Cuando salieron de clase a las 11h30, una manada de niños esperaban delante de un panel: las reservas de la noche de los Oscars están abiertas al público. Los alumnos que ya tienen pareja se apuntaron rápido, los demás prefieren esperar el sorteo que les asignará una date para esa noche de gala tan esperada. La noche de los Oscars tendrá lugar el miércoles.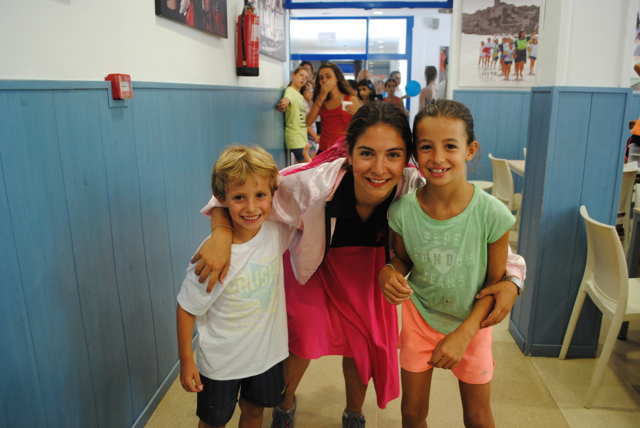 A la hora de comer, los alumnos que estaban tranquilamente comiendo fueron sorprendidos por el famoso grupo de amigos de la película Grease, todos bailaron con ellos.
Después de la última hora de clase del día, a las 16h, todos los alumnos se fueron a la piscina, excepto un grupo que fue al parque de aventuras de Jungle Trek. Como siempre fueron momentos de muchas risas.
Une vez los alumnos merendados, se fueron con sus equipos para jugar al emperador y a la muralla china. Después jugaron una rotación de Olympics.
A la hora de la ducha se tuvieron que dar mucha prisa ya que la fiesta de ayer empezaba a las 20h30. Todos se mudaron de Rock and Roll. Se reunieron todos en el Forest Garden dónde unos personajes rockeros les esperaban. Les acompañaron al campo del Basket, los niños asistieron al show de Zuko y Sandy. Después de haber bailado un rato fueron a cenar hamburguesas por turnos en las mesas exteriores.
Tras una cena acompañado por los mejores personajes, se dio por iniciado el famoso concurso de baile. Los ganadores lo dieron todo y nos impresionaron de sus postura rockera.
Tras una noche increíble, los niños se fueron a dormir con la sonrisa en la cara.
¡Hasta mañana para más aventuras!
Vuestro amigo, Froggy
PD: Recordad que podéis seguirnos en nuestro Flicker, Facebook y Twitter.
——————————
Good morning parents!
Everyday we see closer the end of the term, we don't want to stay in bed in the morning, we want to enjoy the lasts days that we have with our friends in the summer camp. Yesterday was characterized by the coming back of the routine, the students were able to be with their dear teachers.
During the morning, the students had class where they prepared the theater of school end. During the break we could see a few students were revising their scenarios. When they left class at 11:30am, a group of kids were waiting in front of a sheet of paper: the reservation list of the Oscars is open. The students that already have a date listed very quickly, the rest preferred to wait for the random matching. The Oscars will take place on Wednesday night.
At lunch time, the students that were having eat were surprised by a group of friends of the famous movie: Grease.
After the last hour of class of the day, at 4pm, all the students went to the swimming pool, except from a group of kids that went to the adventure park: Jungle Trek. As always it was a moment of a lot of smiles.
Once the students snacked, the kids went with their teams to play some games with their monitors. Then they played a rotation of Olympics.
At shower time, the kids had to hurry up because the party started at 20:30. All the kids dressed up with a rocker style. They gathered in the Forest Garden where a group of rockers was waiting for them. They went to the Basket field, Zuko and Sandy did a show. After dancing a little while the kids had an exterior dinner.
After a dinner with the best characters, the dancing contest started in front of amazed eyes.
After an amazing party, all the kids went to bed with a big smile on their face!
See you tomorrow for new adventures!
Your Friend, Froggy
PS: Remember you can follow us on Flicker, Facebook y Twitter.