Good morning, parents!
How are you? El domingo dimos el pistoletazo de arranque del 2T. Como ya sabéis, este turno está formado por los que entraron el domingo y por niños del 1T que se quedaron, que van a estar tres semanas en total. Mientras los nuevos compañeros hacían la prueba inicial, los alumnos del 1T se fueron de excursión, fueron a la piscina y vieron una película.
Tras el check-in y la prueba de nivel, los alumnos nuevos se reunieron con sus monitores y compañeros de habitación e hicimos juegos de presentación para así conocernos mejor.
Al día siguiente por la mañana, hicimos Froggy games, que para aquellos que no lo sepan, son diferentes actividades que se hacen un día sí y un día no antes de desayunar para acabar despertar del todo. Durante el desayuno los monitores dijeron a los niños a qué clase les tocaba ir, y las 9.45 h empezaron las clases en el campamento.
En este turno, tenemos 18 clases que engloban 6 niveles: Class 1/2 (nivel Starters), Class 3/4/5/6 (nivel Movers), Class 7/8 (nivel Flyers), Class 9/10/11 (nivel KET), Class 13/14/15/16 (nivel PET) y Class 17+18 (nivel First Certificate). Por lo tanto, si vuestro hijo va a la clase 7, tiene el mismo nivel que uno de la 8, pero por cuestión de espacio, con tal de poder garantizar un buen seguimiento de los alumnos en grupos reducidos, se separan en clases diferentes sin hacer distinción de nivel, ya que es el mismo.
Después de comer, los alumnos de Watersports se fueron a Tarragona a hacer actividades en el mar. El resto, hicieron una hora más de clase de inglés. Más tarde, los juniors de cada equipo fueron a la piscina y los seniors hicieron clubs, una serie de diferentes actividades que agrupan diferentes temáticas, como challenge yourself, get creative, go explore, get active y get thinking. Después de merendar, los seniors fueron a la piscina y los juniors hicieron clubs. ¡Se lo pasaron fenomenal!
Después de cenar, celebramos la Sports Night. Los niños jugaron un partido de básquet de 5 minutos por equipos (Bears vs. Bees, Dolphins vs. Eagles, Foxes vs. Geese y Snakes vs. Turtles) y los equipos ganadores sumaron puntos para los Olympics. Llevaban las camisetas de cada equipo y, antes de empezar, presentaron su himno y coreografía con sus compañeros nuevos.
En este partido, contamos con los presidentes de la NBA, dos árbitros profesionales, un grupo de raperos que animaron la fiesta, dos speakers que retransmitían en todo momento lo que pasaba en la pista, unas froggy cheerleaders y la mascota del acontecimiento: el gorila.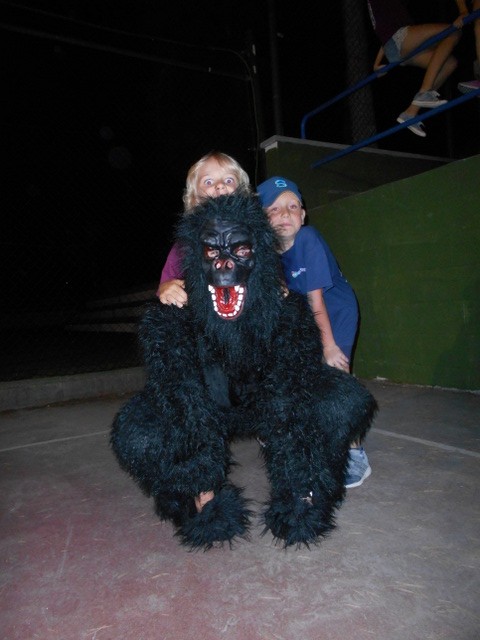 Por último, antes de ir a la cama, todo el mundo se levantó y empezamos a bailar las canciones del turno.
No olvidéis que podéis mandar mails a vuestros hijos a esftamarit@englishsummer.com, ver todas las fotos del turno en el área de clientes y seguirnos en Facebook, Instagram y Twitter.
See you tomorrow!
…
Good morning, parents!
How are you? On Sunday we started T2 with a bang. As you know, this term is made up of the children who came on Sunday and the T1 children who stayed, who will be here for three weeks. While the new children were doing the placement test, the T1 students went hiking, went to the pool and watched a movie.
After the check-in and the test, the new students met their monitors and roommates, and we played presentation games to learn more about each other. The following day, we played Froggy games, different activities that are done before breakfast depending on the day. During breakfast, the monitors told the children in which class they had to go, and at 9.45 h the classes began in the camp.
We have 18 classes that include the following 6 levels: Class 1/2 (Starters level), Class 3/4/5/6 (Movers level), Class 7/8 (Flyers level), Class 9/10/11/12 (KET level), Class 13/14/15/16 (PET level) and Class 17/18 (First Certificate level). Therefore, if your children go to class 7, they have the same level as someone in class 8, but for reasons of space and to guarantee a good learning environment for the students in small groups, they attend different classes without level distinction, since it is the same.
After having lunch, the watersports' students went to Tarragona to do activities in the sea. The other ones had English class and, later, the juniors of each team went to the swimming pool. The seniors made "clubs", different activities, such as challenge yourself, get creative, go explore, get active and get thinking. After having a snack, the juniors played the clubs and the seniors went to the pool.
After dinner, we celebrated the Sports Night. The children played a 5-minute basketball match (Bears vs. Bees, Dolphins vs. Eagles, Foxes vs. Geese and Turtles vs. Snakes) and the winning teams scored points for the Olympics. They wore the T-shirts of their team and, before they started to play, they presented their song and choreography with their new teammates.
The president of the NBA attended the match and, also, two professional referees, a group of rappers who cheered the party, two speakers that commentated on everything that was happening on the court, some froggy cheerleaders and the mascot of the event, a gorilla. Finally, before going to bed, everyone stood up and started dancing to the term songs.
Remember you can send an email to esftamarit@englishsummer.com, see all the photos of the term in the «area de clientes» and follow us on Facebook, Instagram and Twitter.
See you tomorrow!