Good morning, dear parents!
¡Ayer (y como siempre) fue un día de mucha actividad, en los campamentos! Siguiendo la rutina de siempre, los alumnos fueron a desayunar con toda normalidad; no se esperaban para nada que en la puerta del dining room se encontrarían con unos monitores que les atarían una mano a una pareja. De esta manera, coger el desayuno o la bandeja fue mucho más divertido de lo habitual y tuvieron que hacer verdaderos malabares para ir en parejas hacia la mesa.
Después de las clases y de comer, empezaron los clubs. Había cuatro actividades relacionadas con los siguientes temas: circus, music, problem solving y orienteering. Más tarde, todos fuimos a la playa. Fue la primera vez que íbamos con los alumnos nuevos del 2T, y hay que reconocer que, tanto los que se quedaron del 1T como los del 2T, se lo pasaron genial con sus nuevos amigos.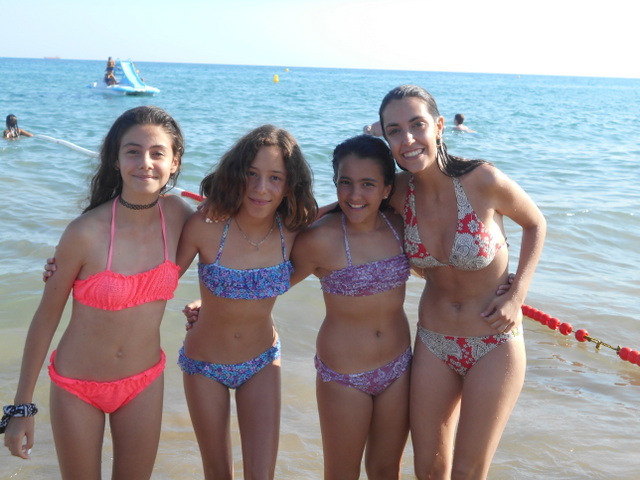 Al volver a casa, nos duchamos y nos preparamos para una de las fiestas más míticas y más esperadas de English Summer: The Rock'n'Roll Party! Los alumnos se encontraron en la pista de básquet un escenario inspirado en la película de Grease.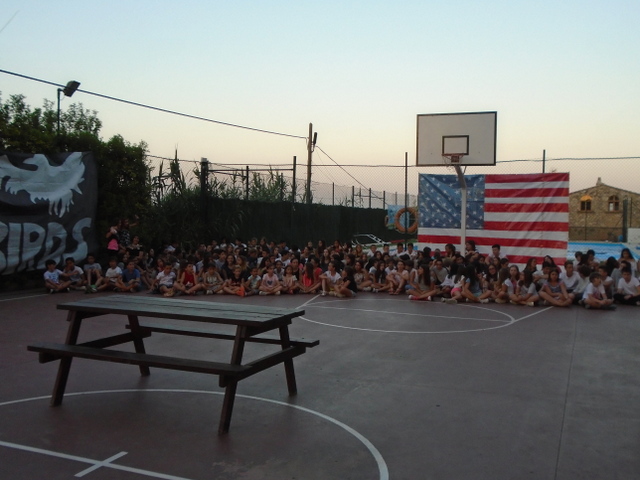 Cenamos todos juntos un delicioso menú americano y los monitores sorprendimos a los alumnos con dos números de la película. Después, dimos paso a un divertido concurso de baile de Rock'n'roll: ¡fue un verdadero éxito! Casi todos se animaron a participar y la final se disputó entre cuatro parejas. Para acabar con la fiesta, las mejores parejas juniors y seniors de baile y los mejores vestidos recibieron un diploma.
¡Nada más por hoy! ¡Mañana más! Un abrazo a todos y os invitamos a seguir nuestro día a día en el área de clientes y seguirnos en Facebook, Instagram y Twitter. Recordad también que podéis mandar e-mails a vuestros hijos a esftamarit@englishsummer.com
…
Good morning, dear parents!
Yesterday (as always) was a day full of activities! Following the usual routine, the students went to breakfast as always; but what they did not expect, was that the monitors were at the dining room door waiting for them to tie their hands in pairs. In this way, taking the breakfast or the tray was funnier than usual, and they had to struggle to reach the table.
After classes and lunch, the clubs began. We did four activities related to the following topics: circus, music, problem solving and orienteering. Later, we all went to the beach. It was the first time with the new T2 students, and we must say that they all had a great time with their new friends.
Once back home, we had a shower and we got prepared for one of the most legendary and one of the most eagerly anticipated parties in English Summer: The Rock'n'Roll Party! The students found in the basketball court a very cool setting inspired in the movie Grease.
We had a delicious American dinner and all the monitors surprised the students with two cool shows about the film. Then, the dance contest Rock'n'roll took place: what a success! Almost all participated and four couples danced in the final. At the end of the party, the best junior and senior dancing couples and the best dressed received an award.
That is all, for today! Have a nice day and we invite you to follow our daily life in the area de clientes and to follow us on Facebook, Instagram and Twitter. Remember also that you can send mails to your children to esftamarit@englishsummer.com