Hey everybody! What an amazing day we had yesterday!
The kids woke up really excited. After their morning activities (froggy games) and a complete and huge breakfast they started their first english lessons.
We have 18 classrooms which include 6 levels : 1-2 (Starters), 3-4 (Movers), 5-6 (Flyers), 7-8-9-10 (KET), 11-12 (PET), 13-14-15-16 (FCE). Therefore, for exemple, if your child goes to class 7, he has the same level that one who goes to class 10. The students are divided into different classes with no level distinction so they can learn in reduced groups and the teachers can focus better on each child.
In the afternoon, after having lunch, the Water Sports students went to Tarragona to do kayak and surf XXL. The rest had one interactive english class and later on, the kids went with their teams either to the swimming pool or to do the clubs. For those who haven't heard about it, the clubs consist in some thematic activities: Games around the world, Chemistry experiments, Nature walk and Solving problems.
———————————————————————————
¡Bueno, bueno, bueno! ¡Pedazo de día que tuvimos ayer en los campamentos de inglés!
Los niños se despertaron muy contentos. Después de actividades matutinas y un buen desayuno empezaron las primeras clases de inglés.
Tenemos 18 clases que engloban 6 niveles: Class 1, 2 (nivel Starters), Class 3, 4 (nivel Movers), Class 5,6 (nivel Flyers), Class 7, 8, 9, 10 (nivel KET), Class 11, 12 (nivel PET) y 13, 14, 15, 16 (nivel FCE). Por lo tanto, si vuestro hijo va a la clase 7, tiene el mismo nivel que uno de la 10. Se separan en clases diferentes sin hacer distinción de nivel, para que los profes puedan hacer un buen seguimiento de los alumnos en grupos reducidos y estar más pendientes.
Ya por la tarde, después de comer, los alumnos de Water Sports se fueron a Tarragona a hacer kayak y surf XXL. El resto, hicieron clase de inglés. Más tarde, los niños por equipos fueron a la piscina e hicieron clubs. Para los que no lo sepáis, los clubs consisten en las siguientes actividades temáticas: Games around the world, Chemistry experiments, Nature walk y Solving problems.
In addition, yesterday we celebrated Pau's birthday, he has turned 12! Hurray! He had an awesome day sorrounded by his friends and the camp staff.
——————————————————————————–
Ayer estuvimos de celebración, ¡Pau cumplió 12 años! Lo celebramos por todo lo alto a la hora de comer y pasó una jornada genial acompañado de sus amigos y compañeros.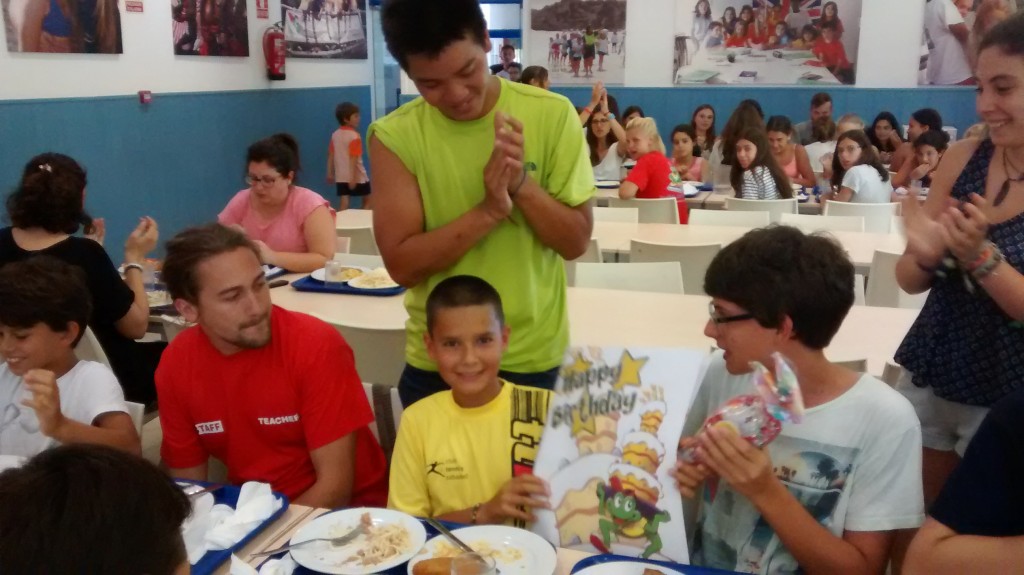 To finish the day, we inaugurated the Olympic Games with a presentation ceremony! The teams participated in the first competition and the winners began to score points. What a great night!
That's all for today, tomorrow we will be back with more news and updates, so stick around
—————————————————————————
Y por la noche…inauguramos los Olympic Games con una ceremonia de presentación!!! Los equipos participaron en la primera competición y los ganadores empezaron a sumar puntos. ¡Qué gran noche!
Esto es todo por hoy, ¡mañana volveremos con más noticias y novedades!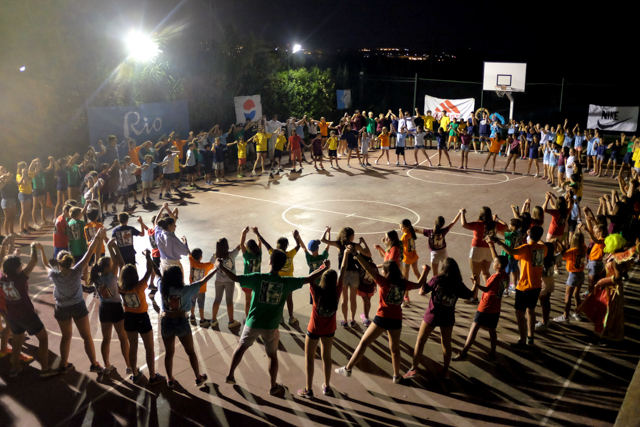 PD: Remember you can go to 'Área de clientes' and visit the fotographs of the day. ¡Podéis seguir el día a día de vuestros hijos en Facebook y Twitter!