Good morning families! Ready, steady…go! Welcome to the second day in this wonderful English Camp
Yesterday we started the day with a cooperative breakfast to promote companionship in which the students had to help  each other prepare breakfast. After, they took the daily English lessons with new activities and tasks. Let's learn English having fun!
In the afternoon, some of the kids went kayaking, while the others participated in clubs. After having a doughnut and a piece of  fresh fruit we all went to the beach. The children played in the waves and built sand castles with their friends and monitors. The weather was amazing and sunny and the water was refreshing!
———————————————————————————————————-
¡Muy buenas papás y mamás! Ready, steady…go! Damos comienzo al segundo día en estos maravillosos Campamentos de inglés
Ayer empezamos el día con un desayuno cooperativo, en el cual los alumnos debían demostrar compañerismo ayudando a sus amigos a preparar y recoger sus bandejas.  A continuación, retomaron las clases diarias de inglés con nuevas tareas y actividades. ¡Siempre es un buen día para aprender!
Por la tarde algunos de los niños hicieron la actividad de kayak, mientras otros participaron en los clubs.  Después de merendar donnuts y fruta fuimos todos a pasar el resto de la tarde a la playa. Los niños jugaron tanto en la arena como en el mar con sus compañeros y monitores ¡Qué tiempo tan espectacular! Mucho sol y agua fresquita :p.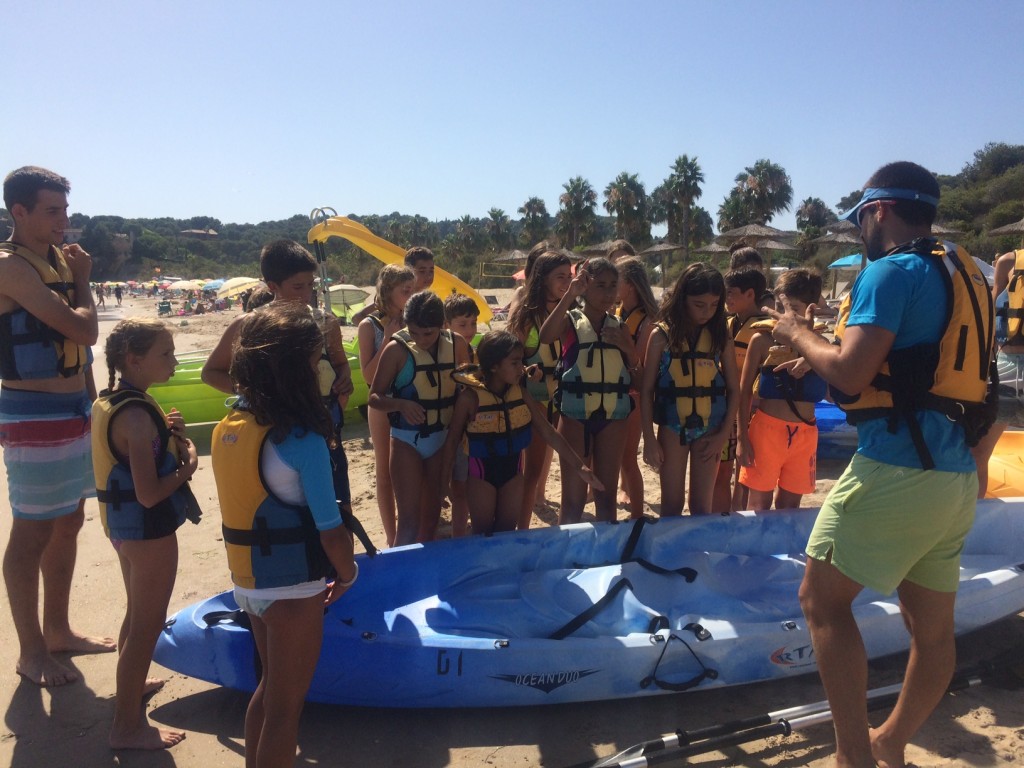 Afterwards, the kids had a refreshing shower and put on their best rock&roll clothes and got ready for the super party, dances, theatre  and Grease! The students had a delicious American dinner outside: Hamburguers, veggie sandwiches, fries and milkshakes :p. The little ones enjoyed playing different games, while the older ones participated in a dance contest in pairs; Congratulations to Dana&Joan, María&Albert, and for the best characterisation: Albert and María.
———————————————————————————————————————-
Después de una ducha recomponedora se pusieron las mejores prendas de Rock&Roll para el fiestón preparado con teatros, bailes, Grease y… ¡mucho más! Los niños han cenado en el Forest Garden un delicioso menú americano: Hamburguesas, bocadillos, patatas fritas, y un batido fresquito de postre :p. Los más pequeños han disfrutado de pruebas organizadas  mientras los más mayores han bailado y participado en un concurso de baile por parejas! Felicidades a los ganadores: Dana&Joan, María&Albert y al mejor vestuario: Albert y María.
Mañana os esperamos con más noticias. ¡Un beso enrome para todas las familias!
PD: Recordad que podéis seguir el día a día en Facebook, Twitter y ver las fotos del turno en el Área de clientes.