Hey heyyyy! Yesterday, Sunday, we woke up a little later than normal. After having breakfast, we had a room inspection. Just as you might expect, the directors checked all the rooms in order to see if everything was tidied up. The guys knew how demanding they were and were prepared to meet their demands. Their rooms were almost like the first day.
After having breakfast, we began to prepare the "Tamarit's got Talent" show, a party where the children have all the starring roles, and are put in the spotlight! They organized performances in groups to present it in front of all the students and monitors.
After havig lunch we did a typical sunday afternoon plan: we watched the Space Chimps film. Later on, the kids put on their swimming suits and we went to the pool. We all appreciated it due to the intense heat. We did different challenges like dancing and making a giant whirlpool! It was amazing seeing all our students moving in one direction! It was very, very fun. Then, after having a snack, all the students took part in the athletics: triple jump, javelin throw, sprint, relays…
—————————————————————————————————————-
¡Hola holaaaa! Estamos aquí con una semana nueva por delante en estos campamentos de inglés. Ayer, domingo, nos levantamos un poco más tarde de lo normal. Desayunamos y tocaba room inspection. Como bien indica el nombre, se hace una inspección minuciosa a cargo de los directivos de la casa. Los chicos saben lo exigentes que son y el orden en la habitación quedó a la altura de la exigencia que se les pedía. Quedaron casi, casi… como el primer día.
Más tarde, por habitaciones, empezamos a preparar el Tamarit's got Talent. Una fiesta en la que los niños serían los protagonistas y, esta vez, son los que estarían debajo de los focos: organizando un espectáculo en grupo o individual para presentarlo delante de todo el campamento.
Después de comer hicieron el típico plan de domingo: vieron la película de Space Chimps. Posteriormente se cambiaron y fueron a la piscina para estar un ratito todos juntos pasándolo bien. Todos lo agradecimos debido al fuerte calor que hacía. Ahí aprovechamos para hacer bailes del campamento y un remolino gigante ¡nuestros alumnos moviéndose al lado del borde de la piscina en una sola dirección! Fue muy, muy divertido. Seguidamente, merendamos y los alumnos participaron por equipos de olympics en los athletics: triple salto, tiro de jabalina, velocidad, relevos, longitud…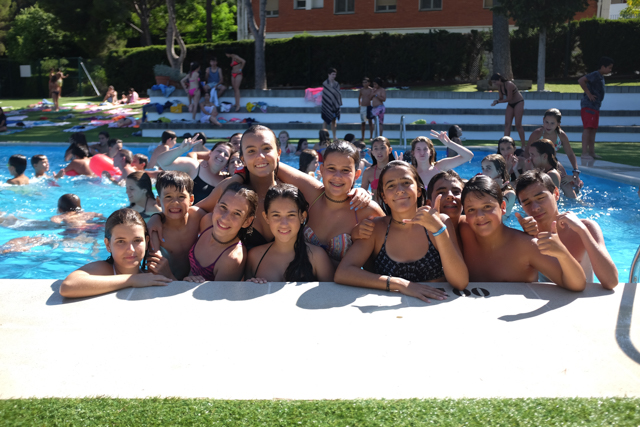 Then, we prepared for the most eagerly anticipated time of the day: Tamarit's got talent! The children could show what they had been preparing with their monitors and we saw really talented and spectacular performances. There were dancings, circus, challenges… ¡It was amazing!
At the end of an intense but relaxing day, it was time to go to sleep… Remember you can follow our daily life in the "area de clients" and to follow us on Facebook, Instagram and Twitter. See you tomorrow and stick around! Remember also that you can send emails to your children to esftamarit@englishsummer.com
—————————————————————————————————————-
¡Y el momento tan esperado de la noche llegó: Tamarit's got talent! Los chicos pudieron representar esas actuaciones que habían estado montando con sus monitores y se vieron actuaciones realmente talentosas y espectaculares. Hubieron bailes, retos, circos, cantos, guitarras… ¡Fue espectacular!
Al final de un intenso pero relajado día, ya era hora de dormir… Hasta mañana! Como siempre, os invitamos a seguir nuestro día a día en el área de clientes y seguirnos en Facebook, Instagram y Twitter. Recordad también que podéis mandar mails a vuestros hijos a esftamarit@englishsummer.com