Good morning to everyone!
Empezamos nuestro primer día en Tamarit con muchísima energía. We are all super excited to be here! Nuestro monitor nos ha venido a despertar y luego, dependiendo del número de nuestra habitación, hemos bajado al Sea Garden, al Forest Garden o al Basket para realizar los Froggy Games antes de desayunar. ¡Nos hemos activado muchísimo para empezar el día con buen pie!
Yesterday, after we did the English level exam, the kids got to know their monitors and teachers. Nos reunimos en las gradas y bailamos uno de los bailes más típicos de English Summer. Cenamos con nuestros monitores y después tuvimos un rato de "personal". Nuestro monitor nos explicó un poco el funcionamiento del turno y nos conocimos entre todos los del grupo un poquito más.
This morning, after we had breakfast, we've been told to what class do we go. A las diez han empezado las classes de inglés y, por fin, los niños han conocido al que será su teacher estas dos semanitas!
Como cada día, a las 11:30h de la mañana tenemos un break de las clases, que se reanudan a las 12:00h. The children played with their new Friends and have also inaugurated the bar!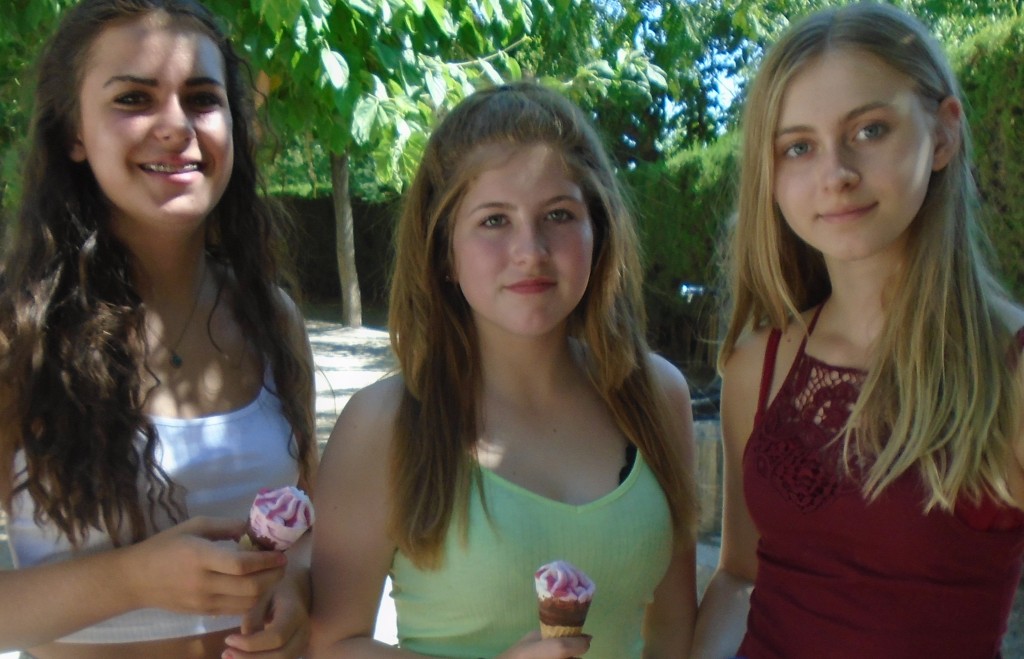 Esta tarde empiezan los Watersports, junto con los Olympics y los Clubs. Estas actividades se realizarán después de habernos refrescado en la piscina. ¡Qué bien nos lo estamos pasando!
This night we'll celebrate the OLYMPIC NIGHT!! Cada alumno cenará con su equipo de Olimpiada y, después de cenar, daremos por empezada la fiesta en la que jugaremos y bailaremos sin parar. También nos espera alguna que otra sorpresa… ¡Qué ganas!
Aprovechamos este post para comentaros que colgamos diariamente todas las fotos del turno en Flickr, red social a la cual podéis acceder a través de la área de clientes de la página web de English Summer.
THE ENGLISH LESSONS
Your children have now completed their placement test and we have now allocated the  levels. Once again we have noticed very high levels even amongst our youngest students. We divide our students into the Cambridg levels which follow the European Framework for Languages. Please  remember that various classes are at the same level and will be studying the same material.
CEFR—–CAMBRIDGE—–CLASSES
A1———STARTERS——–1
A1———MOVERS———-2
A2———FLYERS————3
A2———KET—————–4,5,6
B1———PET—————–7,8,9
B2———FCE————–10,11
The most important thing for us is that your child is in the correct level and learning. The placement test is a guide for the Director of Studies to allocate students into classes however there are various things that could go wrong for example the student was very nervous in the exam, they couldn't concentrate because they were upset about saying goodbye to their parents etc. If you have any questions that you would like to ask about the level of your children, please don't hesitate to ask. Our Director of Studies is available during 9:30am and 5pm during the week and will be happy to answer any queries. Please remember that if a student changes level it may mean that they will skip various class levels.
Доброе утро папы и мамы!
Первый день в Тамарите мы начали с большим энтузиазмом и ожиданиями. С утра перед завтраком чтобы зарядиться энергией на весь день, дети пошли играть в Froggy Games!
Вчера после экзамена дети познакомились со своими мониторами и группой и потом мы танцевали типичные танцы English Summer. Завершением вечера было собрание с монитором, который объяснил правила в лагере и распределил обязтельства между детьми.
В 10:00 детки пошли на уроки английского языка и познакомились со своим преподавателем и группой.
Уже сегодня после обеда мы начинаем Водные занятия, Клубы и Олимпиские игры. И самое интересное, накануне дня открытия Олимпийских игр в Рио де Жанейро, вечером у нас будет Олимпийская вечеринка! Дети будут распределены на команды и ужинать будут  уже вместе со своей олимпийской командой. Потом нас ждут игры и танцы до упада и еще один сюрприз….с нетерпением ожидаем его!
Услышимся завтра!