Hello everybody!
¡Nos despertamos con muchísima energía un día más en Tamarit! Esta mañana hemos podido descansar un poquito más, ya que no hemos hecho los Froggy Games. Y es que los niños lo dieron todo en la fiesta de anoche. THE BIG FROGGY GAME fue espectacular: la pista de básquet se transformó en un plató de televisión y los niños en concursantes de un súper concurso. Para poder avanzar en el tablero de froggy, cada equipo tenía que vencer al otro en distintas pruebas repartidas por la casa. Cada reto ganado sumaba puntos para los Olympics. We ended the party dancing some English Summer dances, and we said goodbye to the camera man that had been all day long with us. ¡El video del turno habrá quedado chulísimo!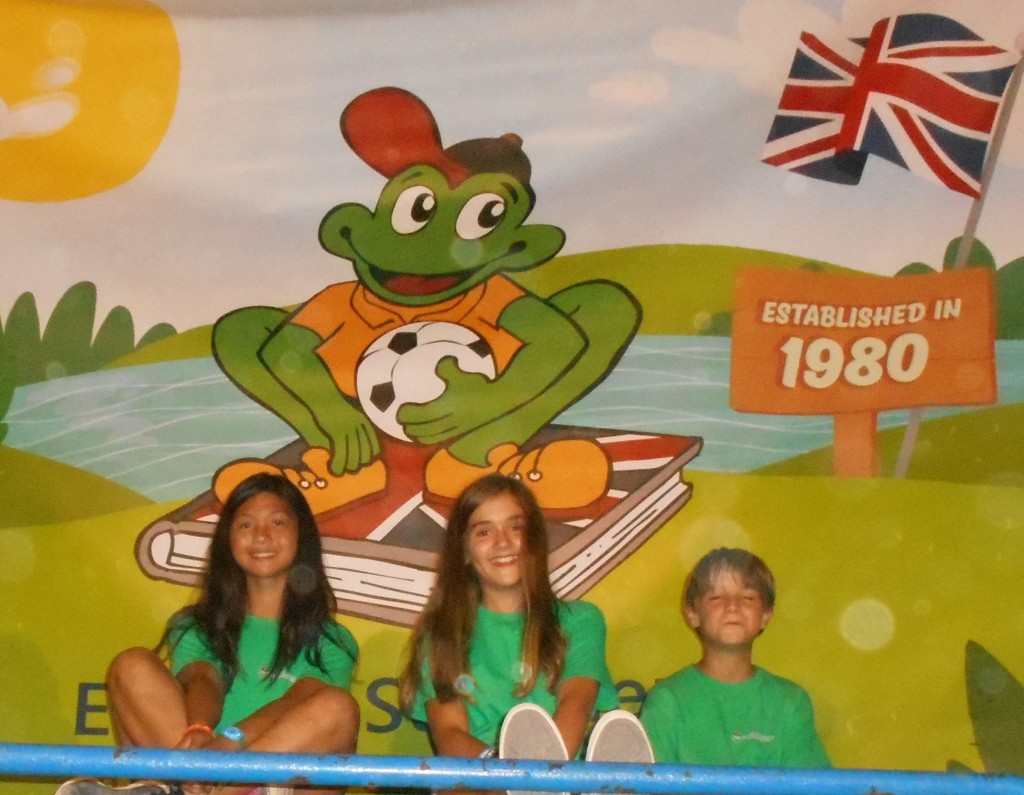 Yesterday was Mireia's Raventós birthday and we celebrated it at lunch time!
Ayer fuimos a la playa por primera vez y nos lo pasamos muy muy bien. Los alumnos que estaban apuntados a la actividad opcional de kayak, la realizaron durante estas horitas que estuvimos allí. Alguno que otro se cayó del kayak y se dio un buen chapuzón! Los demás nos bañamos y jugamos sin parar. A la vuelta, merendamos y jugamos una rotación de los Olympic Games. Los alumnos apuntados al turno de Watersports disfrutaron de una maravillosa tarde en el agua.
Esta tarde, aprovechando que hace muchísimo calor, iremos otra vez a la playa. Los alumnos que están apuntados a Paddle Surf aprovecharán la tarde para realizar la actividad. Antes de eso haremos una horita de Clubs. We have so much fun in ES Tamarit!!
We have the CAMDEN TOWN PARTY tonight! A ver qué sorpresas nos esperan!!
Recordamos que las fotos del turno las podéis ver a través del área de clientes de la página web de English Summer.
Доброе утро!
Сегодня мы проснулись наполненые енергией и интузиазмом после вчерашней вечеринки Froggy Games, которая прошла захватывающее. Баскетбольное поле вчера превратилась в телевизионую площадку и дети должны были пройти ряд испытаний чтобы заработать очки для своей команды. По традиции мы завершили вечеринку всеми любимыми танцами English Summer.
Также вчера мы впервые пошли на пляж. Там мы купались, играли, лепили песочные замки, в то время как некоторые дети провели время, практикуя каякинг. После возвращения мы покушали и сыграли еще одну партию Олимпийских игр.
Сегодня нас также ожыдает солнечный пляж Тамарита и яркая вечеринка CAMDEN TOWN PARTY! Посмотрим какие сюрпризы нам подготовили мониторы!