Hello families!
First of all we want you to know that yesterday we celebrated Xenia's birthday. HAPPY BIRTHDAY !!
Yesterday was Sunday! We woke up a little later than normal. After having an outdoor breakfast, we had a room inspection. Just as you might expect, the directors checked all the rooms in order to see if everything was tidied up. Their rooms were almost like the first day. Afterwards, some of the kids went to mass at 10: 30 am.
At 14:00 we had to say goodbye to the students who were leaving; The kids who were staying went to the pool, while they were doing the closing ceremony. We also watched the term video all together  to remind ourselves of the best moments that we spent together. And then… lunch time!!
——————————————————————————————————
¡Hola holaaaa! Estamos aquí con una semana nueva por delante en estos campamentos de inglés. Ayer, domingo, nos levantamos un poco más tarde de lo normal. Desayunamos y tocaba Room Inspection. Como bien indica el nombre, consiste en una inspección minuciosa a cargo de los directivos de la casa. Los chicos saben lo exigentes que son y el orden en la habitación quedó a la altura de la exigencia que se les pedía. Quedaron casi, casi… como el primer día!
A las 14:00 nos despedimos de los alumnos que se marchaban muy a nuestro pesar; Los niños que se quedan dos semanas fueron a refrescarse a la piscina, mientras tubo lugar la ceremonia de clausura. También vimos todos juntos el vídeo del turno para recordar los mejores momentos del turno. Luego…. ¡ya era hora de comer!
After having lunch we did a typical sunday afternoon plan: we watched the film 'Grease'. Later on, the kids had a snack, put on their swimming suits and we went to the beach. There were high waves and a yellow flag, so most of kids built castles in the sand.  Meanwhile, new students were arriving and some of the monitors got ready to welcome the kids. At night we got to know everybody and we danced to music after the house rules were explained. The kids were all very exited and wanted to dance longer, but it was time to go to bed, because the next day they had to go to class.
——————————————————————————————————
Después de comer hicieron el típico plan de domingo: vieron la película de Grease. Posteriormente se cambiaron y fuimos todos a la playa.  Las olas eran enormes y el mar estaba picado, por eso, la gran mayoría de niños hicieron castillos de arena o se quedaron tomando el sol. Mientras tanto, llegaban los nuevos alumnos a la casa y algunos monitores se prepararon para dar la bienvenida a los niños. Por la noche nos conocimos todos y bailamos al son de la música, después de que se explicaran las normas de la casa. Los niños y niñas estaban motivadísimos y pedían a gritos más bailes, pero a las 22:30 era hora de irse a la cama, porqué hoy empezaban de nuevo con las clases de inglés.
We want you to know the four new monitors, that are going to be with your kids from now on:
Y ahora queremos presentaros a cuatro nuevos monitores que van a estar con vuestros hijos de ahora en adelante:
| | |
| --- | --- |
| Name | ALBERT CLARET– Hab: 103, 106 |
| Hometown | Manresa |
| Studies | International Tourism |
| Hobbies | Basketball player and secondary actor |
| Years in English Summer | 13 years (Student and Monitor) |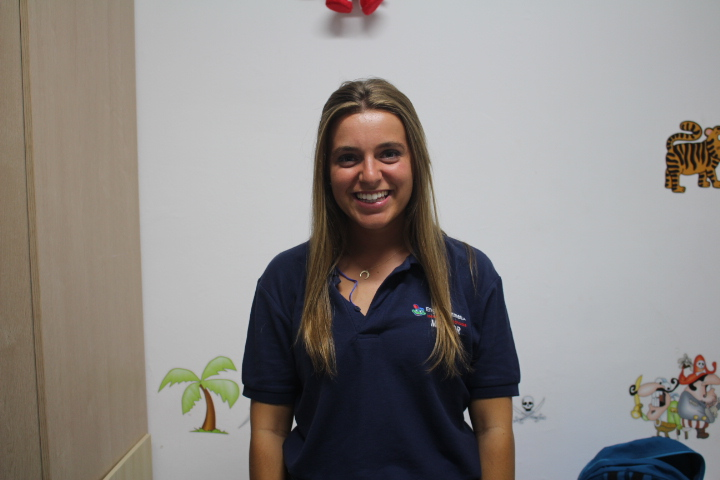 | | |
| --- | --- |
| Name | MARTA SAGALÉS – Hab: 201, 202 |
| Hometown | Barcelona |
| Studies | International Management and Law |
| Hobbies | Tennis player and painter   |
| Years in English Summer |    10 years (Student, Mp and Monitor) |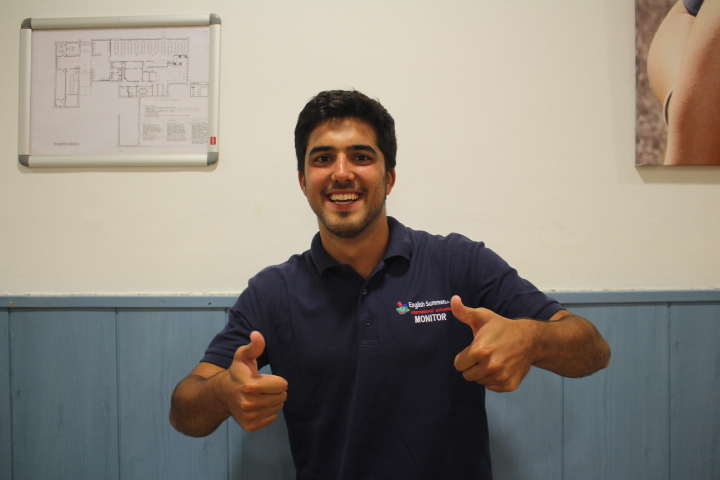 | | |
| --- | --- |
| Name | HECTOR GONZALEZ– Hab: 101, 102 |
| Hometown | Tarragona |
| Studies | Mechanical Engineering at UPC |
| Hobbies | Volleyball player and guitarist   |
| Years in English Summer | 7 years (Student, Mp and Monitor) |
| | |
| --- | --- |
| Name | NIL FLEIX – Day Camp |
| Hometown | L'Espluga de Francolí |
| Studies | Business |
| Hobbies | Swimming |
| Years in English Summer | 16 years (Student, Mp and Monitor) |
At the end of an intense but relaxing day, it was time to go to sleep… Remember you can follow our daily life in the "area de clients" and to follow us on Facebook, Instagram y Twitter. See you tomorrow and stick around! Remember also that you can send emails to your children to esftamarit@englishsummer.com
—————————————————————————————————————-
Al final de un intenso pero relajado día, ya era hora de dormir… Hasta mañana! Como siempre, os invitamos a seguir nuestro día a día en el área de clientes y seguirnos en Facebook, Instagram y Twitter. Recordad también que podéis mandar mails a vuestros hijos a esftamarit@englishsummer.com