Hello families and happy Thursday!
Here we are again! Yesterday, we began to face the term's final stretch for the students who are leaving tomorrrow. Yesterday we had an amazing day at the English Camps! The children woke up with Froggy Games and afterwards they had breakfast. The kids attendended classes as usual, they keep working very hard for the final exam, and each class started to prepare a theatre production for the last day.
—————————————————————————————————–
Buenos días familias, ¡Feliz jueves!
Aquí estamos de nuevo. Ayer empezábamos a encarar la recta final del turno.  Ayer pasamos un día genial en este campamento de inglés. Los chicos se despertaron con Froggy Games, desayunaron y atendieron a sus clases de inglés como cada día. Están trabajando duro y ya han empezado a prepararse en las clases para el examen de final de turno para aquellos alumnos que se van mañana. Además después de comer empezaron a prepara la actuación del último día.
It was very hot, so it was time to go to the beach. They had a lot of fun swimming and later, Olympics took place in teams to score points for the championship. Super vibrant and exciting matches!
At night, we played "The Big Froggy Game" in Olympics teams. We had a big board with squares and with huge dice, they had to reach a square, doing different tests to get there, such as drawing an object on a whiteboard with eyes closed and the rest had to compete against rivals through a pub quiz, a dance contest in which children had to make a dance, a waiter's race, or scrabble with english idioms. The teams that were luckier fell into the Froggy square and could advance positions with the following expression: "from frog to frog and I roll because I rock". Surprisingly we ended up with a tie between 4 teams: Bees, Dolphins, Turtles and Geese.
—————————————————————————————
El calor apretaba y era hora de ir a la playa. Los chicos se dieron un refrescante baño y a continuación participaron en la competición de Olympics compitiendo para sumar puntos. Fueron partidos vibrantes y emocionantes en los que se vieron reflejadas las ganas de esforzarse y darlo todo por su equipo.
Por la noche, tocaba jugar a "The Big Froggy Game" por equipos de los Olympics. Es un juego parecido a la oca, pero en cada casilla que caían tenían que hacer diferentes pruebas, como dibujar en una pizarra con la boca un objeto y que el resto lo adivinara, decir en un minuto veinte palabras que empiecen con una letra determinada en inglés, responder adivinanzas, acertar tres tiros libres en un minuto o acertar canciones tarareadas. Los equipos con más suerte que caen en la casilla de Froggy y pueden avanzar posiciones con la siguiente expresión: "from frog to frog and I roll because I rock".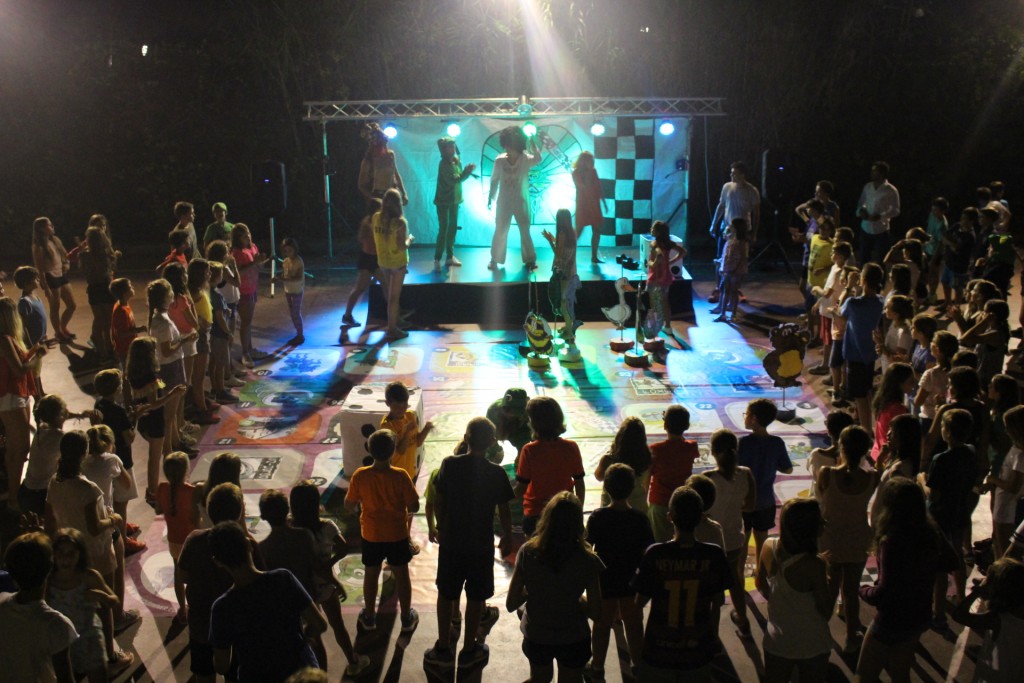 That is all, for today! Have a nice day and remember that can  follow our daily life in the área de clientes and to follow us on Facebook, Instagram and Twitter. Remember also that you can send mails to your children to esftamarit@englishsummer.com
——————————————————————–
Mañana os contaremos sobre el día de hoy. Un abrazo a todos y recordarque podéis seguir nuestro día a día en el área de clientes y seguirnos en Facebook, Instagram y Twitter. Recordad también que podéis mandar mails a vuestros hijos a esftamarit@englishsummer.com