Good morning families,
This morning we woke up in a strange ambience, an ambience both nostalgic and exultant. Actually, at 6pm, the Check-out of 106 of our students that have accompanied us for the last week starts.
We had breakfast by terms, and then, after taking down our luggage, the students enjoyed a gymkhana organized by our native teachers.
—————————————————————————————————–
Buenos días familias,
Ayer, nos despertamos en un ambiente muy extraño, un ambiente a la vez nostálgico y eufórico. A las 18h, empezará el Check-out de 106 de los alumnos que nos han acompañado en la última semana.
Por la mañana, desayunamos por turnos, y tras bajar las maletas de algunos, los niños participaron a una gran gincana organizada por los teachers. Fue una forma más cercana de poder practicar inglés realizando actividades con nuestros profesores nativos.
—————————————————————————————————–
Before having lunch, the kids gathered in the grand stand in order to do the Check-Out simulacrum, in which they perform a sketch and the term choreographies. Some of the children were given their World Championship diplomas. The students were also rewarded for their fidelity to the summer camp with froggy points awards, in function of the time they have spent with us, they could get either a USB key, a cap, a towel, a bag pack or even our latest English summer T-Shirt. After an agitated morning, the students had lunch, for many of them, it was the last meal in Tamarit.
At 3pm, the monitors gathered their groups at the pool in order to have a proper goodbye and distribute the letters that the students have written for each other. It was a very emotive moment that allowed everyone to share their impressions of the term. Afterwards, we all went to watch the term video.
—————————————————————————————————–
Antes de comer, reunimos a todos los niños en las gradas para hacer un simulacro de la ceremonia de Check-out, en la que realizan un teatro y bailan nuestras coreografías. Ciertos alumnos también recibieron los diplomas ganadores del campeonato del mundo. También se repartieron los regalos de fidelidad, los niños pudieron ganar, en función de los años que llevan con nosotros: USB, camisetas, toallas, e incluso mochilas. Tras esta mañana tan agitada, todos fueron a comer, para algunos, la última comida del turno.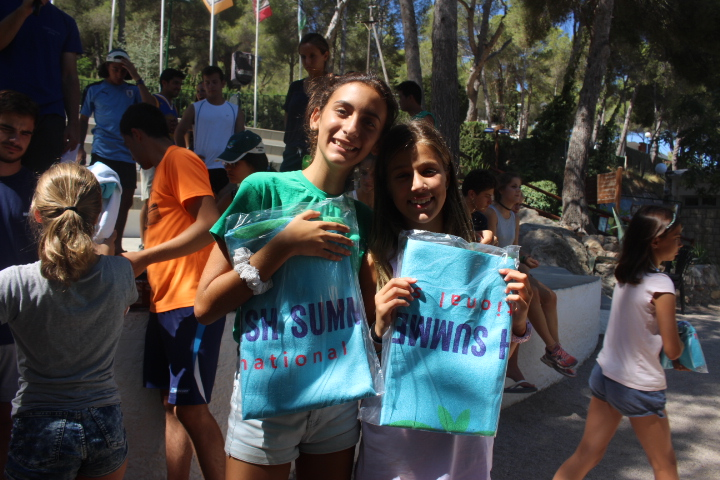 A las 15h, los monitores reunieron a sus grupos en la piscina para despedirse y repartir las cartas escritas por sus compañeros. Fue un momento muy emotivo en el que todos pudieron compartir sus impresiones del turno. Después, todos fueron a mirar el vídeo del turno.
—————————————————————————————————–
At 5h30pm, the students have been divided into two different groups, the ones that will remain with during the following week, and the ones that were going to the Check-Out ceremony.
At 8pm, the house was completely still, the third week kids were still coming back from the beach, at that moment monitors could realize that T55 was officially starting, one of the last weeks of the summer, the last strike of their dearest 5T.
—————————————————————————————————–
A las 17h30, los alumnos se han dividido en dos grupos, los que se quedan durante la tercera semana se han ido a pasar la tarde a la playa mientras los otros se han preparado para la ceremonia de Check-Out.
A las 20h, la casa se vació, los niños de la tercera semana estaban volviendo de la playa, y los monitores tuvieron un momento para darse cuenta que el T55 estaba oficialmente inaugurado, que empezaba una de las últimas semanas del verano en English Summer, la recta final de su querido 5T.
—————————————————————————————————–
Once the third weekers came back from the beach, they had a quick shower and enjoyed an outside dinner. They could comment the day ahead of them, the so expected PORT AVENTURA day!
After a long and emotive day, the students went to bed thinking about the great term they are living. In just a couple of weeks we have lived crazy things that we will remember for our whole life. All together we have created magic that has come along us in every moment.
We will inform you tomorrow of the last events, of the Port Aventura Adventure
Bear in mind that you can see all the term pictures in área de clientes and follow us in Facebook, Instagram and Twitter. See you next year!
—————————————————————————————————–
Una vez de vuelta de la playa, los alumnos se ducharon y disfrutaron de una cena exterior. Pudieron comentar el día siguiente, el día tan esperado para algunos ¡PORT AVENTURA!
Tras un día largo y repleto de emociones, los alumnos se fueron a dormir pensando en este turno. En tan solo dos semanas hemos vivido cosas alucinantes que recordaremos todo el año. Todos juntos hemos conseguido crear la magia que nos ha acompañado en cada momento.
Os informaremos mañana de las últimas noticias, Port Aventura Adventure
Recordad que podéis venir a partir de las 17-17.30h y ver fotos del turno en el área de clientes y seguirnos en Facebook, Instagram y Twitter. Un fuerte abrazo a todo los que se han ido, ¡nos vemos el año que viene! See you next year!